Life is all about making choices. And every choice we make has an impact on our lives. A single decision can completely change the direction of your life. As a result, you must always ensure that you make the best judgments possible.
However, because humans can only know so much, we may not always know which decision is best for us. That is why it is necessary to seek God's direction at all times. God knows everything. He knows the beginning, the middle, and the end, as well as which decisions are best for us.
The bible encourages us in James 1:5, to ask God for wisdom if we don't have it. Many are the things we do not know, so instead of doing what you think you want, rely on God for wisdom and direction.
Prayers for wisdom and direction
Prayers for wisdom and direction – Guide my decisions
Gracious Lord, In all I do, I pray for your wisdom and guidance. I entrust you with all of my daily tasks. Assist me in making the best judgments possible in life. Teach me to recognize and comprehend the advantages and disadvantages of anything I do. Guide my decisions so that I always make the best choices that will lead me closer to my life's purpose. Assist me with letting go of what isn't working in my life. Teach me to concentrate on what will bring me happiness in you. Thank you very much for responding to my prayers. In Jesus' name, Amen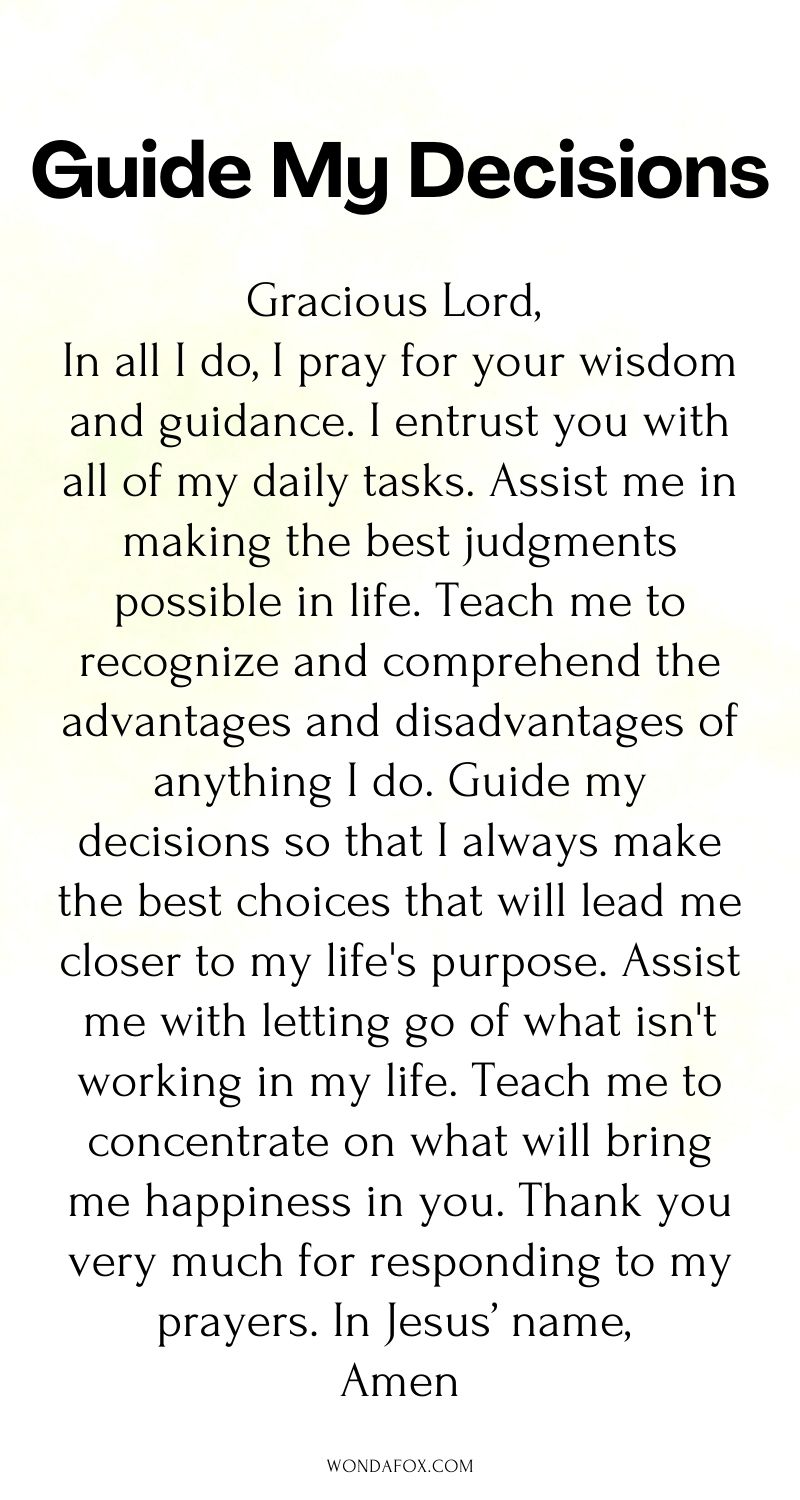 Grant me wisdom and understanding
Father in Heaven, Thank you very much for everything you do for me. Thank you for constantly guiding and safeguarding me. Please forgive me for not seeking your counsel first while making decisions always. Take command of my life and direct my steps. As you guide me to success and prosperity, please make it possible for me to follow your path. In all I do, grant me wisdom and understanding. When you speak to me, teach me to hear and understand your voice. In Jesus' name. Amen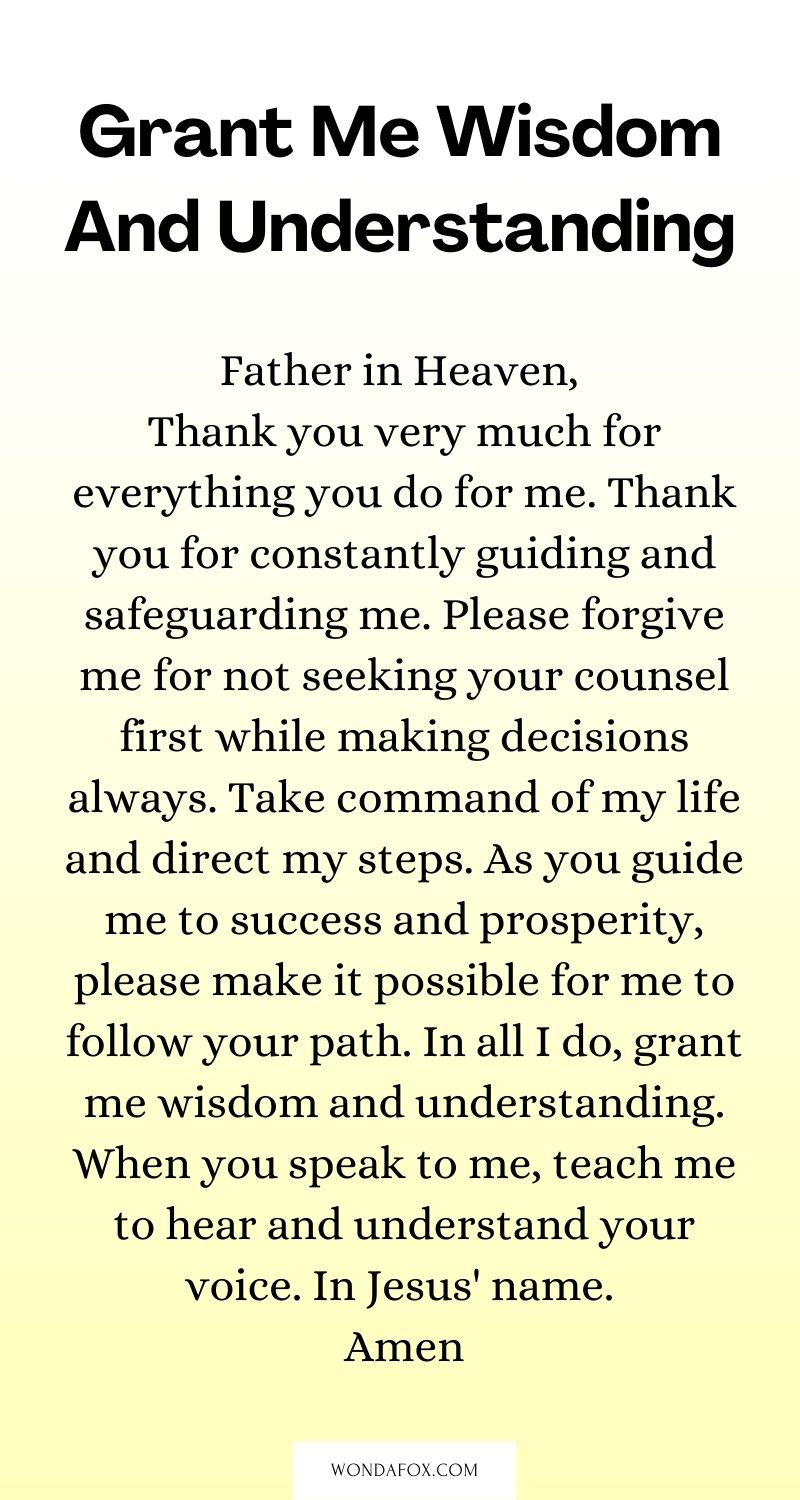 Prayers for wisdom and direction – Allow your will to be done in my life
Dear God, today, I completely surrender my all to you. To you, I lift my hands and open my heart. Assist me in relying on you in whatever I do. Please direct my thoughts and behaviors and take command of my life. Assist me in comprehending your words and focusing my heart on you. Lord, go beside me and direct my ways. In all I do, provide me with knowledge, strength, and guidance. Bring me to the life you have prepared for me by guiding me through the pitfalls of life. Allow your will to be done in my life at all times. Amen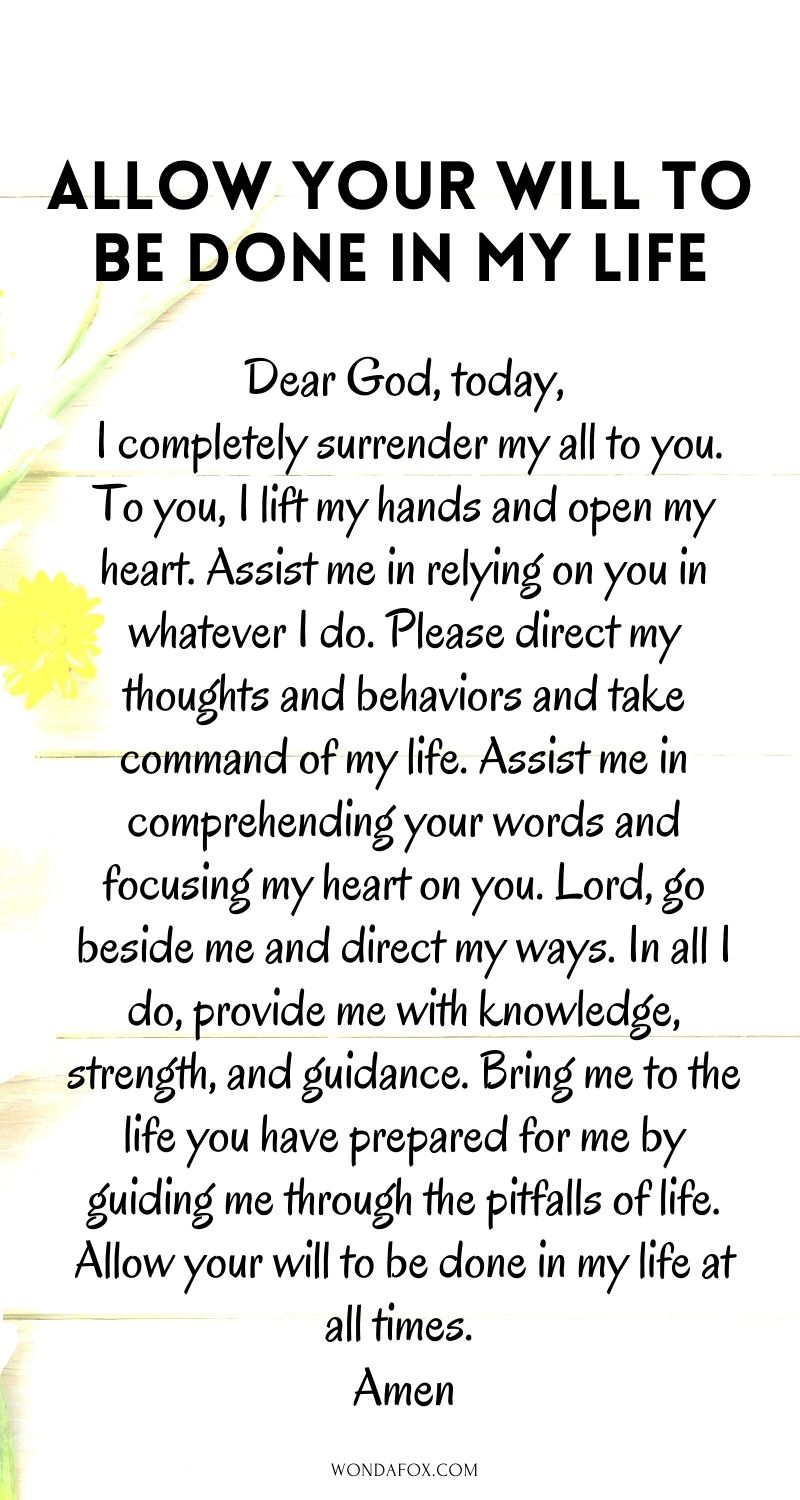 Prayer for wisdom at work
Almighty God, thank you for this profession that you have bestowed upon me. Thank you for everything I've learned in this field. I pray for your safety and direction as I take the job. Please give me the wisdom and wit to succeed in this field. Assist me in not making any judgments that would jeopardize the future of my profession. Keep my professional framework from collapsing.
Assist in motivating and inspiring my coworkers to fully participate in this project. Remove any stumbling blocks to my professional advancement. Assist me in resolving any issues that may emerge in this line of work. Protect me against greed and help me from making unnecessary investments. Thank you for answering my prayer through our Lord and Savior, Jesus Christ. Amen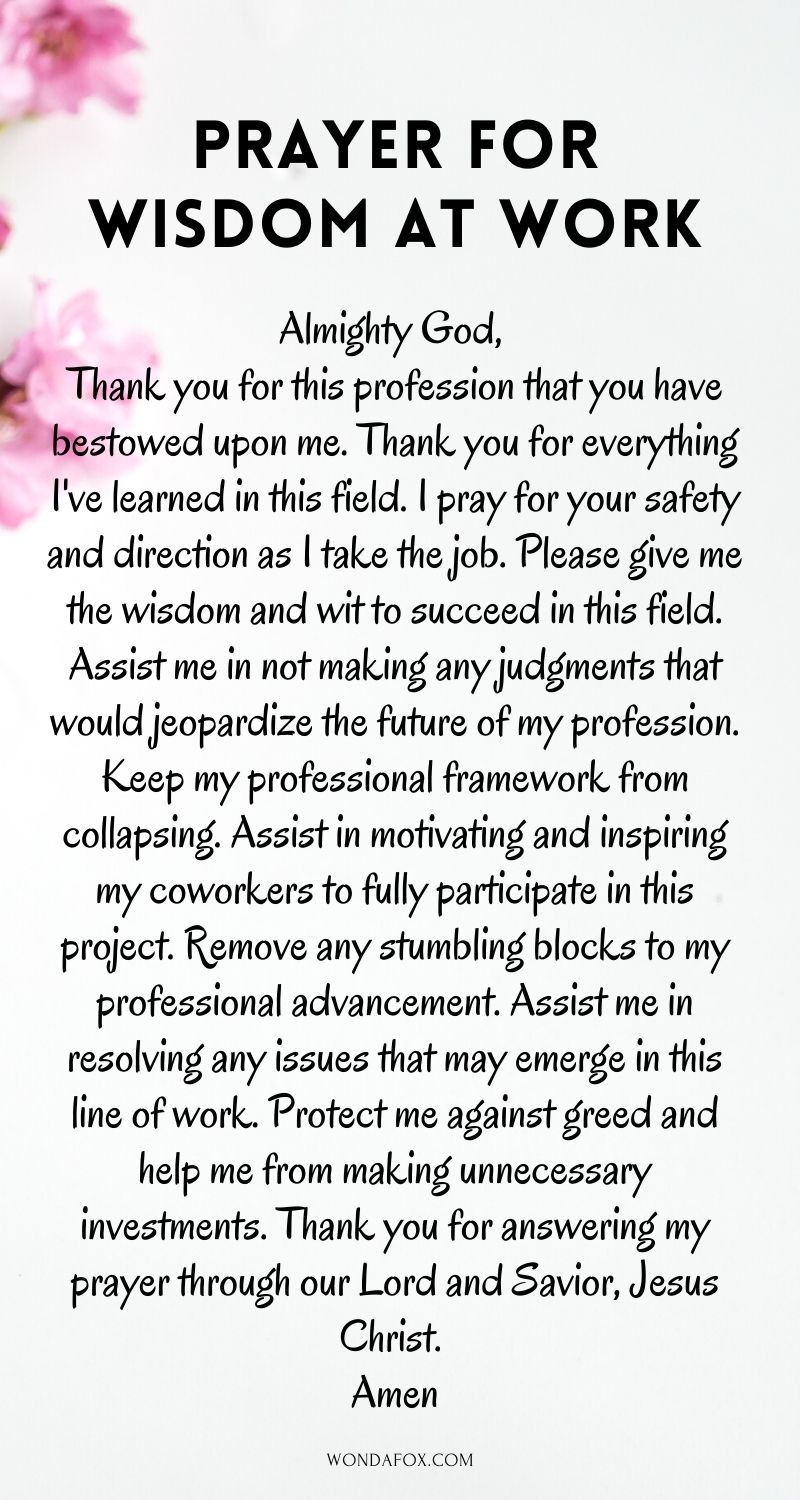 Prayer for wisdom in choosing friends
Dear God, I'm praying to you about my friendships and connections today. Assist me in finding the perfect friends to better my life and bring me closer to you. Please provide me insight into my personal encounters. Please lead me to the right friendships and relationships. Surround me with people who can help me grow as a person and improve my abilities.
Help me to distinguish between good intentions and a terrible company that will not benefit me in life. Place persons in my path who will be beneficial to me. Help me cross paths with those who can assist me in reaching new heights. Allow your plan for my life to succeed. In Jesus' name, Amen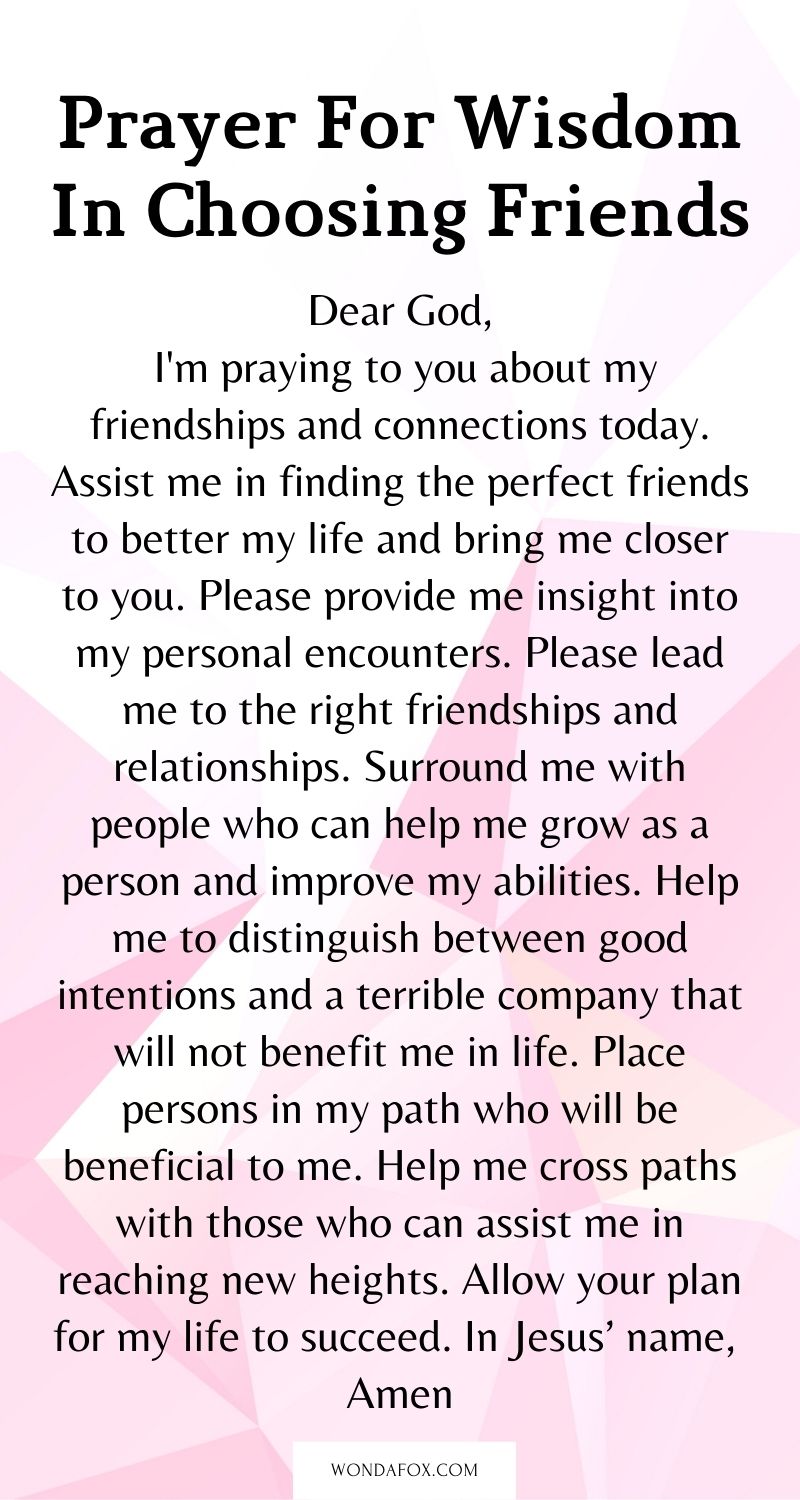 Prayer for wisdom in parenting
Precious Lord, thank you for the children that you have given us. Thank you for giving them life and health. I ask that you give us the wisdom we need to raise these kids. Assist us in raising them in you so that they do not drift away from it as adults. Help us keep children safe from the traps and bile of this world. Help us figure out just what they require to advance in wisdom and understanding.
Please help us to protect them from any danger to their lives. Assist us in providing them with everything they require to be successful in life. Let us create an environment where they can grow in wisdom. Allow us to learn and comprehend your word so that we can teach them your ways. Assist us in steering them away from a bad company that will ruin their lives. Give us wisdom to pass on to them so they can grow up to be wise people. Bless them through us and provide them with whatever they require to grow in you. Thank you for hearing our prayers and answering them. Amen
Prayer for wisdom in marriage
Gracious God, thank you for keeping my marriage together up to this point. Thank you for guiding me through all of the stumbling blocks. Thank you for protecting my partner's life. I ask that you grant us the insight to solve all of our issues. Give us all of the sound advice we require to make our marriage work.
Assist us in staying calm during our disagreements. Let us not be swayed by bad advice that will harm our marriage. Let us set a good example for our children by being a great couple. As we did from the start, we entrust our marriage to your care. In Jesus' name, guide us through this marriage. Amen
Prayer for wisdom and direction
Dear God, I've reached a crossroads in my life and must make this major decision. Father, I'm so confused and afraid because I'm not sure what to do. So I turn to you for advice and knowledge. Lord, fill me with your knowledge. Please send down your Holy Spirit to be my guide. Show me how to accomplish it and assist me in seeing and hearing you. I have no idea what will happen if I make this decision, but you do. So, Lord, I place my complete trust in you to tell me what to do. Show me the road and tell me what I should do. Amen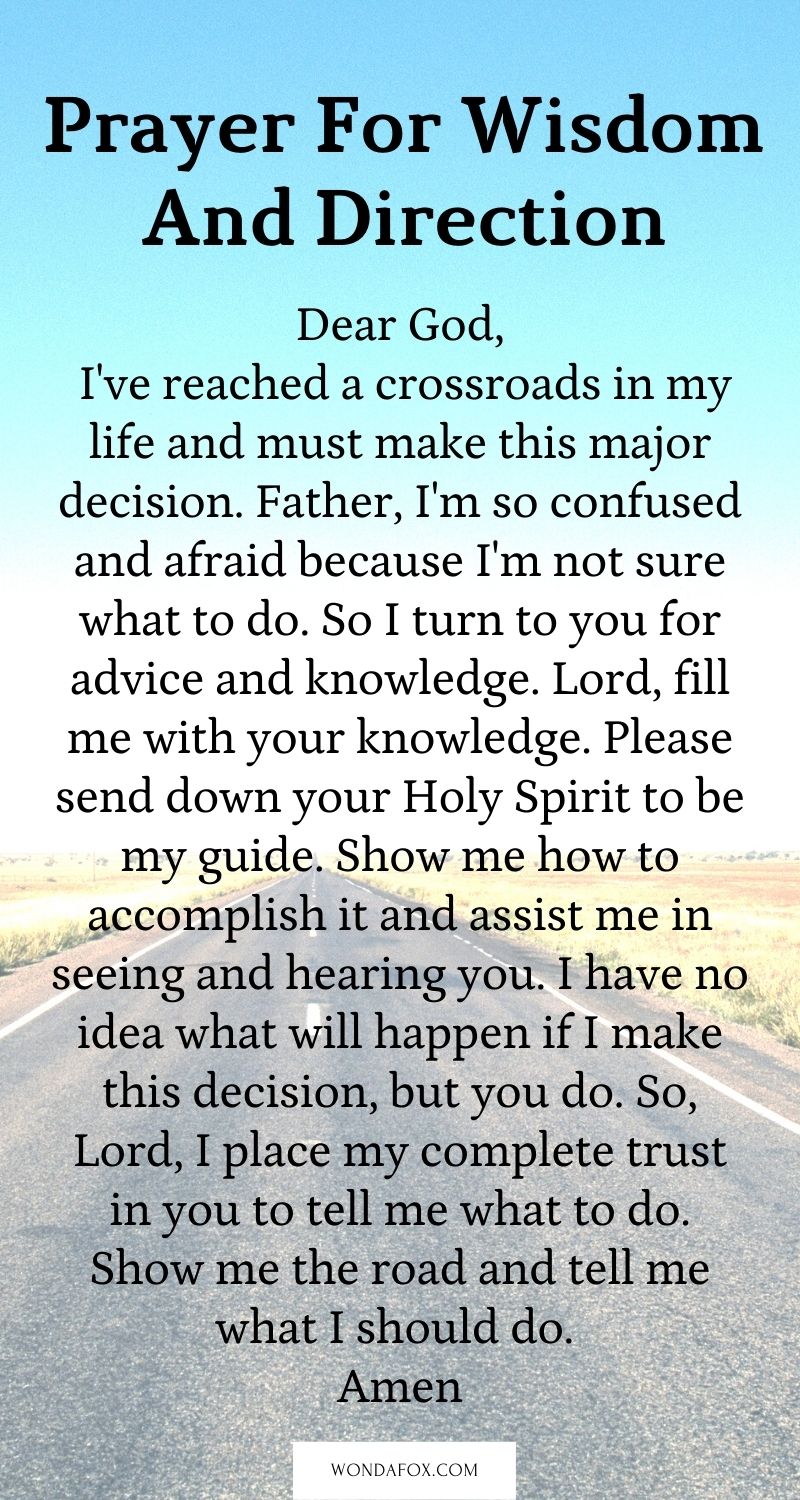 Prayer for wisdom for running a business
Dear Lord, Thank you for my business. Please give me the insight and expertise I need to run this company properly. When I'm dealing with a difficult scenario at work, lead me through the storm and assist me in making the best decisions. Show me how to do things properly. Fill my heart with compassion and love toward my employees. Assist me in communicating effectively with them. Teach me how to be a good leader and assist them in doing their jobs correctly. Thank you for your kindness and wisdom. Amen
Prayer for financial wisdom
Dear Lord, thank you for everything you've done for me. Thank you for the financial blessings. Thank you for putting our hands to work. We pray for wisdom in managing our finances. Assist us in not wasting money on things we don't need. Grant us the knowledge and guidance to make wise use of the resources you provide. A fool and his money are said to part ways quickly. We ask for your assistance so that we do not lose everything we have worked for. Instead of wasting the abilities you've given us, assist us in producing more from them. Amen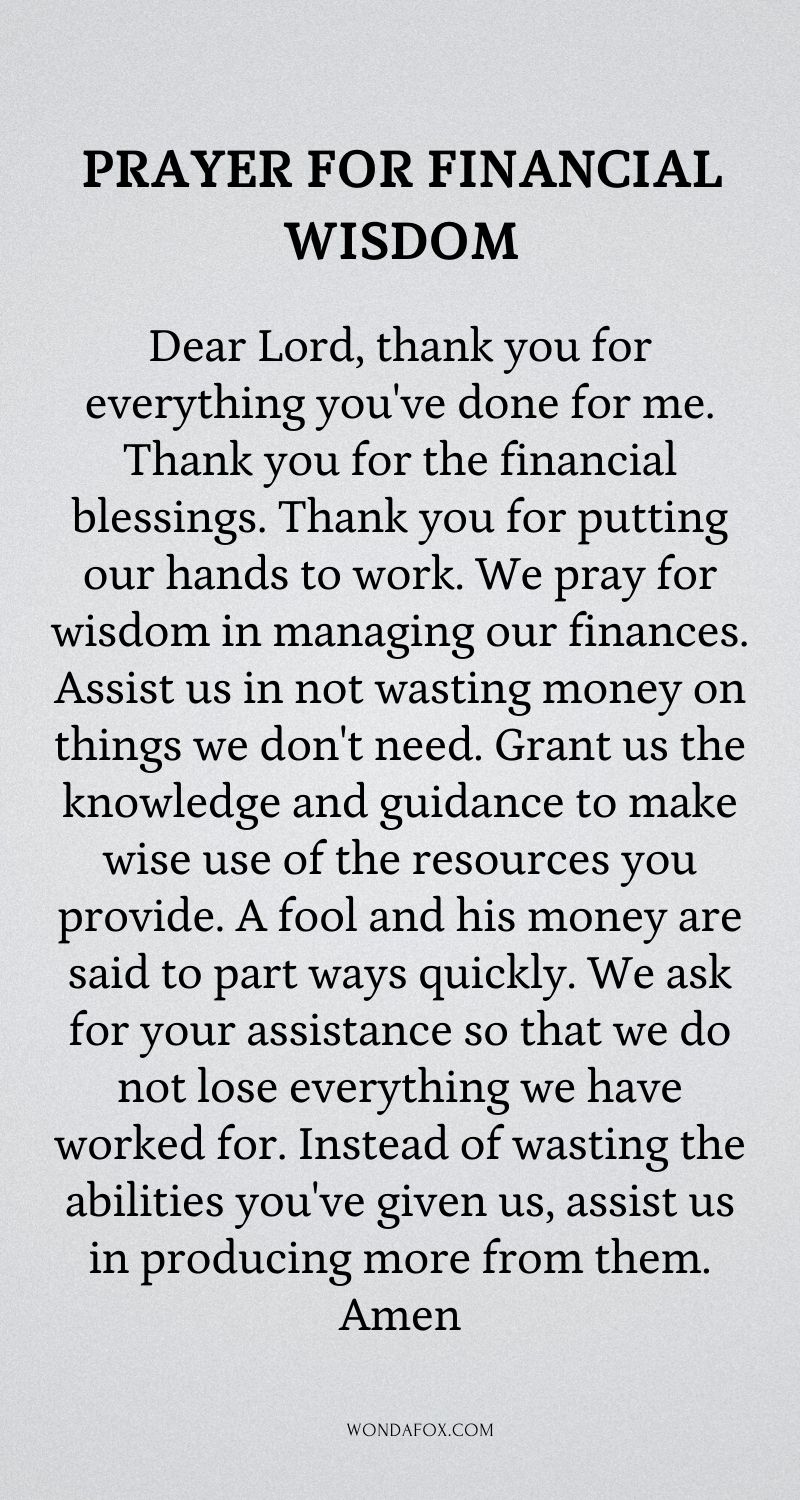 Prayer for wisdom during difficulties
Dear God, thank you for giving us the opportunity to live our lives today. We accept responsibility for the position in which we find ourselves. Please lead us out of the woods. Please give us the wisdom to figure out how to get out of this financial mess. Please grant us the patience to not turn on one another. Bless us with the courage to stay focused on you. Allow us to remain under your protection and not seek assistance elsewhere. Keep your love in our hearts so that we don't lose hope. Bless us, dear Lord, as we continue to meditate on the promise of your word. Amen.