The lovely world of nail ideas and designs is a place where anyone can have a good time by being creative with the ideas and designs they want to use in their nails. Although having a fantastic design, particularly for the new year, might be time-consuming because you may want it to be the right thing for the new year. If you want not only perfect but also stunning nail ideas and designs, this is the finest article to read to learn more about acrylic nail ideas and designs.
Acrylics are one of the nails that can take your breath away, especially if you add a dash of new ideas and designs. Acrylic nails have been around for decades and may be relied upon for the desired length or design. These nails provide the ideal platform for showcasing your creative side.
What are acrylic nails?
Acrylic nails are used to enhance the appearance of natural fingernails artificially. Acrylic nails are simply a mixture of a liquid monomer (microscopic chemical units in a liquid that react together when mixed with chemicals in a powder) and a powder polymer (which when mixed with monomer reacts in a process called cross-linking to form a rigid net structure) that forms a paste that is bonded to natural nails. The powder comes in a variety of colors, giving a creative nail artist extra options for creating stunning designs.
Acrylic nail ideas and patterns are the way to go if you want a pleasant appearance and a lot of praise. Acrylic has the advantage of being long-lasting. Acrylic nails can last 6 to 8 weeks when touched up every 2 to 3 weeks, depending on the growth of your real nails. These touch-ups also make your manicure look better.
Best ways to remove acrylic nails
Acrylic nail patterns and designs are created by experts, so when it's time to remove them, seek the advice of a professional. It's time to put an end to biting or peeling off your artificial nails. These aren't the finest methods for removing your nails. If you don't take care when biting or pulling them off, you can end up damaging your natural fingernails.
To remove acrylic nails, patience and time are required. It is necessary to seek the services of a nail removal specialist. Your expert may use an electric nail file to remove the top layer of acrylics, which is the most convenient method.
After soaking your fingernails in acetone for 5 to 15 minutes, a curticle pusher is used to remove any remaining acrylic. Finally, a rehydrating curticle oil is applied to your natural fingertips. You're done, and your fingers are protected as well.
Acrylic nail ideas for new years
Stripes nail design
Try mixing up the colors for your acrylic nail designs. Stripes are always a great way to mix up colors and for the holidays, candy cane stripes will make do.
Floral nails
Flowers will also make a beautiful nail design for your new year acrylic nails. This nail design will even be great for the spring and summer seasons too.
Nude and reds
Because we're still in the holiday spirit, you can go for a Christmas-themed manicure. Accessorize your nails with Christmas objects such as a winter sweater and a variety of other Christmas ideas.
Greens
Green signifies a fresh start and that makes it a great color for your new year nails. You may enhance the elegance of your manicure design by adding a touch of glitter. If desired, add more accessories.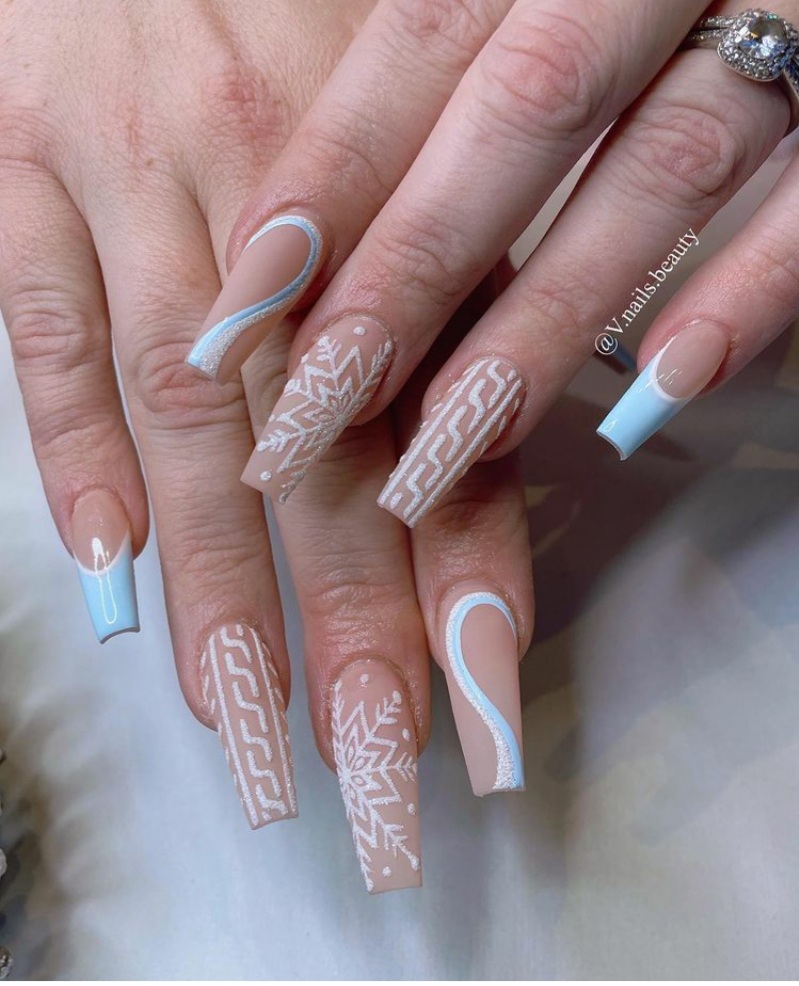 Acrylic nails are appropriate for all holiday celebrations. You can have them made to fit the festive season in which you find yourself. Beautifully made to express the winter season with a little glossy touch at the small nail finger, much like the above design.