Breaking free from an addiction is a difficult task. This is something you've been doing for a long time and has turned into a habit, a part of your everyday routine. As a result, breaking an addiction can be extremely tough. But nothing is impossible with God (Matthew 19:26).
So, no matter what addiction you have, God has the power to heal and deliver you. According to the Bible, you have not succumbed to temptation. All you have to do is trust in God and you will be able to overcome any temptation.
So, how can you keep believing in God when everything seems to be going wrong? To keep trusting God, you must continue to read God's word. We can find peace, wisdom, and clarity in God's word. So, if you're struggling with any kind of addiction, here are some encouraging Bible verses to help you overcome it. These verses can also help you get through your partial hospitalization program or any other treatment you're going through.
Prayer to break an addiction
Gracious Lord, I come before you today because I need your help. I have an addiction to……..and no matter how hard I try to break free, I still find myself doing it. Please, Lord, give me the strength to break free from this addiction. I know I won't be able to do it on my own. Please forgive me for all the times I attempted to complete tasks on my own. Please forgive me for giving in to this addiction so many times.
Please come take control of me and break the shackles that addiction has placed around my neck. I submit myself to you, Father, and I ask that you, Lord, cure me and fill me with your love and power so that I do not succumb to this addiction again, in Jesus' name I pray, Amen
Bible verses about addiction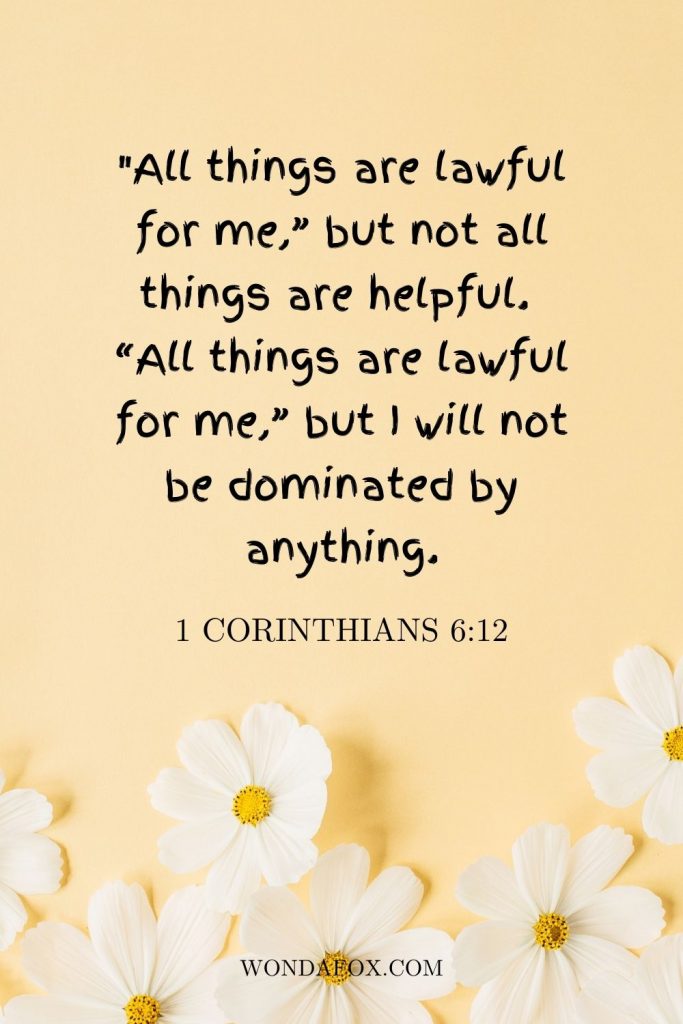 1 Corinthians 6:12
"All things are lawful for me," but not all things are helpful. "All things are lawful for me," but I will not be dominated by anything.
1 Corinthians 10:13-14
No temptation has overtaken you that is not common to man. God is faithful, and he will not let you be tempted beyond your ability, but with the temptation he will also provide the way of escape, that you may be able to endure it. Therefore, my beloved, flee from idolatry.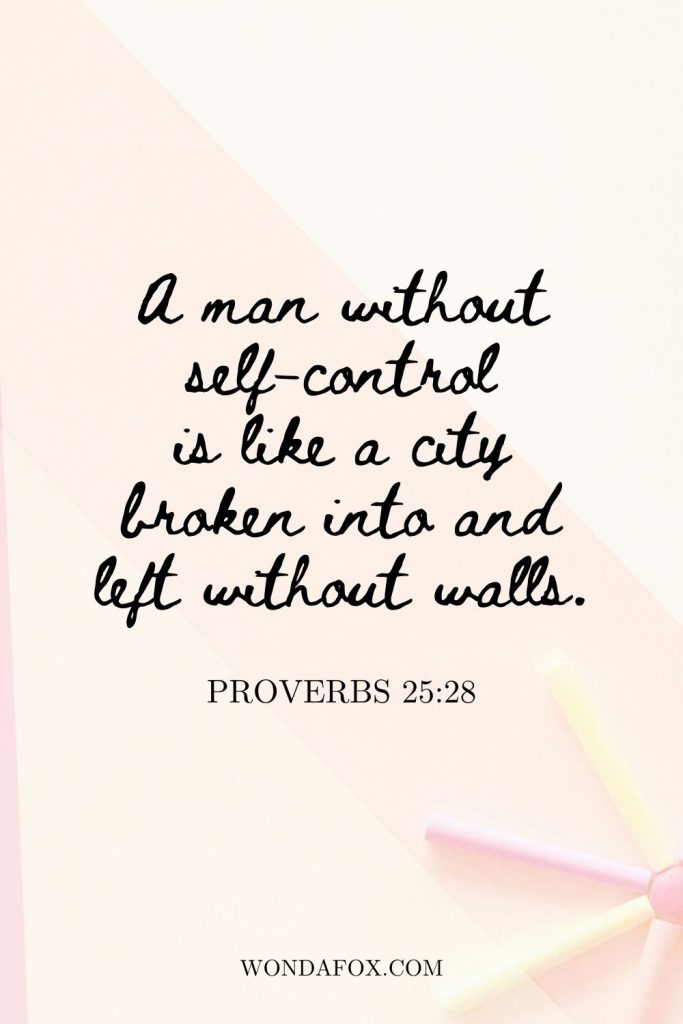 Proverbs 25:28
A man without self-control
is like a city broken into and left without walls.
1 John 2:16
For all that is in the world the desires of the flesh and the desires of the eyes and pride of life is not from the Father but is from the world.
1 Corinthians 15:33
Do not be deceived: "Bad company ruins good morals.
James 4:7
Submit yourselves therefore to God. Resist the devil, and he will flee from you.
1 Peter 5:10
And after you have suffered a little while, the God of all grace, who has called you to his eternal glory in Christ, will himself restore, confirm, strengthen, and establish you.
Titus 2:11–12
For the grace of God has appeared, bringing salvation for all people, training us to renounce ungodliness and worldly passions, and to live self-controlled, upright, and godly lives in the present age,
2 Timothy 1:7
For God gave us a spirit not of fear but of power and love and self-control.
Romans 13:12
The night is far gone; the day is at hand. So then let us cast off the works of darkness and put on the armor of light.
Related Posts
Ephesians 5:15
Look carefully then how you walk, not as unwise but as wise,
Ephesians 5:18
And do not get drunk with wine, for that is debauchery, but be filled with the Spirit,
Galatians 5:1
For freedom Christ has set us free; stand firm therefore, and do not submit again to a yoke of slavery.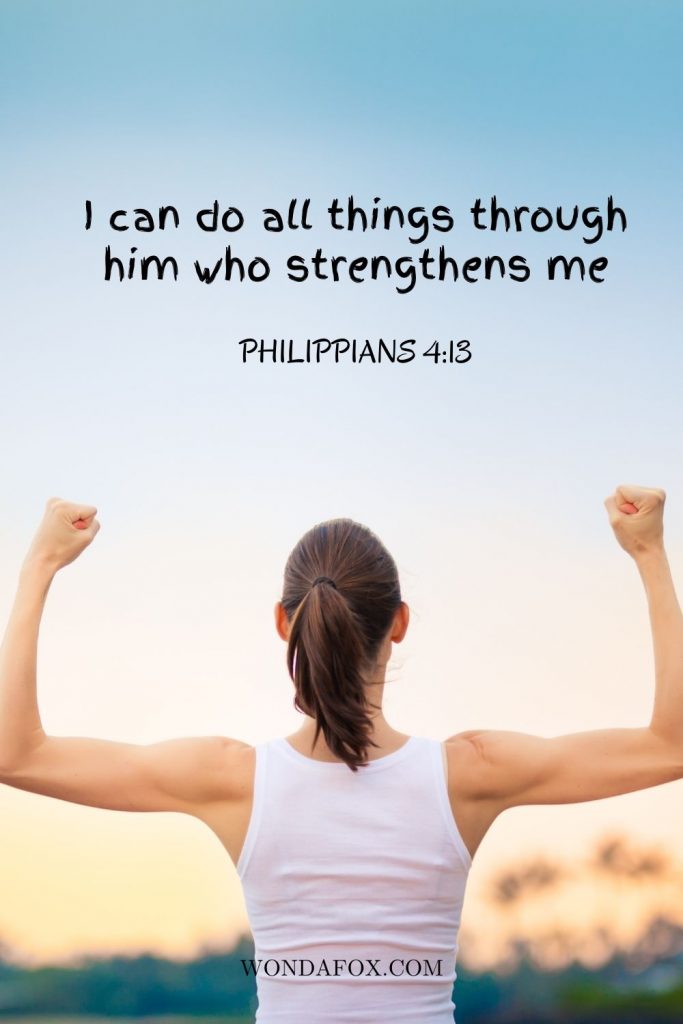 Philippians 4:13
I can do all things through him who strengthens me
Matthew 26:41
Watch and pray that you may not enter into temptation. The spirit indeed is willing, but the flesh is weak."
1 Peter 5:8
Be sober-minded; be watchful. Your adversary the devil prowls around like a roaring lion, seeking someone to devour.
1 John 2:16
For all that is in the world the desires of the flesh and the desires of the eyes and pride of life is not from the Father but is from the world.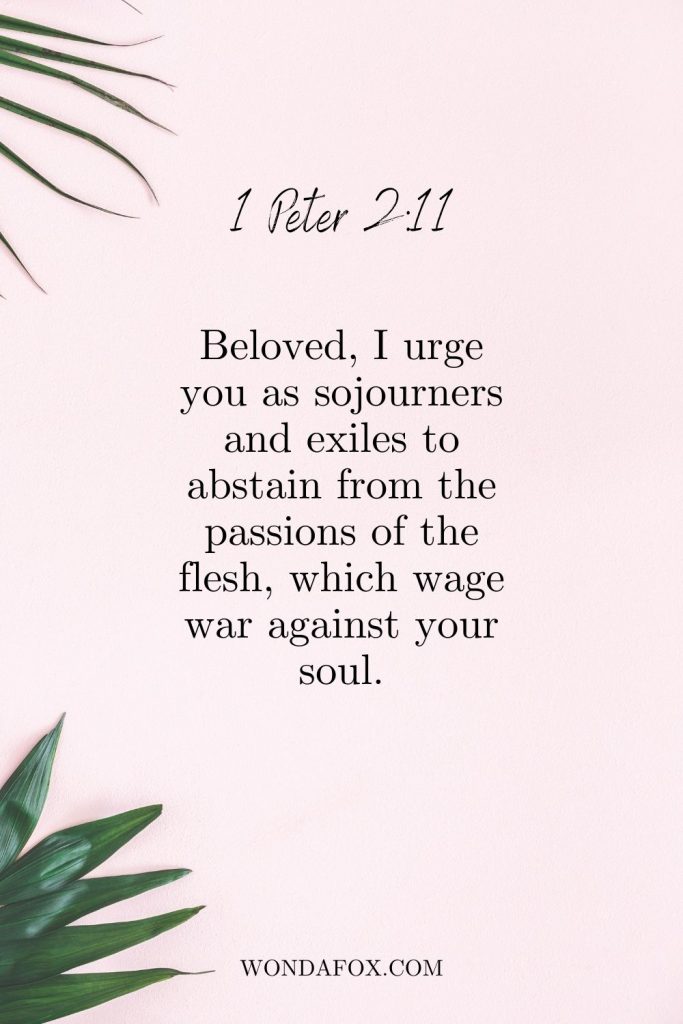 1 Peter 2:11
Beloved, I urge you as sojourners and exiles to abstain from the passions of the flesh, which wage war against your soul.
Proverbs 20:1
Wine is a mocker, strong drink a brawler, and whoever is led astray by it is not wise.
Romans 12:1-2
I appeal to you therefore, brothers, by the mercies of God, to present your bodies as a living sacrifice, holy and acceptable to God, which is your spiritual worship. Do not be conformed to this world, but be transformed by the renewal of your mind, that by testing you may discern what is the will of God, what is good and acceptable and perfect.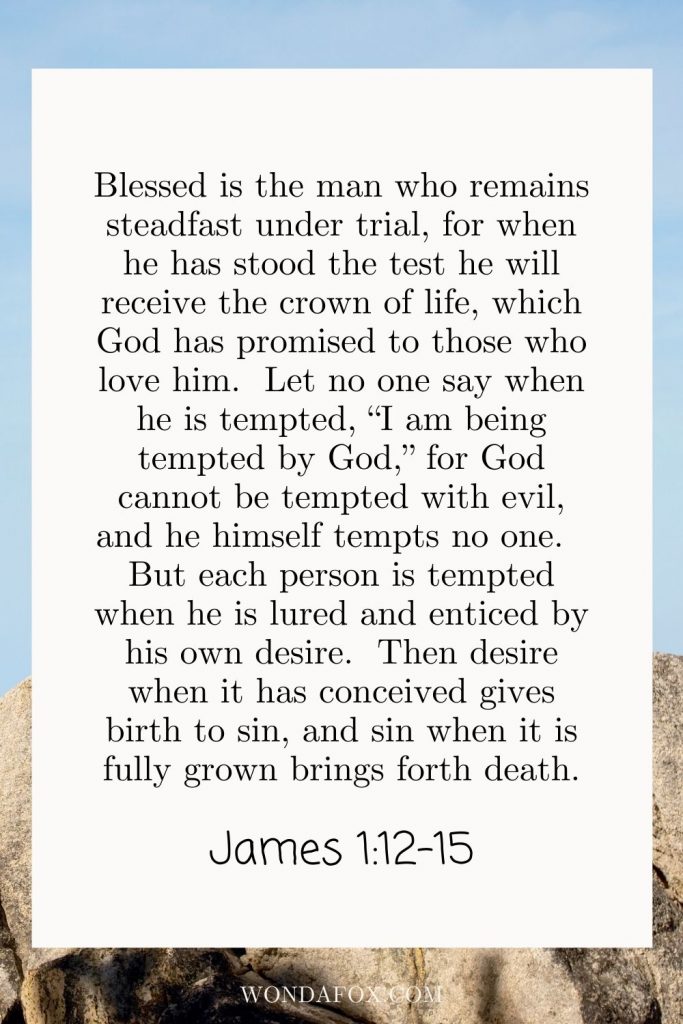 James 1:12-15
Blessed is the man who remains steadfast under trial, for when he has stood the test he will receive the crown of life, which God has promised to those who love him. Let no one say when he is tempted, "I am being tempted by God," for God cannot be tempted with evil, and he himself tempts no one. But each person is tempted when he is lured and enticed by his own desire. Then desire when it has conceived gives birth to sin, and sin when it is fully grown brings forth death.
Addiction bible reading plan
One very effective way to study and meditate on the word of God is to read it often. So below we've added a 21-day bible reading plan on addiction to help you study and understand what the bible says about addiction.
We hope by the end of this bible reading plan, you will be able to understand what the bible says about breaking an addiction and how you can effectively do it. Here are a few questions to ask yourself after each reading;
How do you understand the scripture?
What does the scripture tell you about addiction or breaking an addiction?
How can you apply this scripture in your life?