When things get really difficult, our faith can start to falter and we start to doubt God. However, it is critical that we maintain our faith and do not succumb to our anxieties, especially during difficult circumstances. Reminding ourselves of God's promises for us is the best approach to retain our faith and confidence in Him.
That is why, in these trying times, it is critical to read your Bible. These Bible verses on faith will assist you in drawing closer to God during these trying times. And to remind you of His love and promises to those who truly trust and abide in Him.
Faith prayer for hope
Thank you, Father, for everything you've done for me. Father, you are aware of everything that is going on in my life right now. This is all too much for me, and I won't be able to handle it on my own. Please forgive me for being preoccupied with my difficulties and allowing my faith to wane. I'm at your feet now, Lord, to give you all my problems.
I'm giving you all of my anxiety.
I hand over all of my burdens to you. Please take them away from me and offer me inner peace and serenity in their place. Give me the strength to get through each day, and comfort my heart. Help me to not get discouraged, but to develop in faith and trust in Your timing instead. Thank you for hearing my prayer and giving me hope, Amen.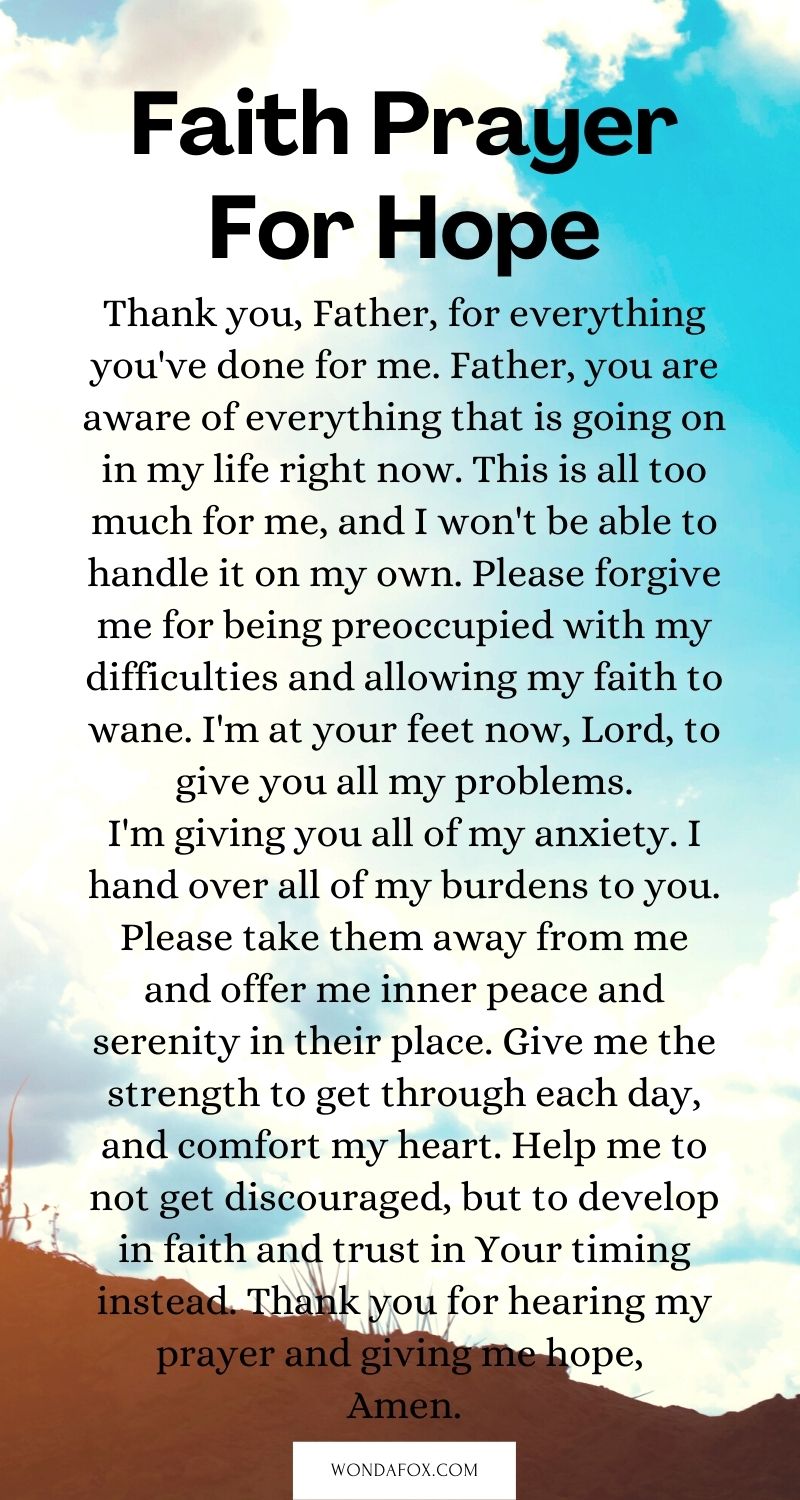 Bible verses on faith
Philippians 4:6
Do not be anxious about anything, but in every situation, by prayer and petition, with thanksgiving, present your requests to God.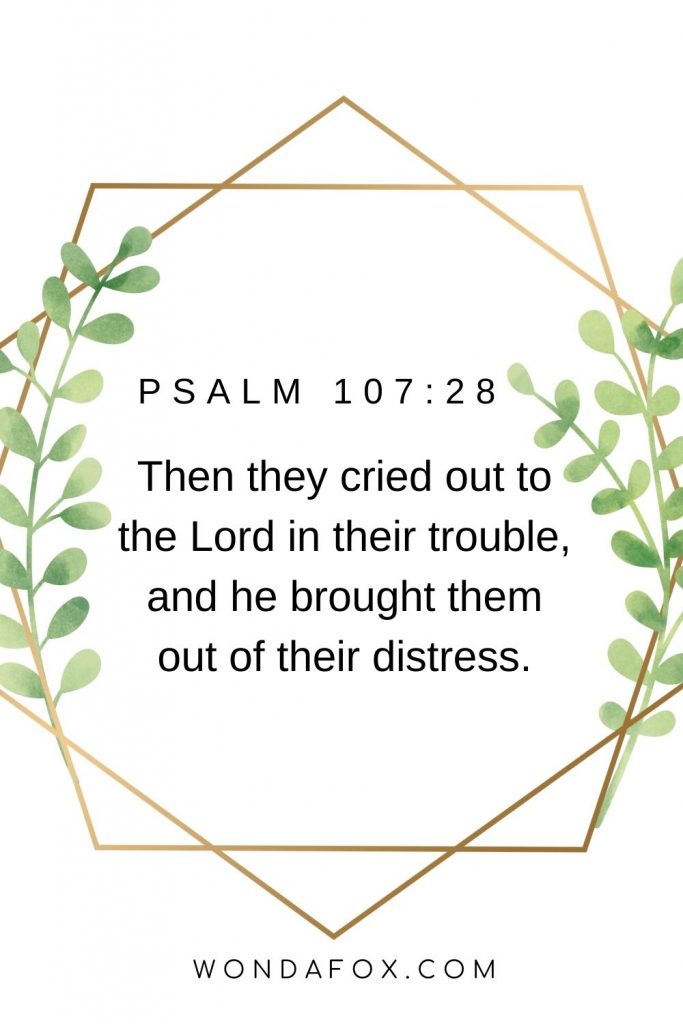 Psalm 107:28
Then they cried out to the Lord in their trouble,
and he brought them out of their distress.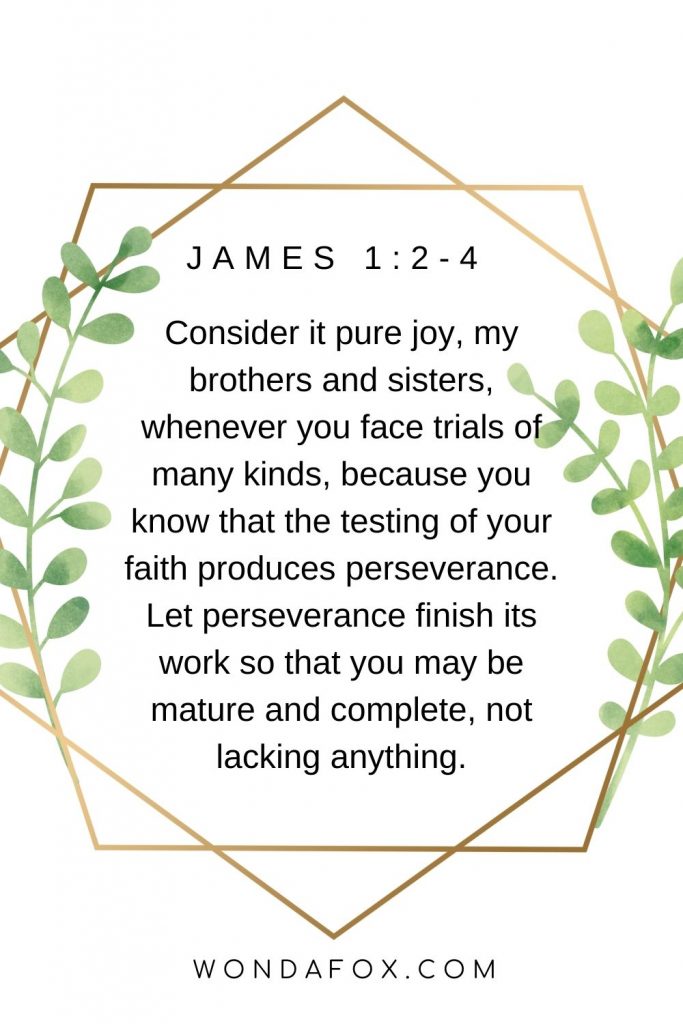 James 1:2-4
Consider it pure joy, my brothers and sisters, whenever you face trials of many kinds, because you know that the testing of your faith produces perseverance. Let perseverance finish its work so that you may be mature and complete, not lacking anything.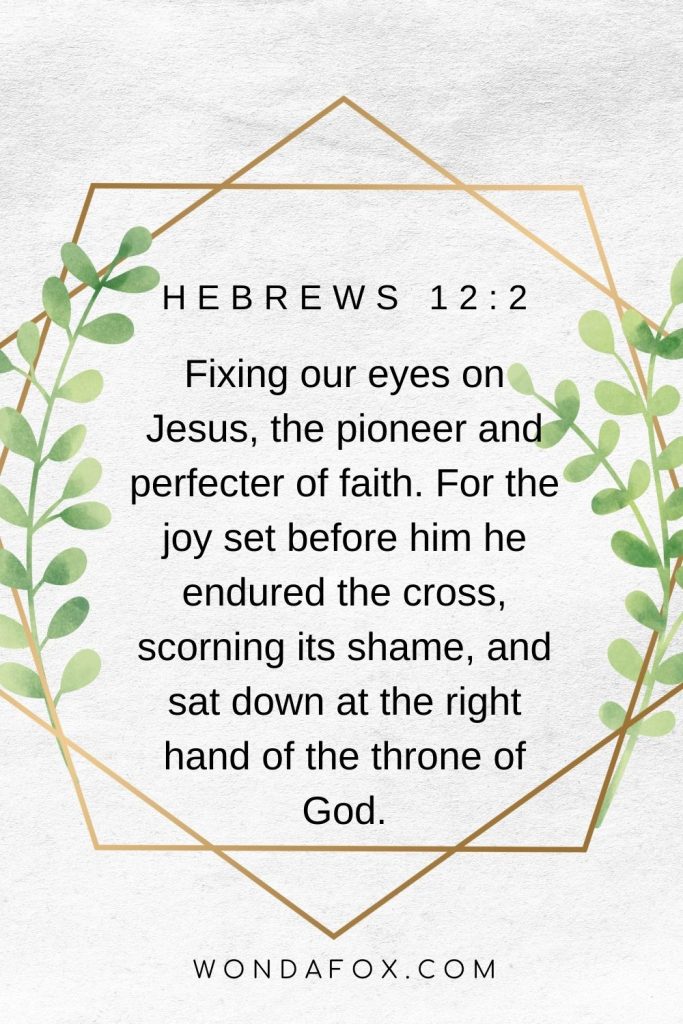 Hebrews 12:2
Fixing our eyes on Jesus, the pioneer and perfecter of faith. For the joy set before him he endured the cross, scorning its shame, and sat down at the right hand of the throne of God.
Isaiah 41:10
So do not fear, for I am with you; do not be dismayed, for I am your God. I will strengthen you and help you; I will uphold you with my righteous right hand.
Joshua 1:9
Have I not commanded you? Be strong and courageous. Do not be afraid; do not be discouraged, for the Lord your God will be with you wherever you go."
2 Timothy 1:7
For the Spirit God gave us does not make us timid, but gives us power, love and self-discipline.
Mark 11:24
Therefore I tell you, whatever you ask for in prayer, believe that you have received it, and it will be yours.
1 John 5:4
For everyone born of God overcomes the world. This is the victory that has overcome the world, even our faith.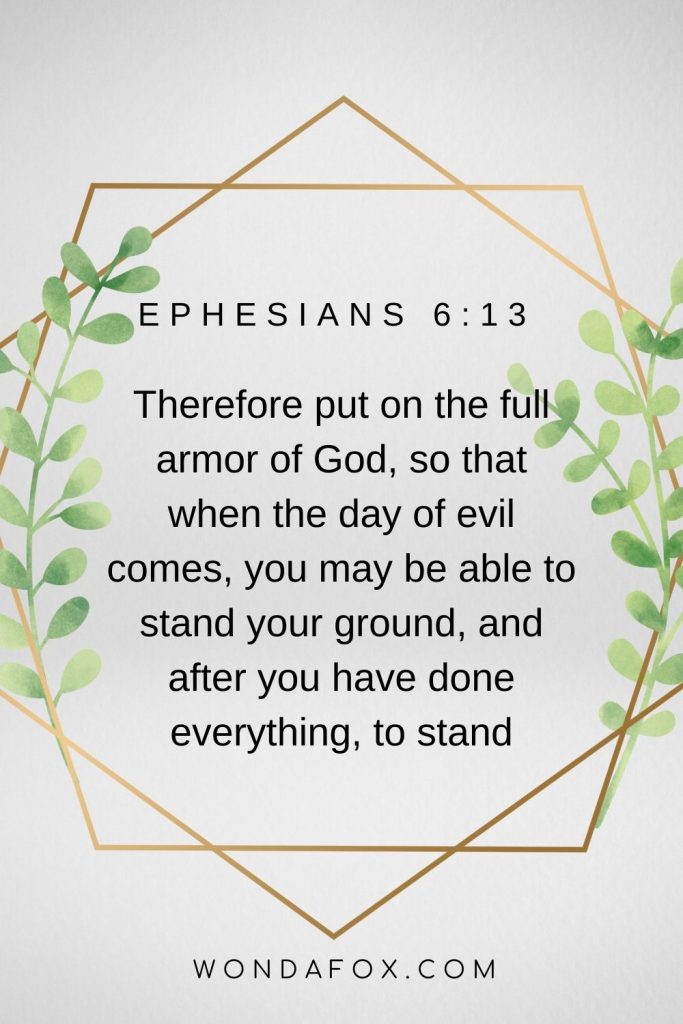 Ephesians 6:13
Therefore put on the full armor of God, so that when the day of evil comes, you may be able to stand your ground, and after you have done everything, to stand.
Luke 18:27
Jesus replied, "What is impossible with man is possible with God."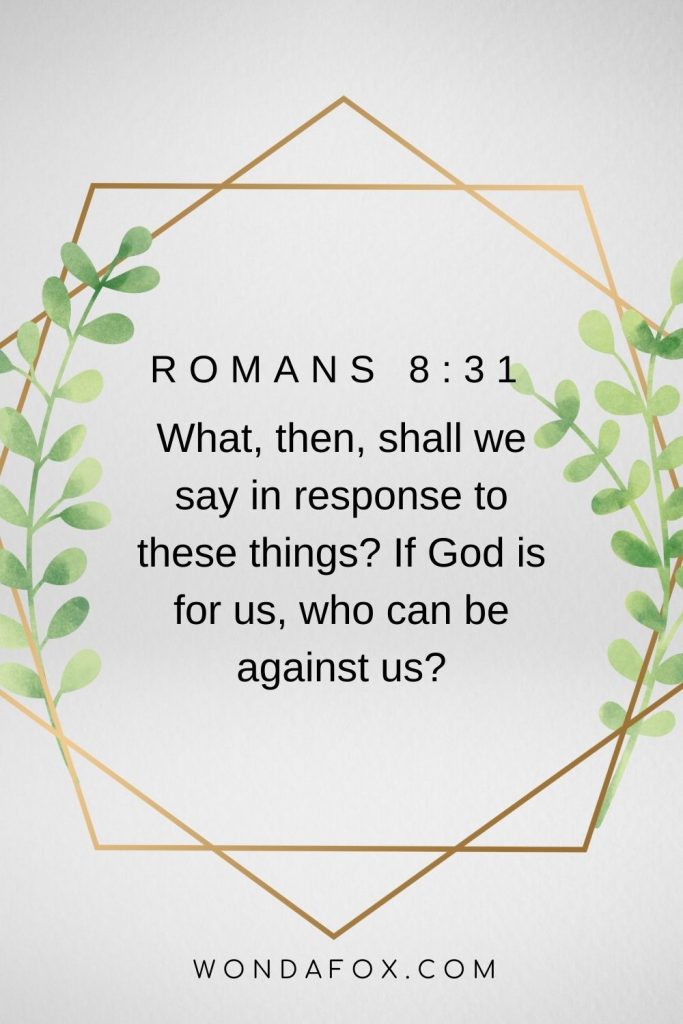 Romans 8:31
What, then, shall we say in response to these things? If God is for us, who can be against us?
Matthew 21:21
Jesus replied, "Truly I tell you, if you have faith and do not doubt, not only can you do what was done to the fig tree, but also you can say to this mountain, 'Go, throw yourself into the sea,' and it will be done.
Mark 10:52
Go," said Jesus, "your faith has healed you." Immediately he received his sight and followed Jesus along the road.
Hebrews 11:6
Go," said Jesus, "your faith has healed you." Immediately he received his sight and followed Jesus along the road.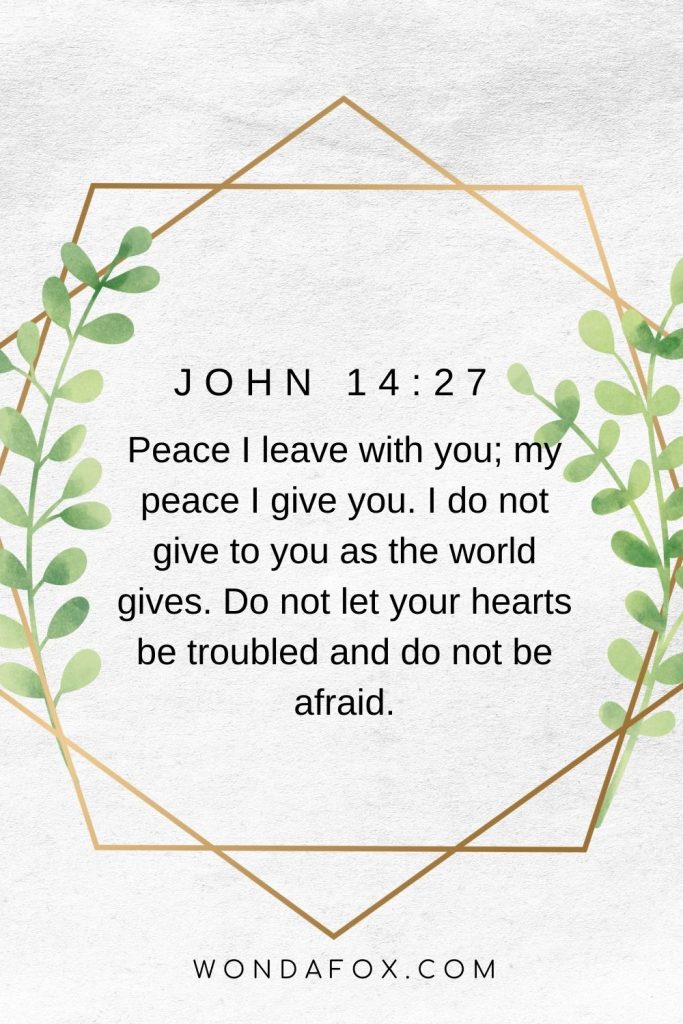 John 14:27
Peace I leave with you; my peace I give you. I do not give to you as the world gives. Do not let your hearts be troubled and do not be afraid.
2 Corinthians 4:16-17
Therefore we do not lose heart. Though outwardly we are wasting away, yet inwardly we are being renewed day by day. For our light and momentary troubles are achieving for us an eternal glory that far outweighs them all.
Matthew 14:30-32
But when he saw the wind, he was afraid and, beginning to sink, cried out, "Lord, save me! Immediately Jesus reached out his hand and caught him. "You of little faith," he said, "why did you doubt?" And when they climbed into the boat, the wind died down.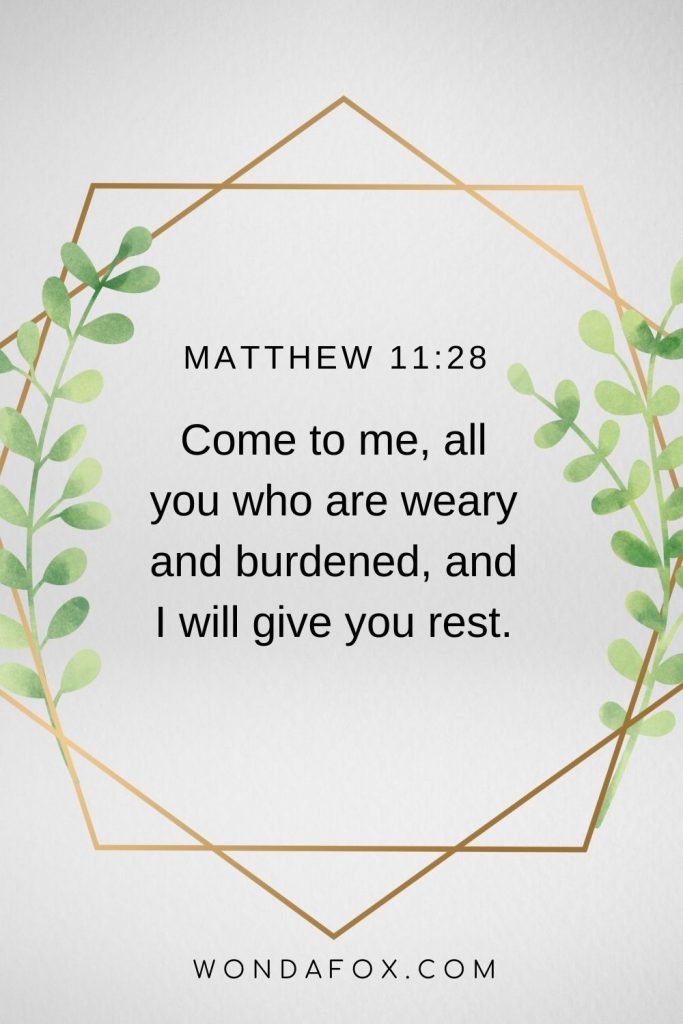 Matthew 11:28
Come to me, all you who are weary and burdened, and I will give you rest.
Mark 9:23
If you can'?" said Jesus. "Everything is possible for one who believes."
Proverbs 3:5-6
Trust in the Lord with all your heart and lean not on your own understanding; in all your ways submit to him, and he will make your paths straight.
21-day faith bible reading plan
One very effective way to study and meditate on the word of God is to read it often. So below we've added a 21-day bible reading plan on faith to help you study and understand what the bible says about faith.
We hope by the end of this bible reading plan, you will be able to understand what the bible says about faith and holding on to faith in trying times. Here are a few questions to ask yourself after each reading;
How do you understand the scripture?
What does the scripture tell you about faith?
How can you apply this scripture in your life?