Jesus Christ urges us to forgive each other indefinitely. This may look unattainable to us, but Christ is implying that we should forgive as many times as the opportunity arises. Imagine a Christ who made the ultimate sacrifice for humanity and was abused despite having done nothing wrong, begging us to forgive. He is the epitome of a role model. He didn't hold our sins against us; instead, he died to save us.
Most people believe that forgiveness is only for the perpetrator. This is incorrect. Forgiveness extends to those who have been wronged. When you forgive, you are demonstrating Christ's behavior. You're letting go of all the hurt and pain that has been inflicted on you.
Forgiveness leads to happiness. And people who forgive also find forgiveness from God. That's why, in prayer, Jesus asked, "forgive us our transgressions as we forgive those who trespass against us" (Matthew 6:12). Forgiveness also draws people closer together.
When you forgive someone for wrongdoing, it brings you both closer together and allows you to coexist. Make letting things go a habit. Holding on to past hurts and pains can have a huge impact on your life. It makes you bitter and prevents you from moving forward in life since you are always thinking about the past. It can also create sadness and sleepless nights, both of which are detrimental to your health and well-being.
Here are a few bible verses on forgiveness to help you understand how God always forgives our transgressions and why we should forgive others as well.
Prayer to help you forgive
Almighty Father, I am grateful for your love for me. I thank you for sending your son to die for me despite my mistakes. I ask for a forgiving heart from you. Let me not focus on the pain that others inflict on me. Allow me to be able to love those who hurt me. Assist me in letting go of whatever guilt I have for myself. Assist me in letting go of whatever resentment I feel towards anyone. Give me the strength to forgive those who have wronged me. Assist me in accepting myself and others just as You have loved and accepted me despite my imperfections. In Jesus' name, I thank you for answering my prayer. Amen
Bible verses on forgiveness
Romans 12:17
Do not repay anyone evil for evil. Be careful to do what is right in the eyes of everyone.
Proverbs 15:1
A gentle answer turns away wrath,
but a harsh word stirs up anger.
Matthew 5:7
Blessed are the merciful,
for they will be shown mercy.
Hebrews 8:12
For I will forgive their wickedness and will remember their sins no more."
John 13:34
A new command I give you: Love one another. As I have loved you, so you must love one another
2 Chronicles 7:14
If my people, who are called by my name, will humble themselves and pray and seek my face and turn from their wicked ways, then I will hear from heaven, and I will forgive their sin and will heal their land.
Luke 17:3
So watch yourselves. If your brother or sister sins against you, rebuke them; and if they repent, forgive them.
Acts 10: 43
All the prophets testify about him that everyone who believes in him receives forgiveness of sins through his name.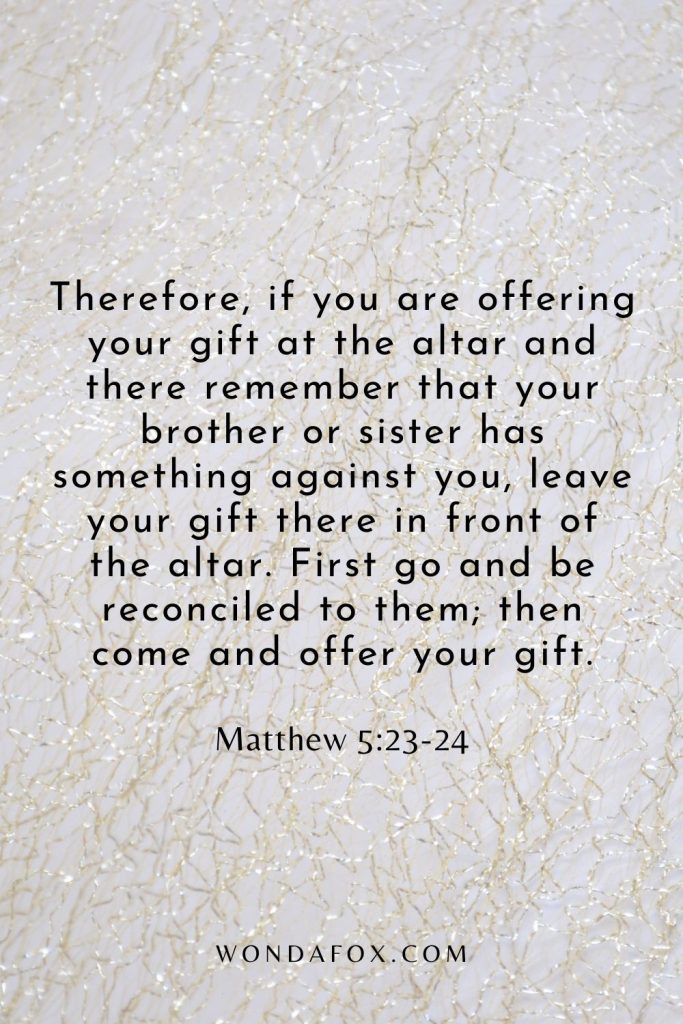 Matthew 5:23-24
Therefore, if you are offering your gift at the altar and there remember that your brother or sister has something against you, leave your gift there in front of the altar. First go and be reconciled to them; then come and offer your gift.
Isaiah 55:7
Let the wicked forsake their ways and the unrighteous their thoughts. Let them turn to the Lord, and he will have mercy on them, and to our God, for he will freely pardon.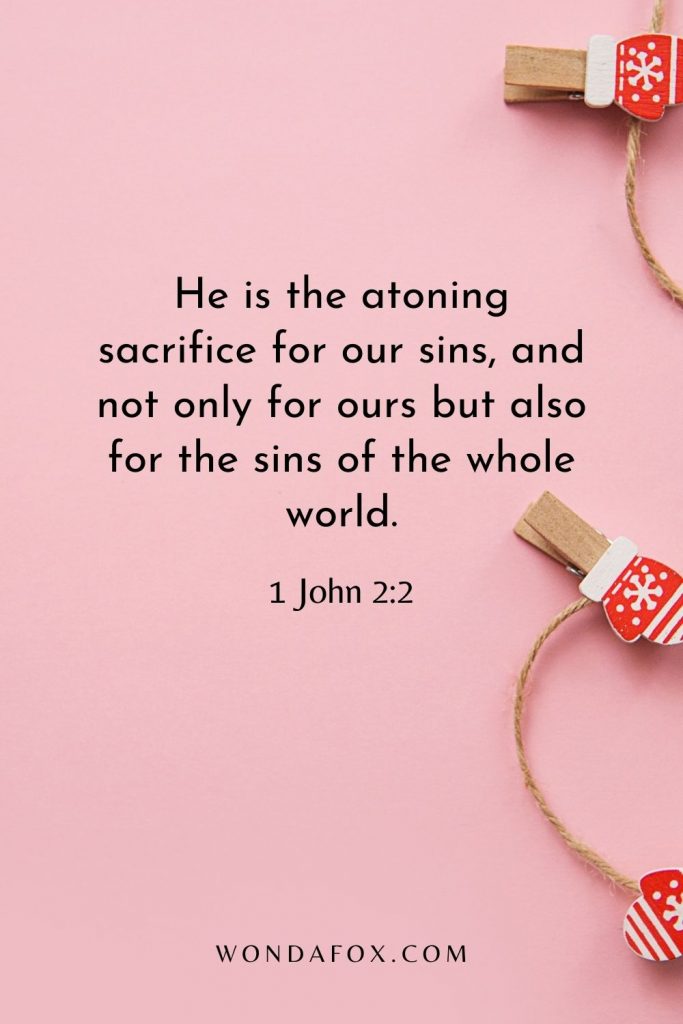 1 John 2:2
He is the atoning sacrifice for our sins, and not only for ours but also for the sins of the whole world.
1 Peter 4:8
Above all, love each other deeply, because love covers over a multitude of sins.
Acts 17:30
In the past God overlooked such ignorance, but now he commands all people everywhere to repent.
Isaiah 43:25
I, even I, am he who blots out your transgressions, for my own sake, and remembers your sins no more
Matthew 6:14
For if you forgive other people when they sin against you, your heavenly Father will also forgive you.
Related Posts
None found
Mark 11:25
And when you stand praying, if you hold anything against anyone, forgive them, so that your Father in heaven may forgive you your sins."
1 John 2:12
I am writing to you, dear children, because your sins have been forgiven on account of his name.
Psalm 32:1
Blessed is the one whose transgressions are forgiven,
whose sins are covered.
Proverbs 17:9
Whoever would foster love covers over an offense,
but whoever repeats the matter separates close friends.
Galatians 6:1
Brothers and sisters, if someone is caught in a sin, you who live by the Spirit should restore that person gently. But watch yourselves, or you also may be tempted.
Daniel 9:9
The Lord our God is merciful and forgiving, even though we have rebelled against him;
21-day forgiveness bible reading plan
One very effective way to study and meditate on the word of God is to read it often. So below we've added a 21-day bible reading plan on forgiveness to help you study and understand what the bible says about forgiveness.
We hope by the end of this bible reading plan, you will be able to understand what the bible says about forgiveness and how you can forgive. Here are a few questions to ask yourself after each reading;
How do you understand the scripture?
What does the scripture tell you about forgiveness?
How can you apply this scripture in your life?