Change comes in various kinds in life. It can be a change in an environment like moving to a new place or a change in career, relationships, school, or even personal change like a change in character.
But no matter what the change is about, change can be both joyful and exhilarating, as well as unpleasant and difficult. But even if change is difficult, you'll find that taking a big risk is not only important, but it may also lead to incredible results.
So if you are about to embark on a new journey in life and you are unsure of yourself, let these change quotes provide you with a deeper understanding on change and how change can be for the better.
Change quotes and images
Jack Welch
"Change before you have to."
Winston Churchill
To improve is to change; to be perfect is to change often
Icelandic Proverb
A wise man changes his mind, a fool never will."
John D. Rockefeller
Don't be afraid to give up the good to go for the great."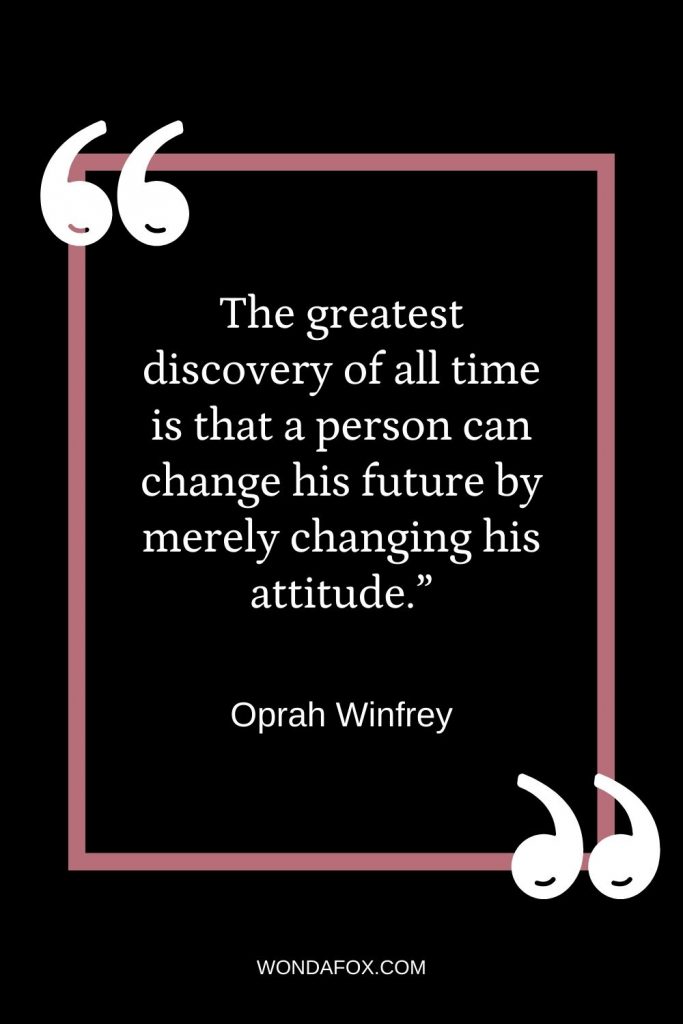 Oprah Winfrey
The greatest discovery of all time is that a person can change his future by merely changing his attitude."
Steve Jobs
The people who are crazy enough to think they can change the world are the ones who do
C. JoyBell C.
You will find that it is necessary to let things go; simply for the reason that they are heavy."
Mahatma Gandhi
Be the change that you wish to see in the world."
Steve Maraboli
The truth is, unless you let go, unless you forgive yourself, unless you forgive the situation, unless you realize that the situation is over, you cannot move forward."
Rachel Hollis
Moving doesn't change who you are. It only changes the view outside your window."
Wayne W. Dyer
Change the way you look at things and the things you look at change."
Roy T. Bennett
If you want to fly, you have to give up what weighs you down."
Maya Angelou
If you can't change it, change your attitude."
George Bernard Shaw
Those who cannot change their minds cannot change anything."
Thomas Fuller
All things are difficult before they are easy."
John Wooden
Good things take time."
John Maxwell
Change is inevitable. Growth is optional.
Mandy Hale
Change is painful, but nothing is as painful as staying stuck somewhere you don't belong."
C.S. Lewis
There are far better things ahead than any we leave behind."
Hermann Hesse
Some of us think holding on makes us strong, but sometimes it is letting go
Ginni Rometty
Growth and comfort do not coexist."
Related Posts
Raymond Lindquist
Courage is the power to let go of the familiar."
William Arthur Ward
The pessimist complains about the wind; the optimist expects it to change; the realist adjusts the sails."
Roy T. Bennett
You never change your life until you step out of your comfort zone; change begins at the end of your comfort zone."
Arnold Bennett
Any change, even a change for the better, is always accompanied by discomforts."
Stephen Chbosky
Things change. And friends leave. Life doesn't stop for anybody."
John F. Kennedy
Change is the law of life. And those who look only to the past or present are certain to miss the future."
Abraham Maslow
"In any given moment we have two options: to step forward into growth or step back into safety."
Nicholas Sparks
I don't know that love changes. People change. Circumstances change."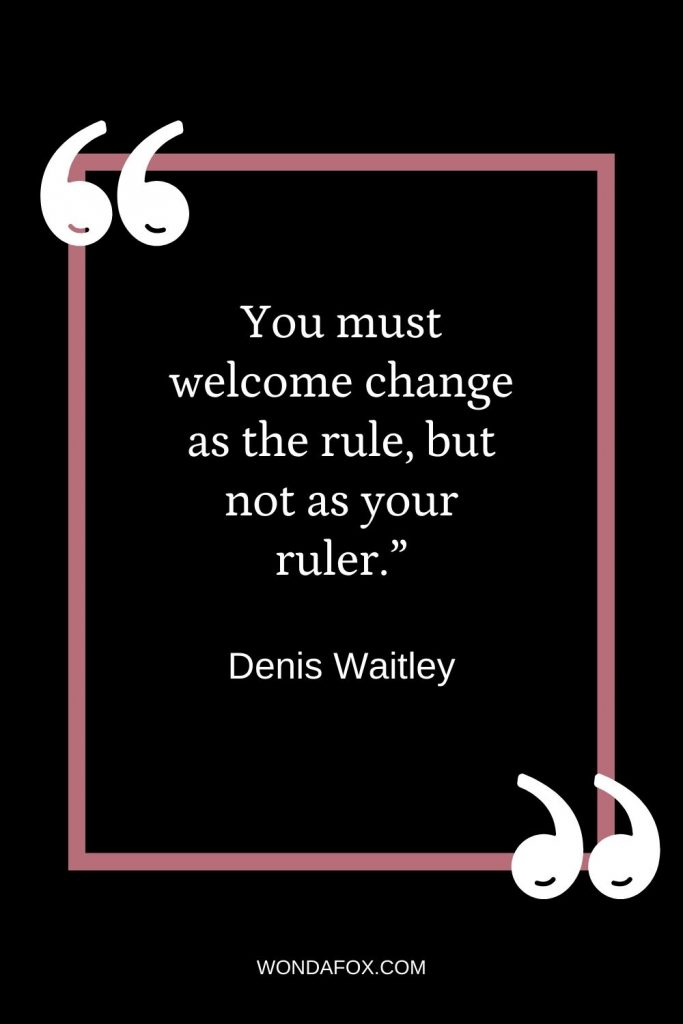 Denis Waitley
You must welcome change as the rule, but not as your ruler."
Debby Boone
Dreams are the seeds of change. Nothing ever grows without a seed, and nothing ever changes without a dream."
Gail Sheehy
If we don't change, we don't grow. If we don't grow, we aren't really living."
Hugh Prather
Just when I think I have learned the way to live, life changes
Jalaluddin Mevlana Rumi
Yesterday I was clever, so I wanted to change the world. Today I am wise, so I am changing myself."
Andy Warhol
They always say time changes things, but you actually have to change them yourself
Harrison Ford
We all have big changes in our lives that are more or less a second chance."
Leo Tolstoy
Everyone thinks of changing the world, but no one thinks of changing himself.
Leo Tolstoy
Education is the most powerful weapon which you can use to change the world."
Stephen Hawking
Intelligence is the ability to adapt to change
Anne Frank
How wonderful it is that nobody need wait a single moment before starting to improve the world.
Dr. Seuss
Today was good. Today was fun. Tomorrow is another one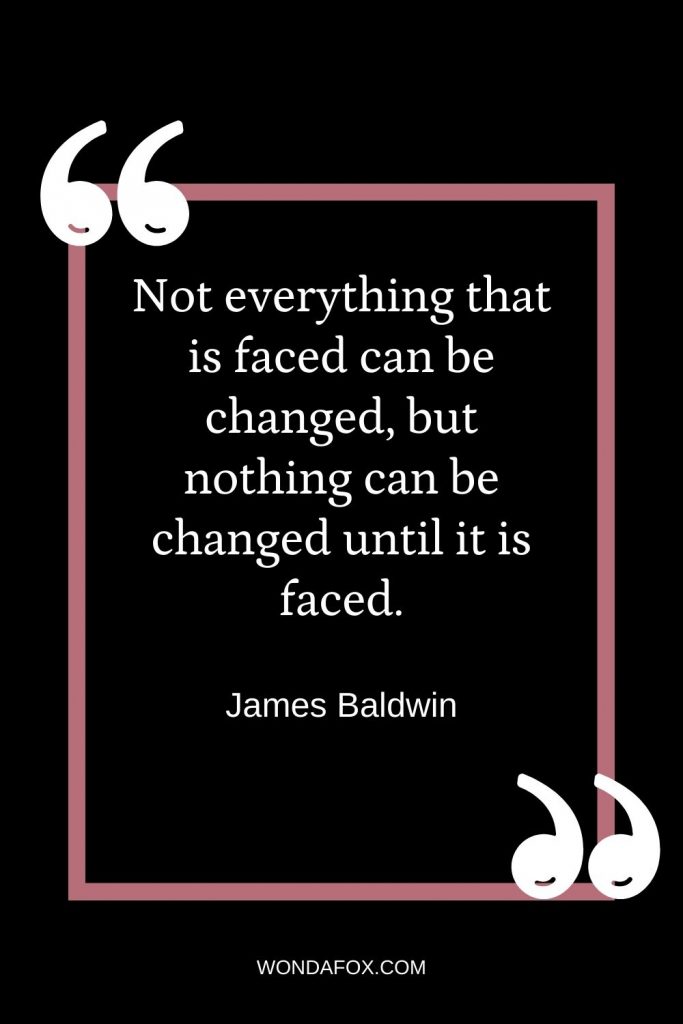 James Baldwin
Not everything that is faced can be changed, but nothing can be changed until it is faced.
Socrates
Let him that would move the world first move himself.
Maxime Lagacé
Love change, fear staying the same.
Billy Cox
Life will only change when you become more committed to your dreams than you are to your comfort zone
Kakuzo Okakura (The Book Of Tea)
The art of life lies in a constant readjustment to our surrounding
Ralph Waldo Emerson
People wish to be settled; only as far as they are unsettled is there any hope for them.
Viktor Frankl
When we are no longer able to change a situation, we are challenged to change ourselves.
Anthony Bourdain
If I am an advocate for anything, it is to move. As far as you can, as much as you can. Across the ocean, or simply across the river
Harriet Tubman
Every great dream begins with a dreamer. Always remember, you have within you the strength, the patience, and the passion to reach for the stars to change the world.