The year has already begun and we all can agree on how beauty trends keep on changing. Therefore with a new year, you should try to find out what's in and what's out and keep up with all the latest trends, especially with nail trends for 2022.
Having beautiful and hot nails is as important as how you go about with your daily skincare routine. Just as you want to make sure that everything included within your skincare routine is perfectly done for glowing skin so should you factor in how to keep your nails glowing in mind.
Your nails may not be that important to you but it is one of the parts people take notice of as you use your hands a lot when dealing with people. So, it is necessary to keep them clean. Especially if you come across a person like me. It is time to try on new and fresh manicures.
There are new nail polishes with great colors for the year. I'm sure by now your nails are literally dying to have some pampering from you.
Hot nail trend 2022 gives your manicure in different sizes and styles. Whatever you need to suit your taste. There are also beautiful patterns and nail stickers that can give your nails a trendy look. You don't need glossy to add a finishing touch to your nails, look for the opposite when you visit nail expertise or a saloon this year.
There is no reason to wait anymore. Hot nail trend 2022 is here to make choosing a nail style easy. Here are some hot nails for the 2022 trend to make you stick to your saloon.
Hot nail trends for 2022
Glitter for perfection
Glitter is one nail polish that doesn't go out of style. It finds its own way of being part of what is trendy. This polish makes your nails stand out and also adds definition to your entire hand. Don't stress yourself to get a perfect polish, just add glitter.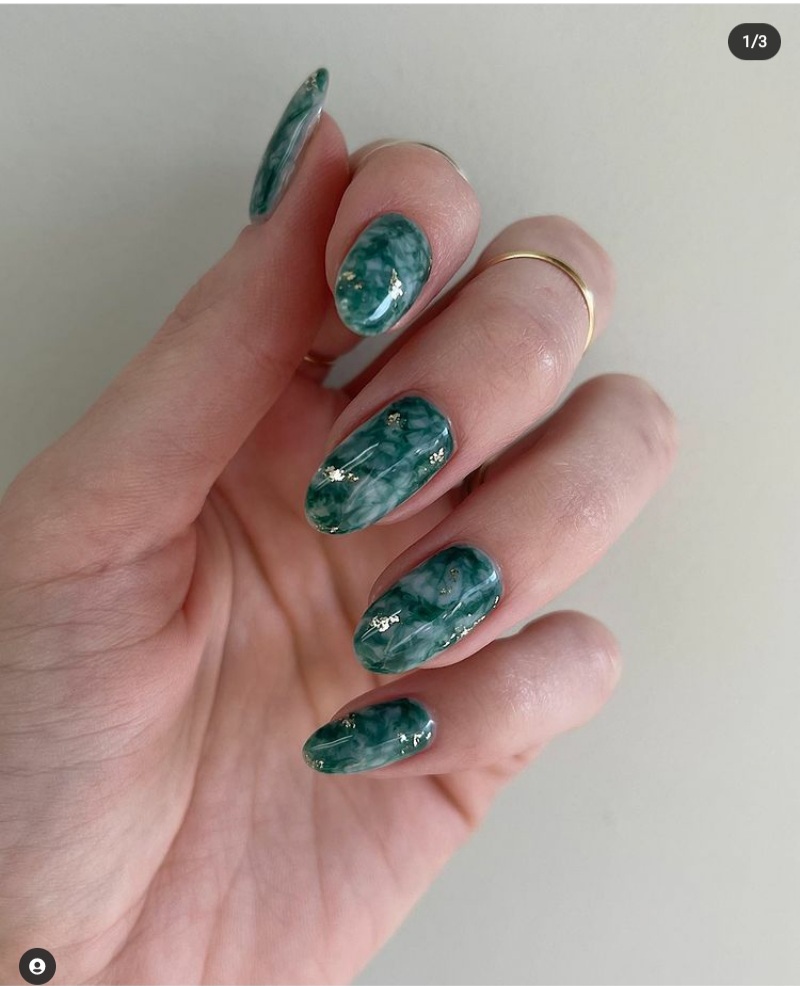 Green water color nail design
Love plants and green? This short almond nail design adds a touch of nature to your nails. It is also easy to recreate the look. You can check online for some watercolor nail tutorials to help you do your own nails. Once you are done, accessorize with some gold foils.
Winter 2022 nail trends
Hot nail trends for 2022 got you covered no matter the season you find yourself. Since we are still in wintertime you can include little sweater nails to the options of your nail designs. You can even get creative and have an accent nail with glitter and nail rhinestones.
Argyle nails
With the trend of 2022, it's never a dull moment. You can do argyle design on all the nails or paint the nails in one color and have an accent argyle nail with nail studs.
Hearts for valentine
We cant forget the month of love in our list. For Valentine and the entire month of February, hearts nail designs will be just perfect. To signify the month of love, stick with reds nad pinks.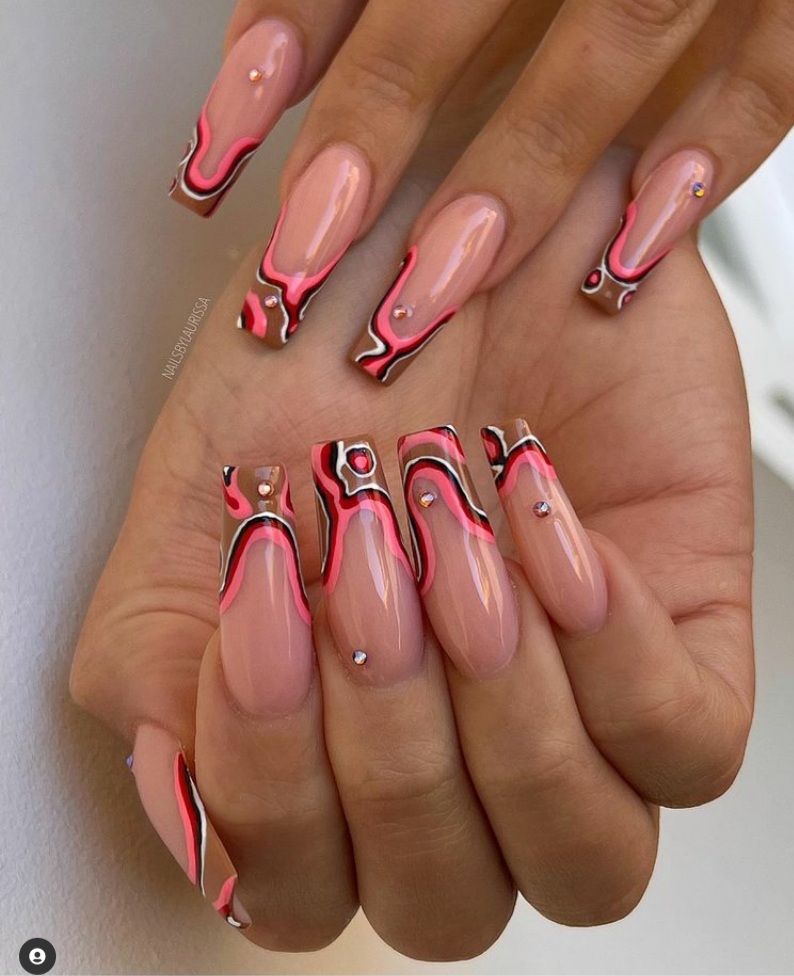 Nude nail designs
2022 gives you the opportunity to try out bold patterns as well as nail stickers that are modern. Even for a nude nail design, you can try out bold patterns to make your nails stand out.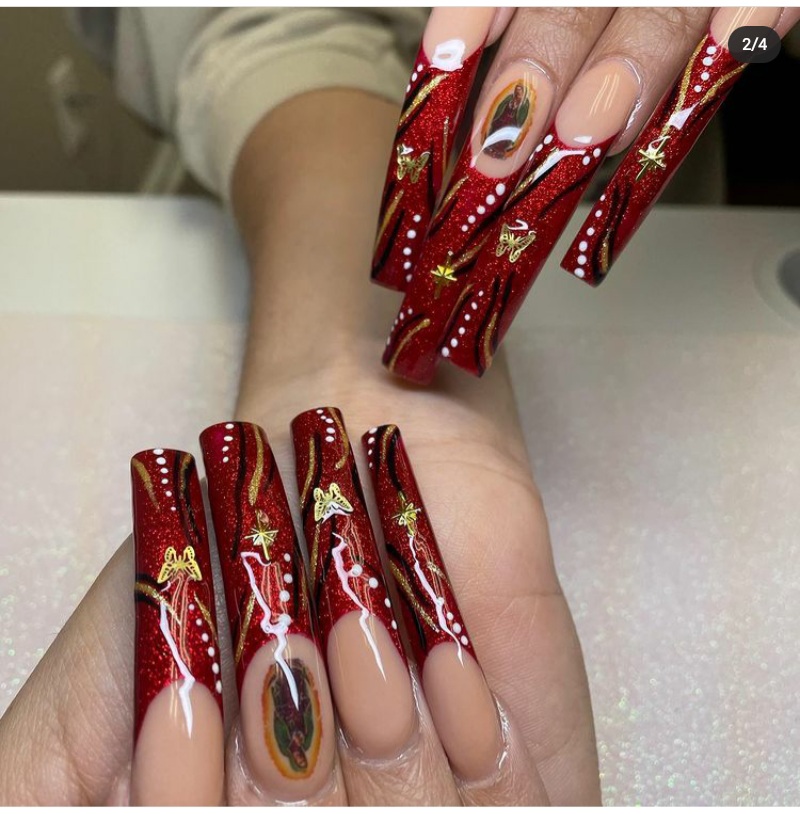 Long nails for 2022
If you like your nails long, you can still do that in 2022. Just makes sure it's comfortable. No matter the length of your nails you can get a design that will fit the length. You can add gloss to your sticker design to restore brightness.
Clear nails
Yes, clear nails are still in in 2022. Let your creative spirit come out. Blend design to creat your own unique design. This nail design above include sweater nails, snowflakes and glitter, adorned with some rhinestones. You see, your clear nails don't have to be boring.
Crocodile nails
Squared manis will never be out of what is trendy, and crocodile nails are here to stay. You can use different colors for your crocodile nail design and for a monochromatic nail design, use different shades of the same color like the one above.
We may earn a commission if you purchase items through our links. But this is at no extra cost to you.