Everyone is talking about how scary the world is now and how much evil is going on. You may not be able to change the world, but you can try to make a difference with your actions.
The way you treat others, the things you do, and the things you say to them can have a significant impact on their lives. And the point is, anything you do to someone affects not only them but also anyone they will affect.
So, if you are good to one person, your kindness can benefit a lot of people. This is because anybody you are kind to will be in a good mood and, as a result, will be nice to others, who will be nice to others.
So, even a single act of kindness can make the world a better place. Try to make an effort to be kind to others. Show love to others, not just to your friends and family but even strangers too.
Take a look at these kindness bible verses with images, to learn more about being kind.
Prayer to be kind
Heavenly Father,
Thank you for the blessings and mercies you have bestowed upon me. Please forgive me for allowing my lifestyle to take all of my time and attention. I pray that you take pride and selfishness from me. Please have mercy on me. Help me to treat others with love, kindness, gentleness, and compassion.
If there is someone who could benefit from my assistance. Please place them in my heart and mind so that I can help them. Help me in being a blessing to those who are less fortunate. Give me the strength to serve those in need. Guide me in having patience with others. Help me in listening to anyone who could benefit from my assistance. Guide me in making a good difference in the lives of everyone I meet, in Jesus' name, Amen.
Kindness bible verses with images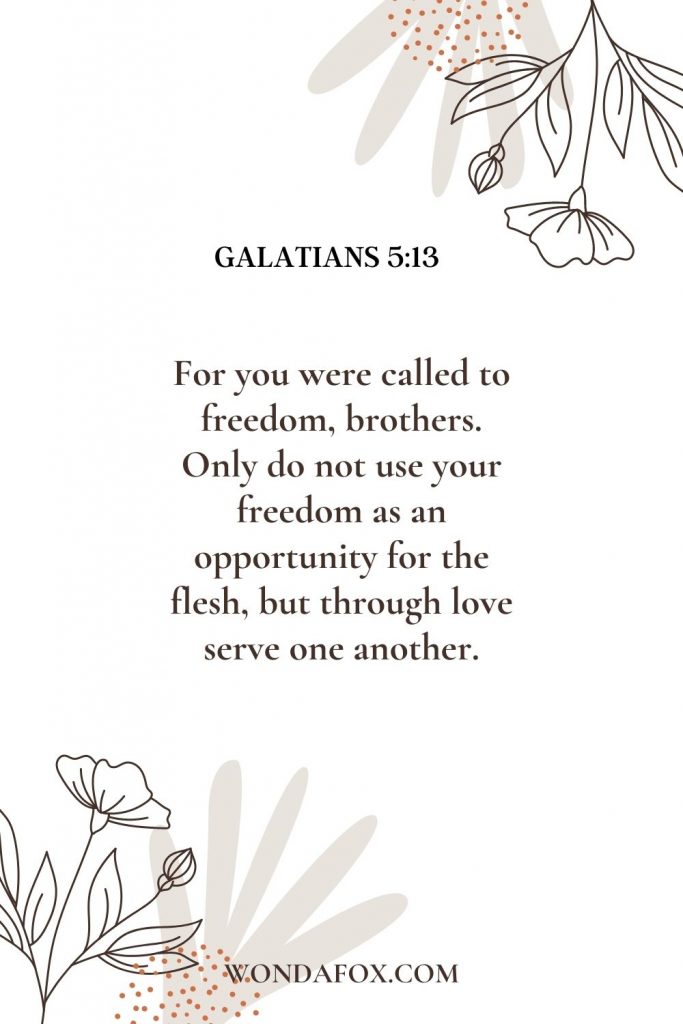 Galatians 5:13
For you were called to freedom, brothers. Only do not use your freedom as an opportunity for the flesh, but through love serve one another.
Galatians 6:9-10
And let us not grow weary of doing good, for in due season we will reap, if we do not give up. So then, as we have opportunity, let us do good to everyone, and especially to those who are of the household of faith.
Luke 6:31
And as you wish that others would do to you, do so to them.
1 Samuel 20:14
If I am still alive, show me the steadfast love of the Lord, that I may not die
Galatians 5:22-23
But the fruit of the Spirit is love, joy, peace, patience, kindness, goodness, faithfulness, gentleness, self-control; against such things there is no law.
Proverbs 12:25
Anxiety in a man's heart weighs him down, but a good word makes him glad
Related Posts
Psalm 31:21
Blessed be the Lord, for he has wondrously shown his steadfast love to me when I was in a besieged city.
Acts 28:2
The native people showed us unusual kindness, for they kindled a fire and welcomed us all, because it had begun to rain and was cold.
2 Samuel 9:7
And David said to him, "Do not fear, for I will show you kindness for the sake of your father Jonathan, and I will restore to you all the land of Saul your father, and you shall eat at my table always."
Colossians 3:12-13
Put on then, as God's chosen ones, holy and beloved, compassionate hearts, kindness, humility, meekness, and patience, bearing with one another and, if one has a complaint against another, forgiving each other; as the Lord has forgiven you, so you also must forgive.
Proverbs 21:21
Whoever pursues righteousness and kindness will find life, righteousness, and honor.
Proverbs 16:23-24
The heart of the wise makes his speech judicious and adds persuasiveness to his lips. Gracious words are like a honeycomb, sweetness to the soul and health to the body.
Jeremiah 9:24
But let him who boasts boast in this, that he understands and knows me, that I am the Lord who practices steadfast love, justice, and righteousness in the earth. For in these things I delight, declares the Lord."
1 Corinthians 13:4-7
 Love is patient and kind; love does not envy or boast; it is not arrogant or rude. It does not insist on its own way; it is not irritable or resentful; it does not rejoice at wrongdoing, but rejoices with the truth. Love bears all things, believes all things, hopes all things, endures all things.
Proverbs 11:17
A man who is kind benefits himself, but a cruel man hurts himself.
Proverbs 14:21
Whoever despises his neighbor is a sinner, but blessed is he who is generous to the poor.
Ephesians 4:32
Be kind to one another, tenderhearted, forgiving one another, as God in Christ forgave you.
Matthew 7:21
Not everyone who says to me, 'Lord, Lord,' will enter the kingdom of heaven, but the one who does the will of my Father who is in heaven.
Romans 11:22
Note then the kindness and the severity of God: severity toward those who have fallen, but God's kindness to you, provided you continue in his kindness. Otherwise you too will be cut off.
Luke 6:35
But love your enemies, and do good, and lend, expecting nothing in return, and your reward will be great, and you will be sons of the Most High, for he is kind to the ungrateful and the evil.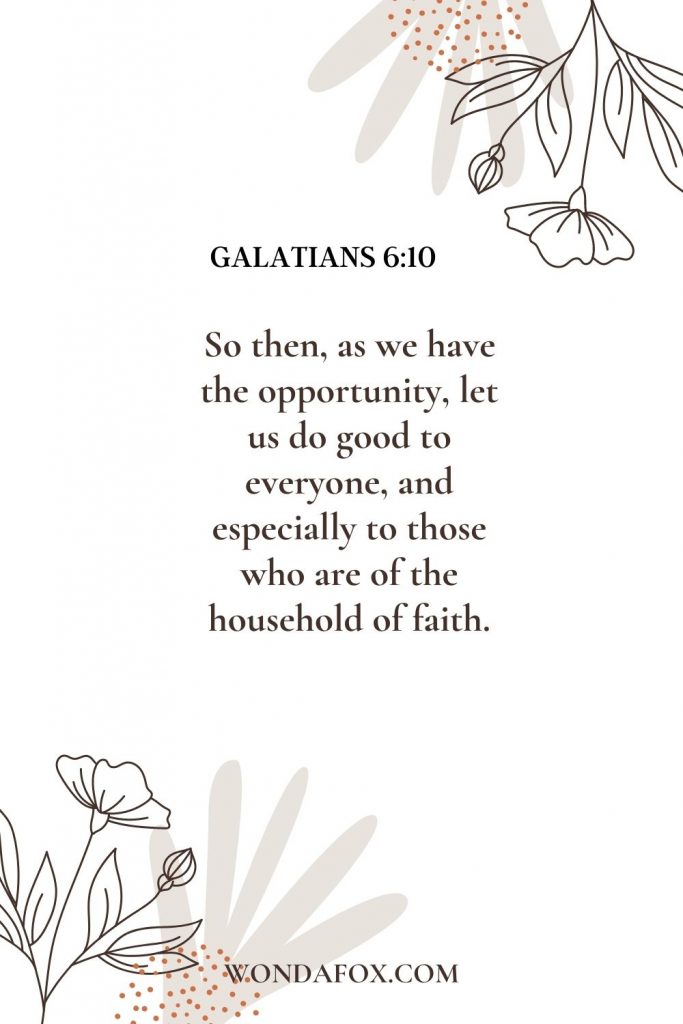 Galatians 6:10
So then, as we have opportunity, let us do good to everyone, and especially to those who are of the household of faith.
21-day kindness bible reading plan
One very effective way to study and meditate on the word of God is to read it often. So below we've added a 21-day bible reading plan on kindness to help you study and understand what the bible says about kindness and being kind.
We hope by the end of this bible reading plan, you will be able to understand what the bible says about being kind to others and how you can show others compassion. Here are a few questions to ask yourself after each reading;
How do you understand the scripture?
What does the scripture tell you about kindness?
How can you apply this scripture in your life?