Praying first thing in the morning is an excellent way to start your day by focusing your time and attention on God's plan for the day ahead. So every morning, seek God's presence before your energy and attention are diverted by the chores that lie ahead. Below are some morning prayers to use daily.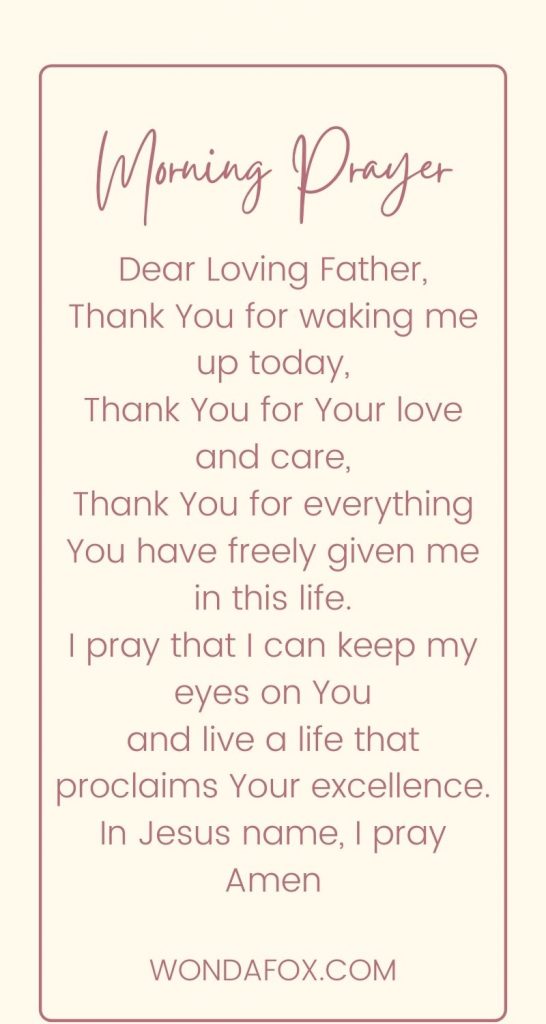 1
Dear Loving Father,
Thank You for waking me up today,
Thank You for Your love and care,
Thank You for everything You have freely given me in this life.
I pray that I can keep my eyes on You
and live a life that proclaims Your excellence.
In Jesus name, I pray
Amen
2
Our Heavenly Father,
I thank You for always loving me regardless of the mess I am.
It's just by Your uncommon grace that I am alive
I commit this great day under Your care,
Let Your grace abound for me in all that I do.
Order my steps and connect me to my destiny helper.
Lead me not into temptation but deliver me from evil
This and many I pray for in Jesus' name.
Amen
3
Our Holy Father in heaven,
We adore You and exalt Your Holy Name.
We're grateful for Your steadfast presence in our lives.
We thank You for Your gifts of health and safety.
May Your will continue to prevail in our lives.
Bless the works of our hands as we step out into the day,
for You're the source of all good things.
Guide us back home at the end of the day.
In Jesus' holy name we have prayed.
Amen
4
Our Heavenly Father,
We thank You this day for the wonderful opportunity given to us.
We thank You for the gifts of life, that of our families and friends, and the breath in us.
Thank you for the goodness and blessings over our life and the sacrifice that we may have life and freedom. 
Forgive us for our sins and iniquities especially when we do not thank You enough for who You are, what You do in our lives and what You have given us.
As we are about to start the day oh Lord, enlighten our hearts and eyes that we may see You and Your work today.
Guide our path Oh Lord and let Your spirit and power be with us that we might not fall into any temptation.
Give us wisdom and understanding to make the best choices, fill us with Your desires.
Grant us a cheerful spirit even when things do not go our way. Guide and protect each and every one of us as we soak our body and soul into the blood of Jesus.
Fill us with happiness and let Your will be done in our lives today.
Amen
5
Almighty God our heavenly Father,
I thank you for my life and health.
I commit this day unto your holy hands
Look with pity upon my penitent soul and restore me according to your promises declared unto mankind in Christ Jesus our Lord. And grant, O most merciful Father, for His sake; that I may today and ever hereafter live a godly, righteous, and sober life.
This I ask in Jesus' name.
Amen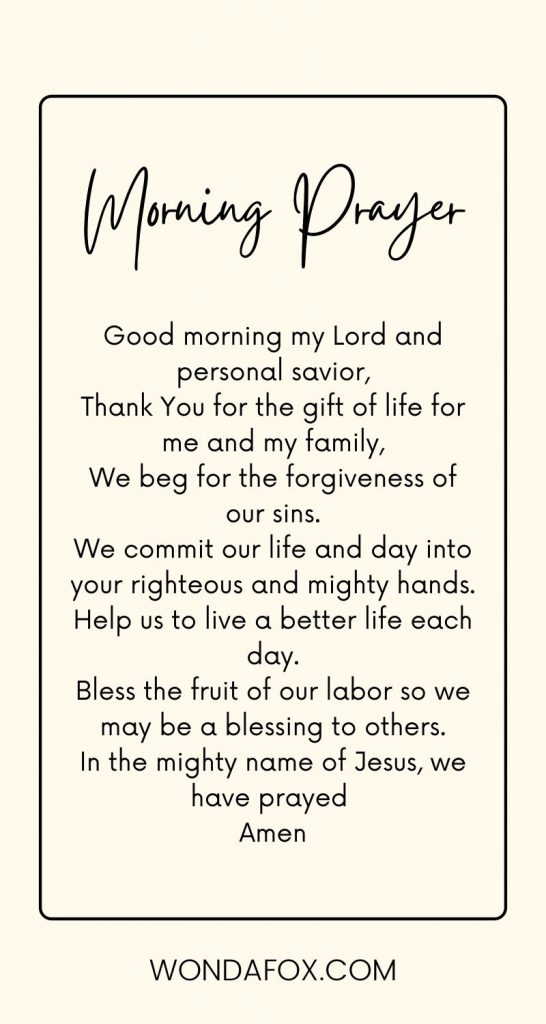 6
Good morning my Lord and personal savior,
Thank You for the gift of life for me and my family,
We beg for the forgiveness of our sins.
We commit our life and day into your righteous and mighty hands.
Help us to live a better life each day.
Bless the fruit of our labor so we may be a blessing to others.
In the mighty name of Jesus, we have prayed
Amen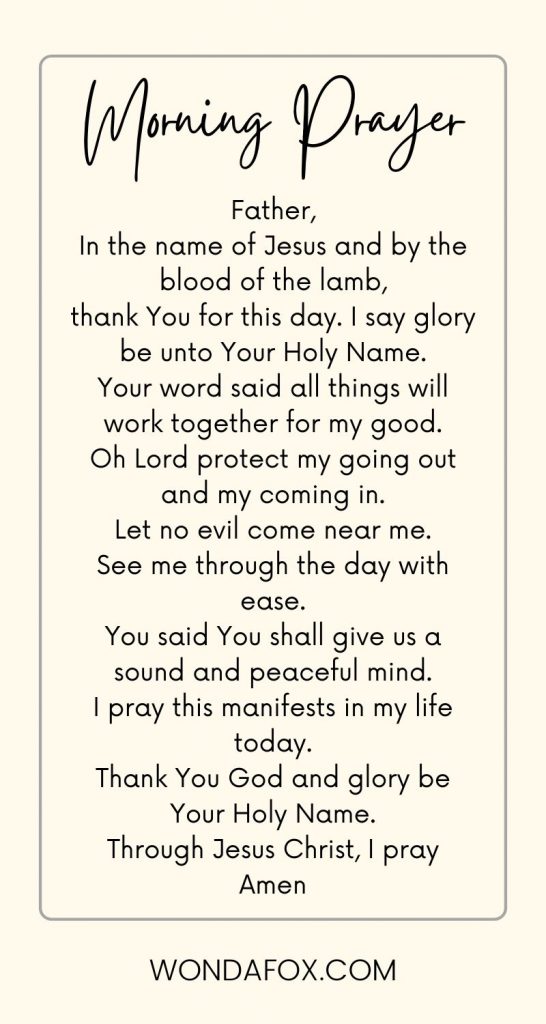 7
Father,
In the name of Jesus and by the blood of the lamb, thank You for this day. I say glory be unto Your Holy Name.
Your word said all things will work together for my good.
Oh Lord protect my going out and my coming in.
Let no evil come near me.
See me through the day with ease.
You said You shall give us a sound and peaceful mind.
I pray this manifests in my life today.
Thank You God and glory be Your Holy Name.
Through Jesus Christ, I pray
Amen
8
Dear heavenly Father, 
Thank You for the gift of life.
I'm grateful for Your abundant grace and mercy.
Thank You for watching over me and my family throughout the night
and blessing us with divine health to go through this beautiful day. 
Father, I commit our lives and this day into Your hands.
I ask that You lead and guide us by Your Spirit in every step along the way,
Your wisdom to make the right choices and decisions
that will bring glory and honor to Your Holy Name. 
As we step out we do so in faith hoping and believing for the best.
May doors of opportunities be opened to us
And may we meet people of our destinies according to Your will. 
I declare we're protected on every side and kept by the power of God.
No evil shall befall us. Our going out and my coming in is blessed.
I declare that all our expectations for this day have been exceeded. 
I pray that we will also be a blessing in the life of those
we come in contact with this day. 
Thank You Father for the answered prayer, and for making this day a glorious one for us,
in Jesus' Name, we pray,
Amen.
9
Good morning, Lord!
Thank You for a new day.
Thank You that Your compassion is renewed every morning.
Great is Your faithfulness and Your steadfast love, O Lord!
I don't know what at all is going to happen today,
and how much I'll get done, but You do.
So I give this day to You.
Keep me and my family safe at all times,
In Jesus' name.
Amen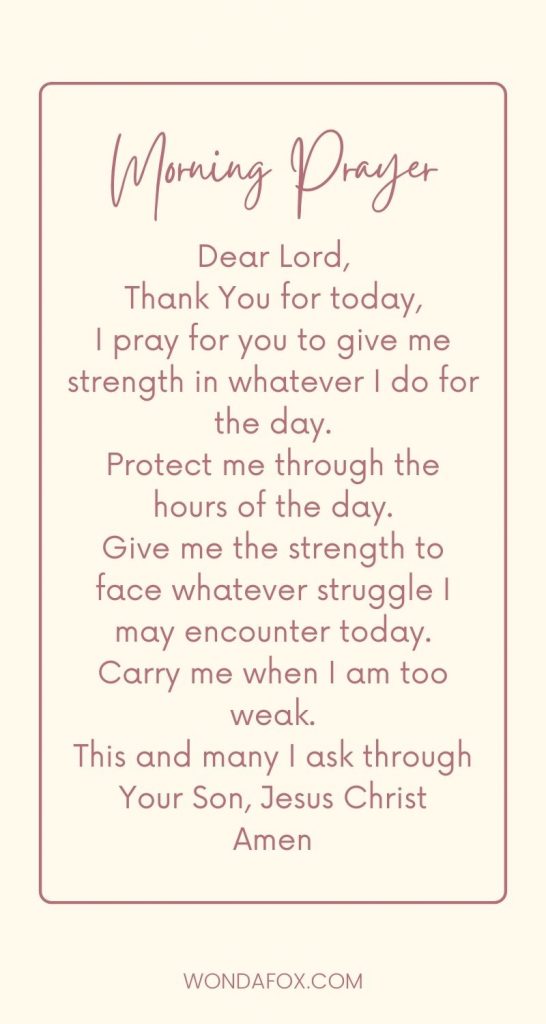 10
Dear Lord,
Thank You for today,
I pray for you to give me strength in whatever I do for the day.
Protect me through the hours of the day.
Give me the strength to face whatever struggle I may encounter today.
Carry me when I am too weak.
This and many I ask through Your Son, Jesus Christ
Amen