At the beginning of every month, it's important to begin with God in order to get things right. Life is full of unknowns, but when you devote your life to God, you can rest assured that no matter what happens, everything will be fine.
When you commit the month to God, you can be fearless, knowing that he who goes before you and after you will keep you safe and deliver you from every evil.
We'll take a look at some important prayer points when praying for the month.
5 prayer points for the month
For your relationship with God
You always have to remember that your relationship with God is a very important thing. When you draw closer to him, he draws closer to you too and he takes control of your life.
The bible says in John chapter 15, that Jesus is the true vine and we are the branches. So if we want to bear fruits, that is if we want to be successful in life, then we have to abide in the Lord.
So pray for your relationship with God. To be able to abide in him and him in you. Pray so that nothing takes you away from the God you serve.
Prayer for your relationship with God
Everlasting Father, Thank you for the blessings and mercies you have bestowed upon me. Thank you for your protection and guidance. As we begin a new month, I pray that you, Lord, will assist me in focusing my thoughts on you and remaining in you. Guide me in letting go of any distractions that may be interfering with my connection with you. Teach me to love you and guide me in focusing my attention on you.
Cleanse me of my sins and assist me in letting go of anything that does not reflect well on your Holy Name. Help me in living a Christ-centered life. Allow your Holy Spirit to lead me in whatever I do. Let it serve as a constant reminder to always put you first no matter what. Help me to study your word more thoroughly and to gain the wisdom and understanding necessary to apply it in my life.
When things don't go as planned, please remind me that your plan for me is better than what I believe I desire. As each day passes, please strengthen my faith in you, in Jesus' name, Amen.
Pray for protection
You also have to pray for protection for the month. Life can be pretty scary, accidents happen, sicknesses, even death. So you have to pray for protection for yourself and your family and even your friends too and anyone you care about.
Prayer for protection for the month
Almighty God, I offer you all the honor and adoration for all the amazing things you continue to do in my life. I thank you for being my guide and protector. I pray that as we begin this new month, you would continue to protect me. Keep my steps in order and on the right track. Please protect me from all forms of evil.
I surrender myself to you. Be my protection, Lord, and keep me safe under your wings. Always go ahead of me and behind me. Defend and safeguard me at all times, in Jesus' name, Amen.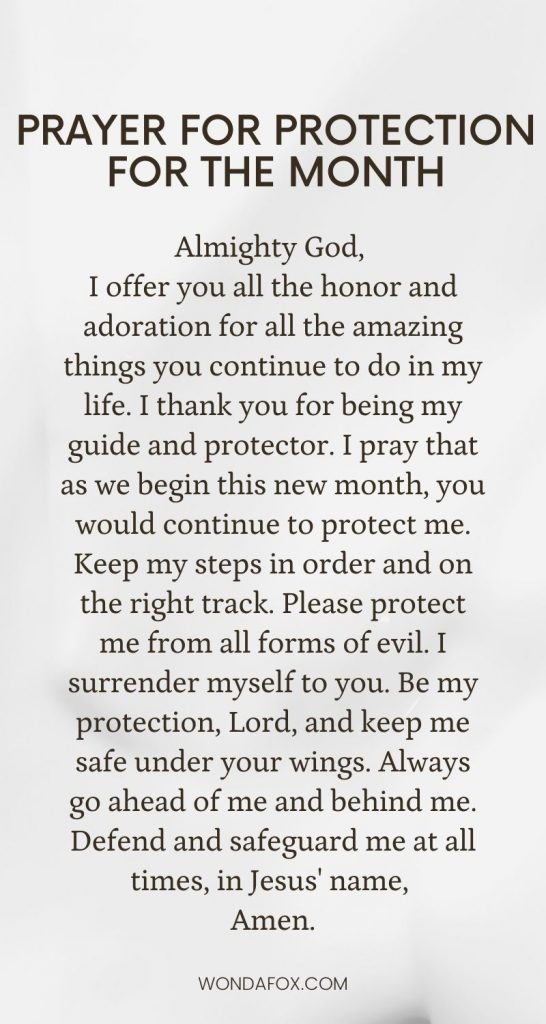 Pray for God's grace
The grace of God is one thing you should never underestimate in your life. If you have God's grace on you, then you have favor on you. When you have the grace of God, everything goes right in your life.
Doors of opportunities open for you, you get things you could never even dream of. Good things just happen for you. That is when people say you are lucky. It's really not luck, it's grace. The bible says that we are saved by grace through faith. (Ephesians 2:8)
Related Posts
Prayer for God's grace
Gracious Lord, thank you for allowing me to begin this new month with you. Thank you for your kindness and affection. In this month, I ask for your favor and blessings in my life. Let this new month shower me with good fortune and blessings. Please assist me in letting go of sin and doing what is right. Let through my thoughts and actions bring honor to your Holy Name.
Father, I humbly request that you bless me and whatever I do. Please help me to be focused on my work and bless my work. Cause your face to shine on me so that your grace and favor can find me. Through Jesus Christ, I pray, Amen.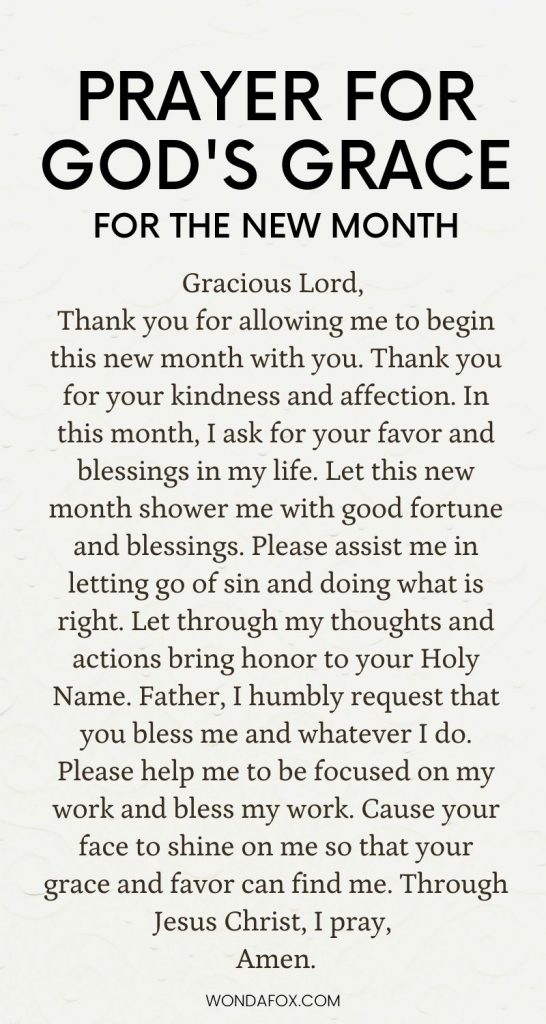 Pray for God's blessings and new opportunities
The new month gives you the opportunity for new growth, new opportunities, new beginnings, and new everything. So pray to God to bless whatever new thing you will do this month. Pray to God to make available new opportunities for you.
Prayer for blessings and opportunities
Dear God, I am grateful for the life you've given to me. Thank you for being merciful and loving in my life. Thank you very much for everything you do for me. In this new month, I pray for your continued blessings on my life. Please open new doors of opportunities for me. I pray that you will also restore any opportunities that I may have missed in the past.
Please open my eyes so I don't miss any more opportunities. Let your blessings abound in my life, Oh Lord. Guide me and help me to encounter the right people in my life. Teach me to hear your voice when you speak, Amen.
Pray for joy
And lastly, you should pray for the joy of God to fill your heart. What we all really need in life is happiness, you can't really enjoy your life if you are not happy. So pray for the Lord to fill your heart and your soul with joy, no matter what.
Prayer for joy
Heavenly Father, Thank you for the new month. I pray that you give me peace and joy this month. With everything that is going on in my life, I frequently find myself worried and depressed. So, Lord, I pray that you may bless my days with joy and gladness.
When I start to worry, please remind me that you, my God, are bigger than my troubles. Bring your joy and calmness into my life. I pray for good news and happiness in this new month. I pray for your protection from the evil one's intentions in my life. May your will be done in my life, in Jesus' name, Amen.