Your hair is one delicate part of the body where extra attention should be focused especially if you are a person who always wants to keep the hair healthy and glowing. It is the crown of every lady that adds glory to her entire beauty.
One of the things which can keep me worried is having hair loss. Therefore I don't joke with my hair at all. The hair is one of the things which has promoted black woman empowerment and it still does.
Our natural hair like kinky, curly can be sometimes difficult to treat especially when the hair is dry, brittle and it lacks moisture. For maintenance of the level of moisture in our natural hair, lots of time and patience need to be involved in our daily hair treatment routine.
It is therefore important to put your hair in a condition where it can grow healthy and avoid breaking. That is why there is a need to include protective hairstyles in your hair treatment.
What are protective hairstyles?
Protective hairstyles are styles that keep your strands safe and moist. They help keep your ends in good shape. They are essential for every black woman to maintain fresh hair. With protective hairstyles, your natural hair isn't exposed but is instead covered and protected.
These hairstyles protect your hair in all seasons. In winter, in summer, and in other seasons protective styles make sure to prevent any breakage of your hair. Therefore they do more good than harm.
One advantage of protective styles is that they protect your hair from coming into contact with environmental factors which easily cause damage to the environment in which your hair is part. You would like to start to try out a protective style on washed, well-conditioned hair because you don't want bacteria to get in the way of your hair growth.
It is never too late to try out protective styles. That is why we got you covered with our 10 easy but stunning protective hairstyles for you to try. Scroll down to satisfy your desire.
Protective hairstyles you can slay this year
Goddess knotless braids
One of the perfect protective styles is the goddess knotless braids. It is the modern trend for many who love braids. They style to your entire look and add glow. This is a boho take on braids and we especially love how the bases are sectioned like hearts. You can style it half up and half down just like the picture above.
Butterfly locs
Butterfly locs are what you get when boho meets faux locs. This is one of the trendy protective styles that is going viral lately. It doesn't just protect your hair but also beautifies your looks.
Cornrows with top knot
One of the oldest protective hairstyles is cornrows. They have been in the system for so long that each season you can find them in the hairstyle trend. But it doesn't matter that the hairstyle has been around for ages, it is still gorgeous and hairstylists are always coming up with creative ways to do cornrows.
This is a braided updo cornrow. This protective hairstyle help maintain the moisture level of your hair, leaving your hair all healthy and fresh.
Knotless braids
Knotless braids are versatile when it comes to protective hairstyles and you can mix colors to make the braids more beautiful. These braids minimize breakage because the braids are not too heavy on the scalp.
Stitch braids
Stitch braids are just another take on cornrows. And there are so many different patterns you can do. They give you comfort and relaxation. They are easy to maintain too. You can go for all-back stitch braids like the one above. Simple yet elegant.
Fulani braids
One of the protective hairstyles you can try out for this year is the Fulani braids. This braid is a mixture of cornrows and box braids which makes it unique to try out for any occasion. You can have this braid with or without any beads.
Cornrows with a bun
Try out something simple but catchy like the high bun with cornrows. It is one of the braids you can turn to whenever you want to have a protective hairstyle.
Space buns
This is the space buns. If you don't want your braids falling down on your shoulders, you can try the space buns. It is a fun and cute protective hairstyle you can try this year.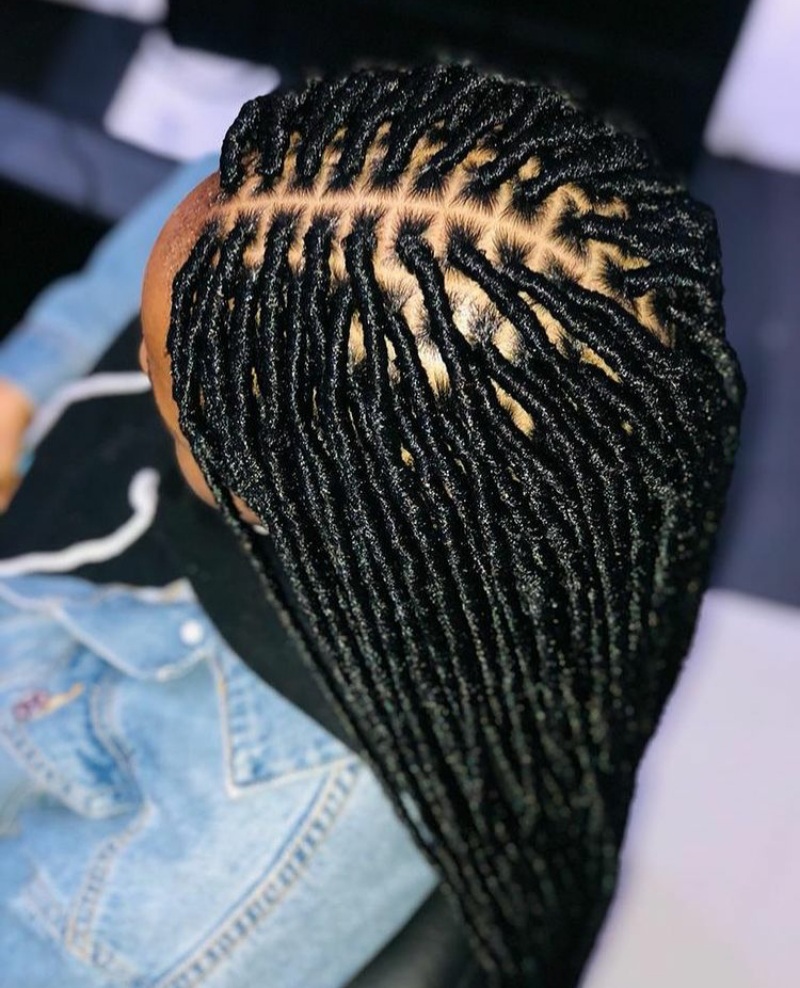 Faux locs
Protective hairstyles can be simple but elegant like faux locs. This protective hairstyle has now become one of the trends in the hair beauty world. It is a protective style that fits all kinds of face shapes and adds glow to your natural hair. It is also pretty simple to maintain and it keeps your hair from coming into contact with anything harmful.