It is critical to cultivate a positive mindset by beginning each day on a positive note and with a progressive mindset. Many of us have had the experience of waking up late, panicking, and then feeling hopeless for the rest of the day.
When you "wake up on the wrong side of the bed," that's what usually happens. When you are pessimistic from the moment you wake up, you are likely to be gloomy about everything you do during the day.
This is why having a positive quote as a daily reminder will go a long way to help you have a great day and be productive. Let's take a look at some short positive quotes that will make your day better.
Short Positive Quotes About Life
Walt Whitman
Keep your face always toward the sunshine—and shadows will fall behind you."
Jodi Picoul
"Extraordinary things are always hiding in places people never think to look."
Tony Robbins
"Setting goals is the first step in turning the invisible into the visible."
Jim Thompson
"Say something positive, and you'll see something positive."
"Train your mind to see the good in every situation."
"If you can stay positive in a negative situation, you win."
"Stay positive. Better days are on their way."
Martin Luther King, Jr.
"Only in the darkness can you see the stars."
Emily Dickinson
"I dwell in possibility."
Joyce Meyer
"A No. 2 pencil and a dream can take you anywhere."
Mahatma Gandhi
"In a gentle way, you can shake the world."
Jeff Kinney
"Be yourself and people will like you."
Marcus Aurelius
"Each day provides its own gifts."
Roald Dahl
"Those who don't believe in magic will never find it."
Thomas S. Monson
"You do not find the happy life. You make it."
E. E. Cummings
"The most wasted of days is one without laughter."
Bill Gates
"To win big, you sometimes have to take big risks."
Maya Angelou
"Try to be a rainbow in someone's cloud."
Dr. Suess
"Think and wonder. Wonder and think."
S. C. Lourie
"Just for the record darling, not all positive change feels positive in the beginning."
Aesop
"No act of kindness, no matter how small, is ever wasted."
Harper Lee
"Most people are nice when you finally see them."
Lucy Maud Montgomery
"When you are imagining, you might as well imagine something worth while."
Buddha
"What we think, we become."
Robin Williams
"No matter what people tell you, words and ideas can change the world."
Happy Short Quotes
Abraham Lincoln
"Most people are about as happy as they make up their minds to be."
George Sand
"There is only one happiness in this life, to love and be loved."
Lucille Ball
"It's a helluva start, being able to recognize what makes you happy."
Dennis Waitley
"Happy people plan actions, they don't plan results."
John Harrigan
"Happiness held is the seed; Happiness shared is the flower."
Friedrich Schiller
"Happy he who learns to bear what he cannot change.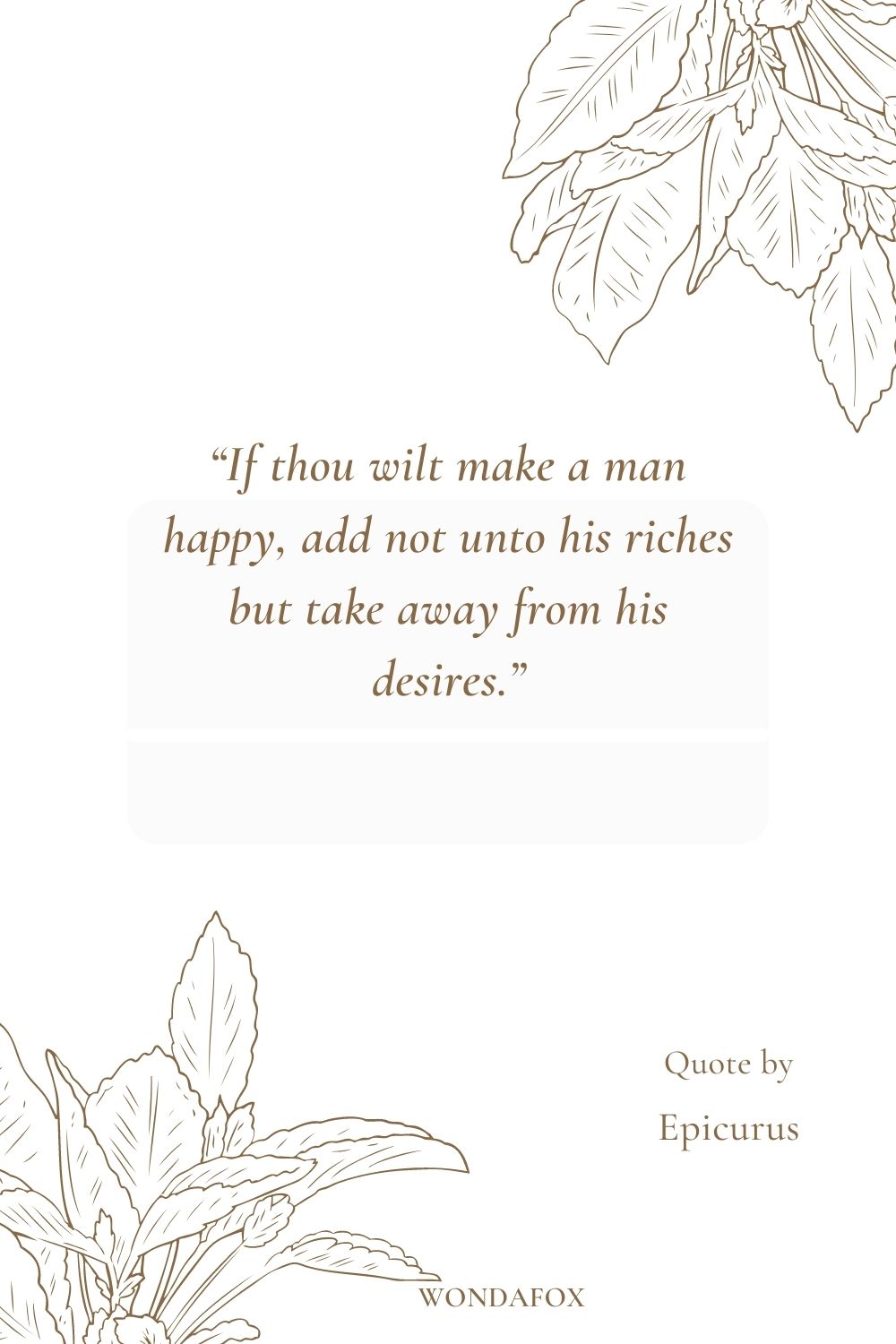 Epicurus
"If thou wilt make a man happy, add not unto his riches but take away from his desires."
Maxime Lagacé
"The truly wise and happy are never rushed."
Anton Chekhov
"People don't notice whether it's winter or summer when they're happy."
Omar Khayyam
"Be happy for this moment. This moment is your life."
Confucius
"Life is really simple, but we insist on making it complicated."
Elbert Hubbard
"Don't take life too seriously. You'll never get out of it alive."
Anaïs Nin
"Life shrinks or expands in proportion to one's courage."
Albert Camus
"To be happy, we must not be too concerned with others."
Douglas Adams
"I'd far rather be happy than right any day."
Anne Frank
"Think of all the beauty still left around you and be happy."
Leo Tolstoy
"If you want to be happy, be."
Dr. Robert Anthony
"Most people would rather be certain they're miserable, than risk being happy."
Gwen Stefani
"Life is short and you've got to get the most out of it."
Jasmin Morin
"Enjoy life while you can. It can be taken in a heartbeat."
Sarah Louise Delany
"Life is short, and it is up to you to make it sweet."
Cesare Pavese
"The only joy in the world is to begin."
Epictetus
"The pleasure which we most rarely experience gives us greatest delight."
Meghan Markle
"Roll with the punches and enjoy every minute of it."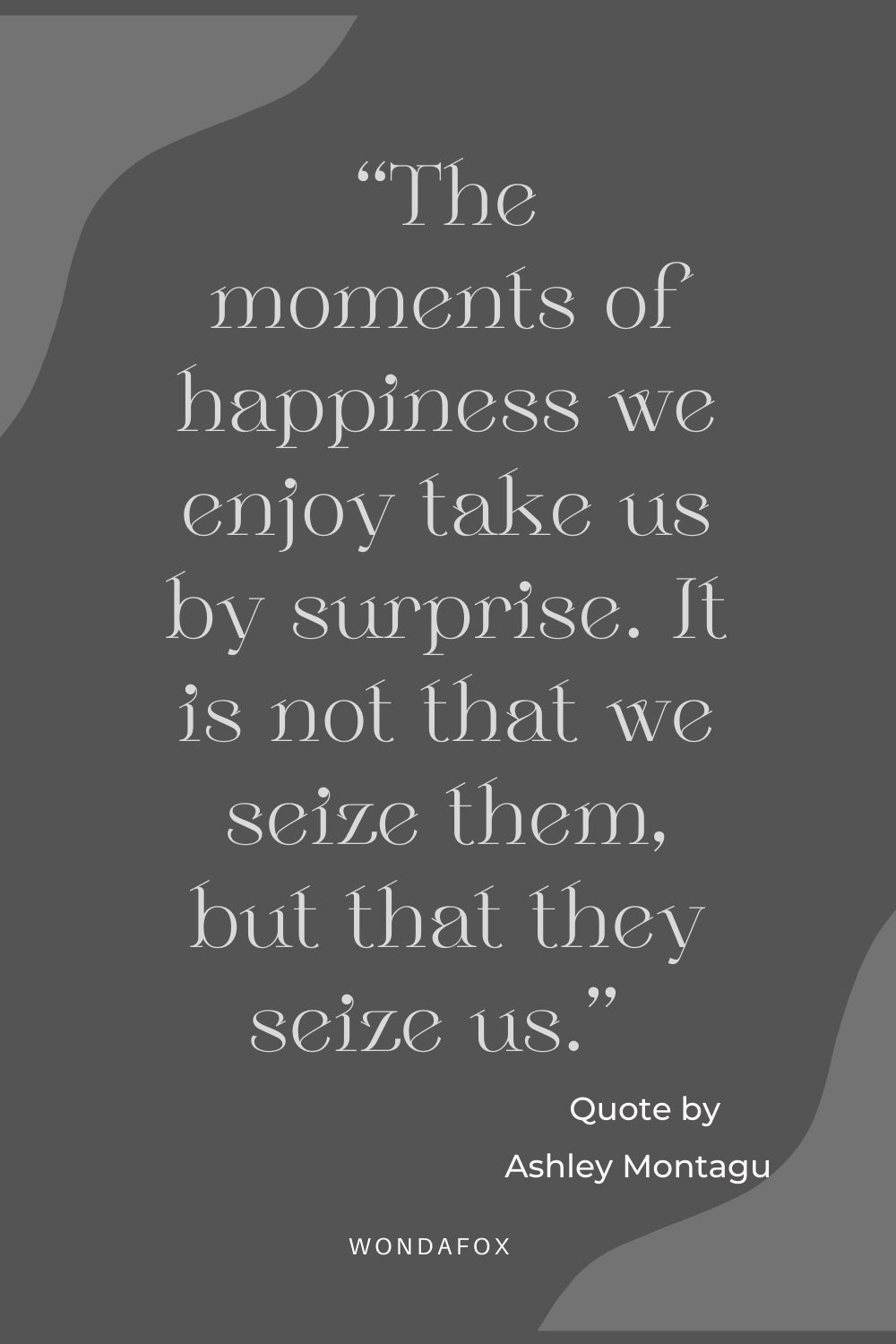 Ashley Montagu
"The moments of happiness we enjoy take us by surprise. It is not that we seize them, but that they seize us."