Friends are very important people in our lives, they are like a family we aren't related to. They are there to share in our joy and our sorrows. They stand by us through all seasons in our lives and always give us a helping hand.
It is therefore important to always pray for your friends. Let's take a look at 12 special prayers you can say for a friend.
Special prayers for a friend
Prayer for the poor friend
Father in Heaven, today, I pray for my friends. Times are hard and they are experiencing financial difficulties. I pray that you visit them. Assist them in getting through this difficult time in their lives. Provide them with opportunities to pay off their bills. Cause breakthroughs in their lives. Give them reasons to believe in you by giving them hope. Bless them with the ability to stay strong in you and bring honor to your holy name. Amen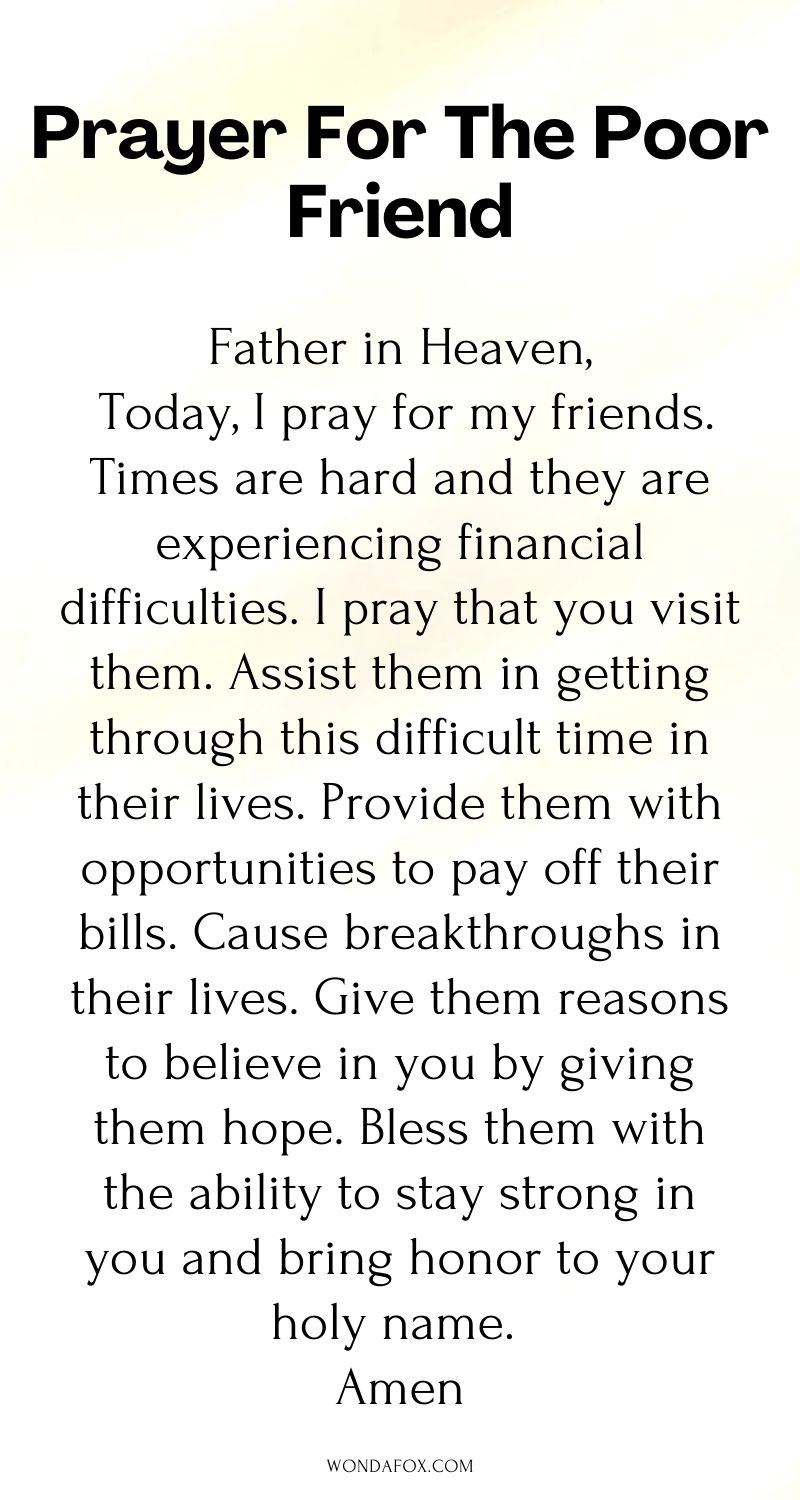 Prayer for the childless friend
Dear Lord, thank you for protecting my friend's life. Father, you know what she is going through in her marriage and how much she needs a child. I pray and declare that a fresh voice will soon be heard in her home. Let children come forth from her womb. Make her desert become a forest.
Turn her misfortunes into opportunities. Bless her marriage with many children and allow them to sing your praises every day. To the glory of your name, assist her in bursting forth and filling her home with little feet. Amen
Prayer for the broken friend
Dear Heavenly Father, I'm coming to you today in prayer for a friend who is in pain. It's difficult to watch them go through so much suffering. And knowing that there is nothing I can do to aid them hurts even more. But, even though I am unable to resolve their issues, I am confident that you, Lord, can, so I bring them to you. Listen to their hushed prayers.
Help them mend their shattered hearts. By your grace, comfort and sustain their souls. Let them know that you are Lord and that nothing is too difficult for you. Father, thank you for being there for them when I am unable to. Amen
Prayer for a jobless friend
Almighty Lord, I Place my friend's employment hunt in your capable hands. They've been looking for something to do for quite some time but have been unsuccessful. Please help them by opening doors and providing opportunities. Allow them to be chosen and show them favor throughout their interviews.
We remove any spiritual and physical obstacles in their way. Give them the courage and faith to keep going. I know you are the God of new beginnings and opportunities. Give them success and honor in their lives. Amen
Prayer for a grieving friend
Dear God, with a heavy heart, I come before you today to commit my friend to you. My friend has lost someone who was a vital part of their life. They are absolutely broken, and all they can do now is cry. All I can do for them at this stage in their lives is pray for them. So, Lord, I hope that you will wipe away their tears and ease their suffering.
Assist them in finding significance in their lives. Give them the courage and strength to continue on with their lives. Stay close to them during this difficult time in their lives. And guide them to your light, to a place where they can finally find joy, serenity, and contentment in their lives. Amen
Prayer for a sad friend
father, Lord, today, I pray for my friend. They are currently going through a terrible time in their lives. I know that only you can console them and restore their well-being. Be their pillar of support and inspiration. Be their shoulder to cry on and wipe their tears away. Restore their faith in you and give them a reason to be optimistic about the future. Allow them to have a pure heart and see a clear road forward. Amen
Prayer for my friends' jobs
Dear Lord, I entrust the work of my friend to you. Assist them in rising to the top of their profession and never looking back. Allow everything they come into contact with at work to be a blessing. Block any traps created by the devil for them. In Jesus' name, I bind any spirits of expulsion and dismissal. Assist them in achieving all of the objectives they have set for themselves. Give them the grace and favor of pleasing and honoring their superiors. In Jesus' name, let them be promoted and rewarded for their efforts. Amen
Prayer for my friends' marriage
Father in Heaven, I'm praying for my friends' marriage. I pray that you will protect them, mediate, and counsel them. Allow them to center their marriage around you. Allow them to come to you in prayer whenever they have a problem. Help them settle their differences themselves. Give them the grace and peace that their marriage needs. Allow them to always remember the love they share and never grow tired of one other. You can assist them in raising their children. Never let them slip into the darkness Father, always be their light. Amen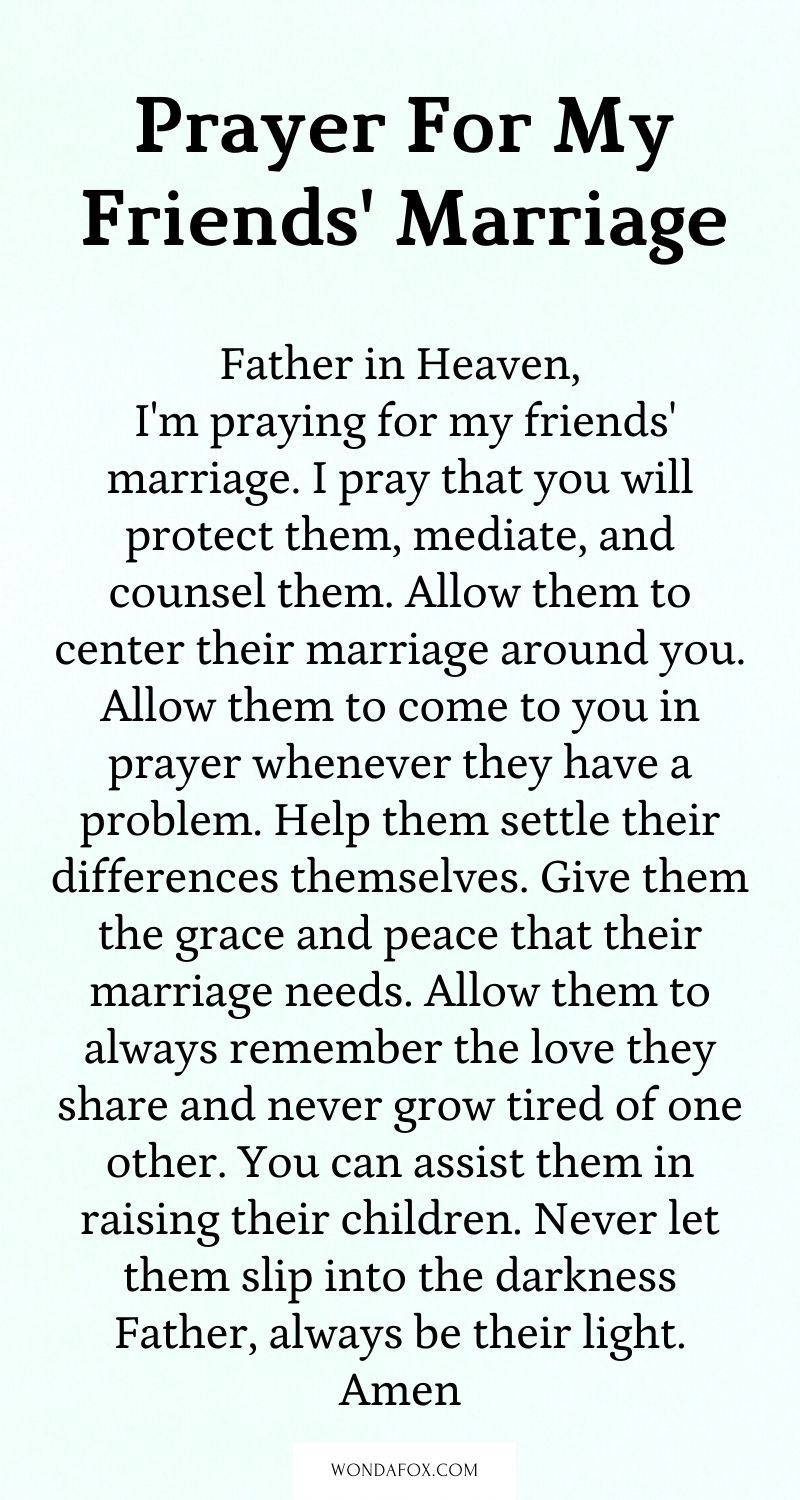 Prayer for my friends' relationships
Dear God, I pray that you would take care of my friends' relationships today. They've met the one with whom they want to spend the rest of their life. Please assist them to maintain their bond and learn more about each other. Allow them to communicate their aspirations and dreams. Give them instruction and advice on what they should do next. Let their families accept them as they are. Allow their shared love to carry them through their lives together. Give them a great future and allow all of their dreams to come true. Amen
Prayer for my friends' health
Gracious God, I pray for my friends' health. I pray you keep them healthy at all times. In Jesus' name, I cleanse their bodies of all defilement. Allow their families to always be physically and spiritually strong. Give them happiness and peace. Keep them away from any form of mishap. Give them a clean bill of health and allow them to live strong and agile lives. Amen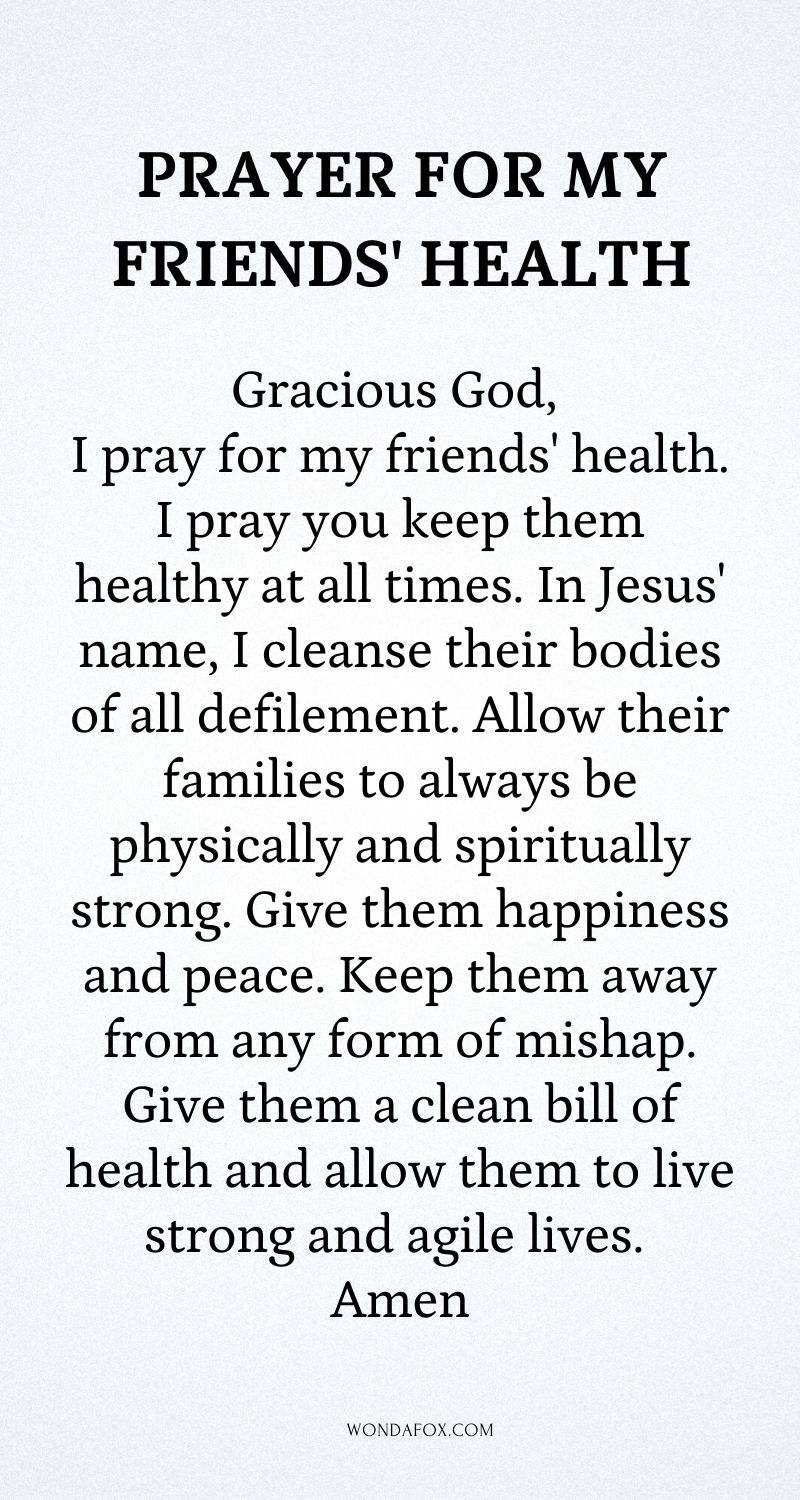 Prayer for my friends' children
Dear Lord, I entrust the care of my friend's children to you. I pray that you will open their brains and provide them with the wisdom they need to study and grow. Keep them safe and secure from harm and the dangers of the world. Prepare their destiny and shower them with blessings. Keep them away from bad company and direct their path to glory. Let them develop positive ideals that will reflect nicely on their parents. Allow them to have the favor they require in their lives. Let them do everything they can to make their parents proud. Amen
Healing prayer for a friend
Merciful Father, I pray for an ailing friend this day. I come against any disease that is fighting against them. This day, I pray for a sick friend. I pray against any sickness that's trying to kill them. I know you have the power to clear it, whether it's spiritual or physical. Allow your divine healing to flow over their bodies right now. Give them a testimonial about your compassion. Only you have the ability to create and destroy. Merciful Lord, grant them long lives and keep them from dying. Infuse your strength into their bodies and heal them. I've prayed in Jesus' name. Amen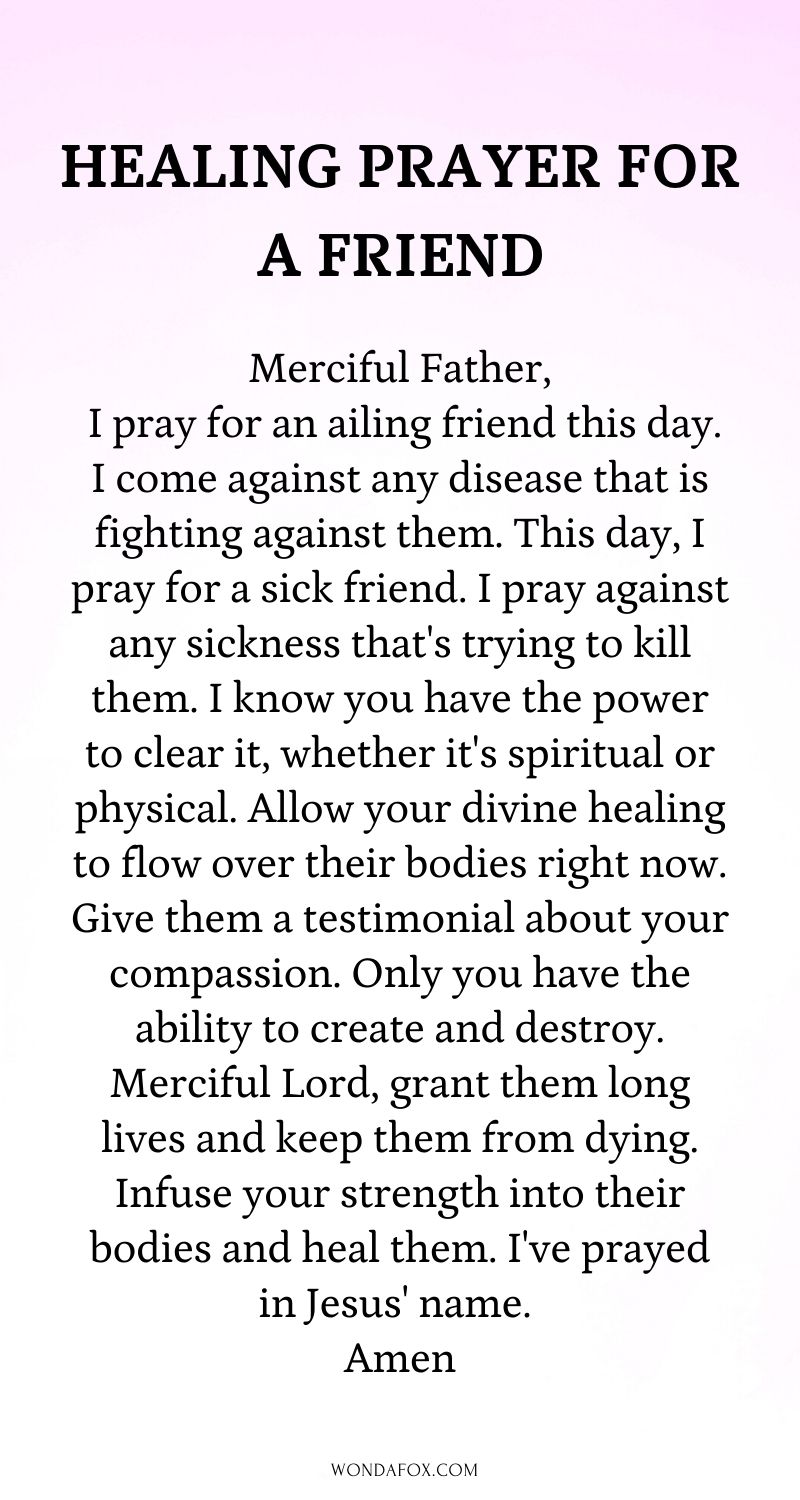 Note: Enjoyed this content and want unlimited access to prayer books and bible study resources? Then join The Graceful Chapter Plus to gain access to more resources to help strengthen your faith and grow in intimacy with God.