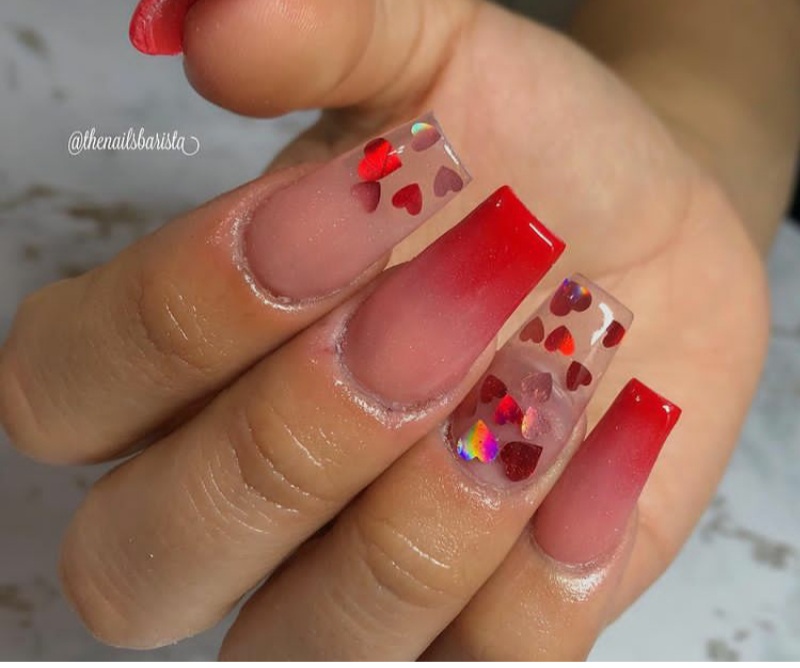 If there is any time to show off your nails designs and go out bold, then 14th February is the time. This is the time where all loved ones meet each other and spend time. Once there is a date, you would definitely decide on what to wear and how your makeup should even look like.
But if I may ask have you taken your nails into consideration? This is the time to take a look at your nails too sweetheart. You would love to go out on a romantic date with well-designed nails to suit the moment. You'd love to go on a romantic date with perfectly manicured nails that fit the occasion.
That's why even before that special day arrives, we've prepared some stunning nail designs to try out on a romantic evening. This is because there will be no better opportunity than Valentine's Day to let your imagination and aesthetic skills run wild. This is the ideal opportunity to experiment with fresh acrylic nail designs.
Even before any festive season, acrylic nail designs are so trendy that they can't be left out. These valentine acrylic nail designs will set you half-ready for your big night. The idea of going for the perfect color of valentine may come to mind so as to look more lovely.
With so much love in the atmosphere setting off in the red nail polish is nothing but perfect for the big night. It is also the perfect time to let your nails have the feeling of glitter mixed up with hearts in full pink shades.
These valentine acrylic nail designs also give the chance to try out other designs and nail shades especially when red and pink shades are not available. Aside from going for valentine colors as your nail polish you can try out plain nails or accessorize the nails with crystals, kiss stickers, gold foil, or even hearts stickers to boost the beauty of the nail design.
Let's get started, scroll down to view 10 super hot acrylic nail designs.
Valentine acrylic nail designs for a lovely date night
Choosing plain nails as your preferred nails for this valentine is not bad at all. You can attach some stickers to make the nails to make them more attractive and catchy. This even makes the stickers more visible.
These kinds of nails are for those who are lovers of mixing up when going for a nail design and also lovers of long nails. For your valentine nail designs, you can add a little glitter to the small nail, with the rest of the nails add some heart stickers to make them more beautiful.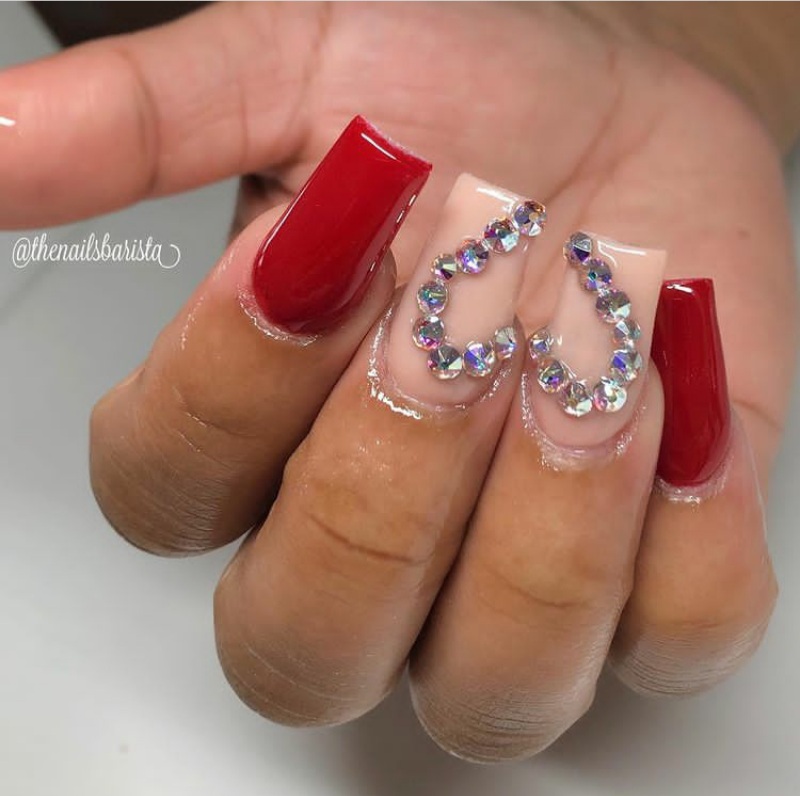 This design is made up of red and pale pink. The red polish was applied on the index finger and the little finger while the pale pink was applied on the middle finger and the ring finger. Rhinestones were used to accessorize the pale pink in a way that forms a heart, making it all fresh and attractive.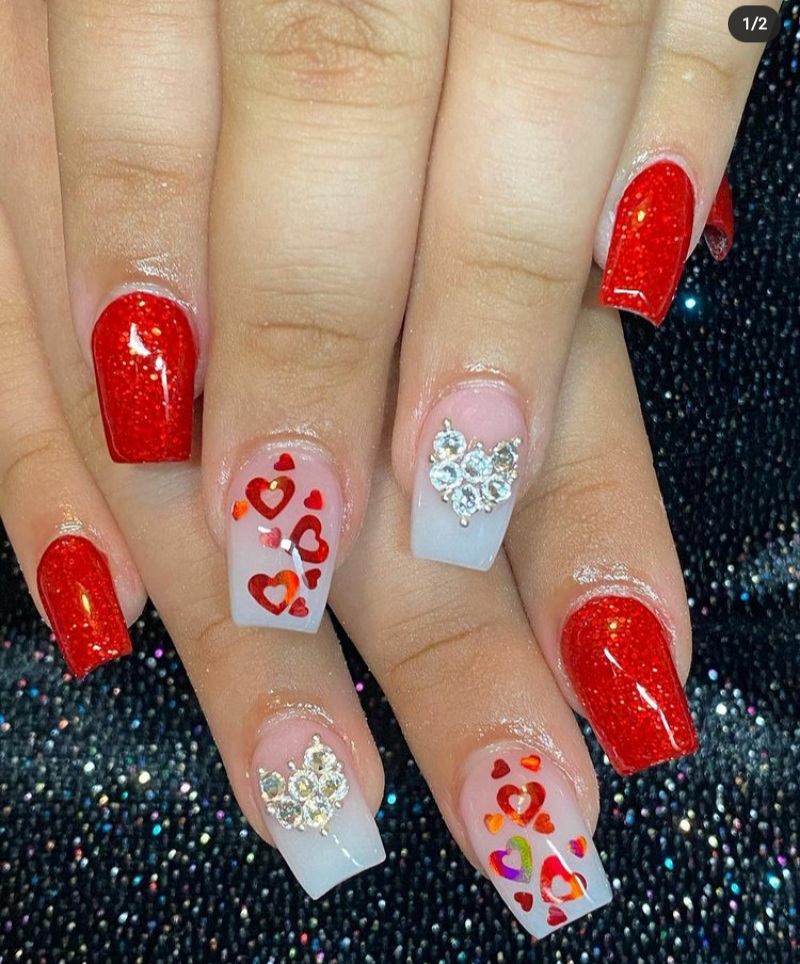 Going for glossy and glitz will definitely add shine to your nails. You can choose red polish with glitz and plain nails with white tips. You can accessories the plain nails with rhinestones. Design the rhinestone in the form of a heart. You can also add some nails stickers of heart to make it shine.
Related Posts
None found
Rosegold glitter nails with nude polish make you perfectly set for a night date. You can have a heart sticker on your middle nails while you design your small fingers with just two pieces of rhinestones. Going for these particular valentine's nail designs won't let you down on your big night.
Mismatching designs can be included when planning on choosing the perfect nail design for this valentine's day. You can coat your design with some heart stickers on the middle fingers only.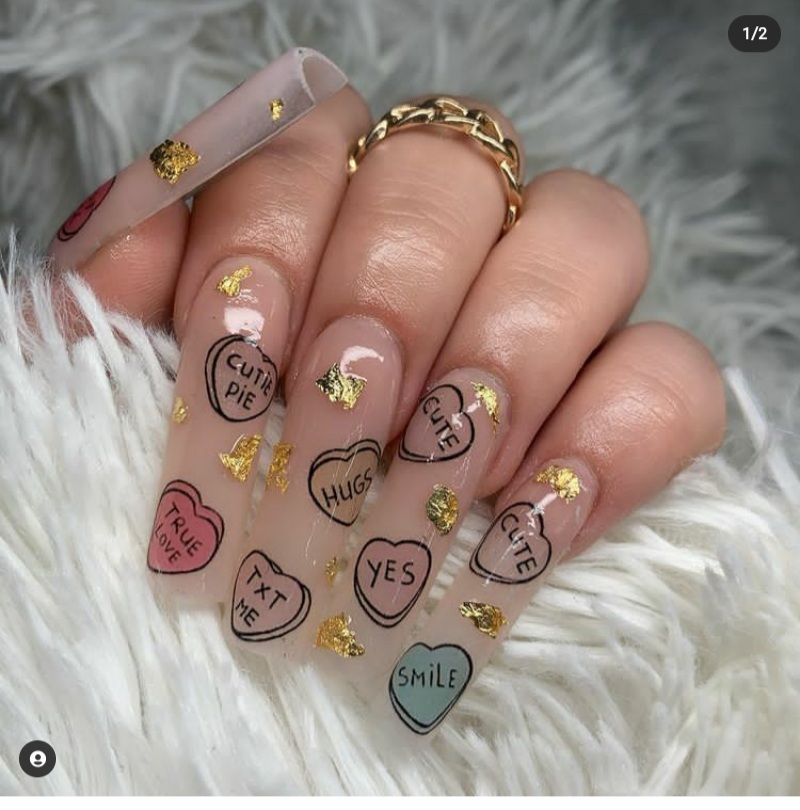 These valentine nail designs also shed further light on how to nail stickers can enhance the beauty of your manicure design. You can decorate your nails with a variety of nail stickers with lovely and romantic inscriptions. I like the photo above. Each nail is designed with a different sticker with a different message by the nail stylist. The stylist also added gold foil to each nail, giving the entire artwork a gleam.
Just because it's valentine's day doesn't mean your nails have to be red or pink. There are a variety of other designs to choose from this Valentine's Day. An example is the nail design above. It's a plain white nail with blue hearts on it. Simple yet lovely, perfect for valentine's day.
This nail design here is what you get when french tips meet polka dots. Simple yet elegant. You can even try doing this one by yourself at home.
We may earn a commission if you purchase items through our links. But this is at no extra cost to you.