Christmas is a wonderful time of the year when we get together with our family and friends to commemorate Jesus' birth.
However, it can also be a highly hectic period because of everything we need to get done for the season.
Finding the right Christmas tree, decorating our houses, getting the nicest gifts for our friends and loved ones, and preparing delectable meals to wine and dine together are all on our to-do lists.
There's so much to do this time of year that it's easy to get caught up in the festivities and lose sight of why we're celebrating.
Reading the Bible is the best way to keep your focus on the birth of Jesus Christ and why it is worth celebrating.
So, below, we've compiled a list of Bible verses about Jesus Christ's birth to help you remember what Christmas really means.
Christmas Prayer
Everlasting Lord, thank you for your blessings and favor throughout the year. Thank you for my family and my friends. Thank you for your love and for coming to this world to save us and give us eternal life and freedom. With a song of praise in my heart, I worship you. I praise your Holy Name for bringing down your child on us so that we can be redeemed. Help me not to lose sight of what this season is really about as we celebrate the birth of Jesus Christ this season. Assist me in concentrating on your birth and comprehending your affection for me.
Fill me with your love, your joy, your hope, your peace, and your delight. In this season of giving, please remind me to remember the less fortunate. Assist me in being a blessing to everyone around me. I entrust the following year to your care. Be my light, my compass, and my protector. And may the coming year be filled with blessings. Thank you for your everlasting love and eternal life. Amen
Bible verses about birth of Jesus Christ
Isaiah 9:6
For unto us a Child is born,
Unto us a Son is given; And the government will be upon His shoulder. And His name will be called
Wonderful, Counselor, Mighty God,
Everlasting Father, Prince of Peace.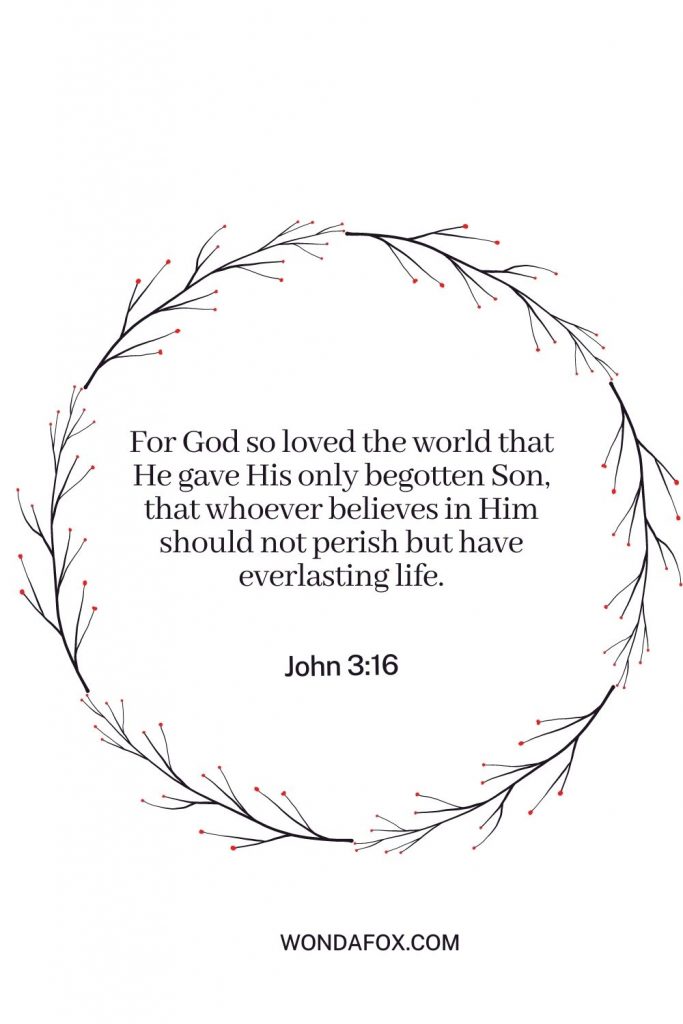 John 3:16
For God so loved the world that He gave His only begotten Son, that whoever believes in Him should not perish but have everlasting life.
Jeremiah 33:14
Behold, the days are coming,' says the Lord, 'that I will perform that good thing which I have promised to the house of Israel and to the house of Judah:
Malachi 3:1
Behold, I send My messenger,
And he will prepare the way before Me. And the Lord, whom you seek,
Will suddenly come to His temple,
Even the Messenger of the covenant,
In whom you delight. Behold, He is coming," Says the Lord of hosts.
1 John 5:11
And this is the testimony: that God has given us eternal life, and this life is in His Son.
Luke 1:29-30
But when she saw him, she was troubled at his saying, and considered what manner of greeting this was. Then the angel said to her, "Do not be afraid, Mary, for you have found favor with God.
Romans 6:23
For the wages of sin is death, but the gift of God is eternal life in Christ Jesus our Lord.
Luke 1:45
Blessed is she who believed, for there will be a fulfillment of those things which were told her from the Lord."
Luke 1:46-48
And Mary said: My soul magnifies the Lord, And my spirit has rejoiced in God my Savior. For He has regarded the lowly state of His maidservant; For behold, henceforth all generations will call me blessed.
Matthew 1:18
Now the birth of Jesus Christ was as follows: After His mother Mary was betrothed to Joseph, before they came together, she was found with child of the Holy Spirit.
Isaiah 11:1-2
There shall come forth a Rod from the stem of Jesse, And a Branch shall grow out of his roots. The Spirit of the Lord shall rest upon Him, The Spirit of wisdom and understanding, The Spirit of counsel and might,
The Spirit of knowledge and of the fear of the Lord.
Related Posts
Matthew 2:1-2
Now after Jesus was born in Bethlehem of Judea in the days of Herod the king, behold, wise men from the East came to Jerusalem, saying, "Where is He who has been born King of the Jews? For we have seen His star in the East and have come to worship Him."
Matthew 2:3-4
When Herod the king heard this, he was troubled, and all Jerusalem with him. And when he had gathered all the chief priests and scribes of the people together, he inquired of them where the Christ was to be born.
Jeremiah 23:5
Behold, the days are coming," says the Lord, That I will raise to David a Branch of righteousness; A King shall reign and prosper, And execute judgment and righteousness in the earth.
Matthew 2:7-8
Then Herod, when he had secretly called the wise men, determined from them what time the star appeared. And he sent them to Bethlehem and said, "Go and search carefully for the young Child, and when you have found Him, bring back word to me, that I may come and worship Him also."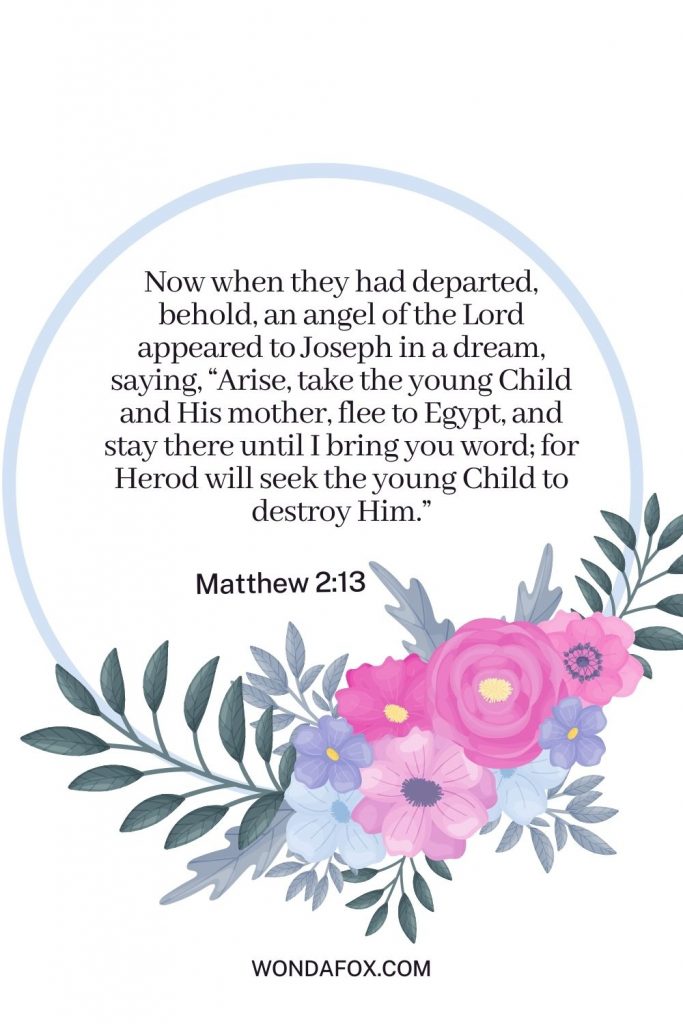 Matthew 2:13
Now when they had departed, behold, an angel of the Lord appeared to Joseph in a dream, saying, "Arise, take the young Child and His mother, flee to Egypt, and stay there until I bring you word; for Herod will seek the young Child to destroy Him."
Isaiah 52:7
How beautiful upon the mountains
Are the feet of him who brings good news, Who proclaims peace,
Who brings glad tidings of good things, Who proclaims salvation,
Who says to Zion, Your God reigns!"
Luke 2:6-7
So it was, that while they were there, the days were completed for her to be delivered. And she brought forth her firstborn Son, and wrapped Him in swaddling cloths, and laid Him in a manger, because there was no room for them in the inn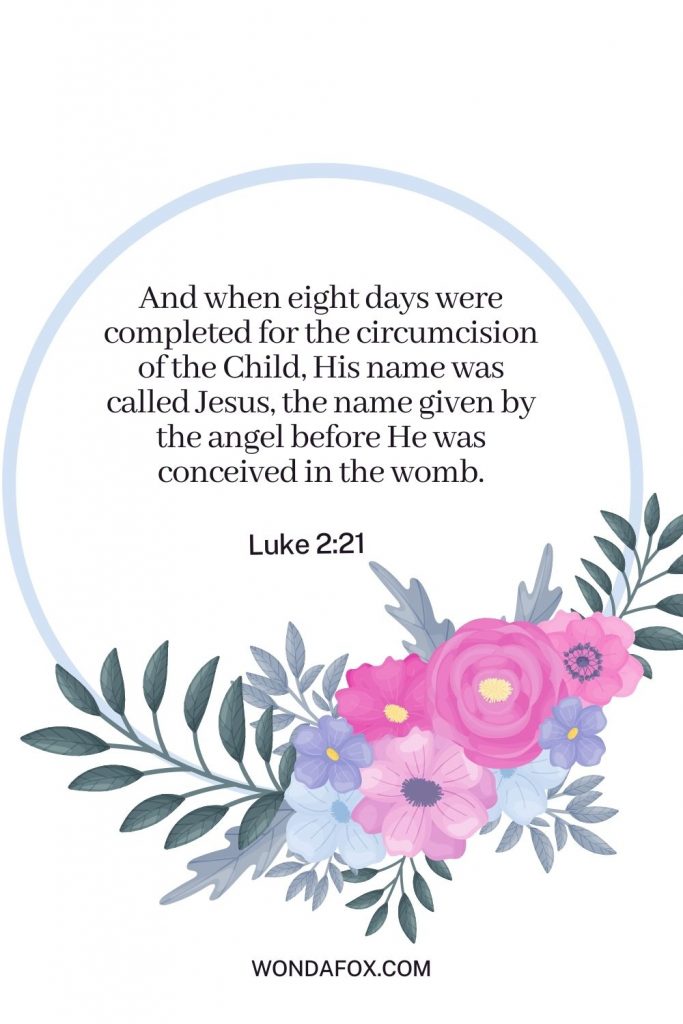 Luke 2:21
And when eight days were completed for the circumcision of the Child, His name was called Jesus, the name given by the angel before He was conceived in the womb.
Luke 2:25-26
And behold, there was a man in Jerusalem whose name was Simeon, and this man was just and devout, waiting for the Consolation of Israel, and the Holy Spirit was upon him. And it had been revealed to him by the Holy Spirit that he would not see death before he had seen the Lord's Christ.
John 1:14
And the Word became flesh and dwelt among us, and we beheld His glory, the glory as of the only begotten of the Father, full of grace and truth.
Isaiah 7:14
Therefore the Lord Himself will give you a sign: Behold, the virgin shall conceive and bear a Son, and shall call His name Immanuel
Isaiah 11:1-2
There shall come forth a Rod from the stem of Jesse, And a Branch shall grow out of his roots. The Spirit of the Lord shall rest upon Him, The Spirit of wisdom and understanding, The Spirit of counsel and might, The Spirit of knowledge and of the fear of the Lord
Micah 5:2
But you, Bethlehem Ephrathah,
Though you are little among the thousands of Judah, Yet out of you shall come forth to Me The One to be Ruler in Israel, Whose goings forth are from of old, From everlasting."
John 1:15
John bore witness of Him and cried out, saying, "This was He of whom I said, 'He who comes after me is preferred before me, for He was before me.
Christmas bible reading plan
One very effective way to study and meditate on the word of God is to read it often. So below we've added a Christmas bible reading plan on the birth of Jesus Christ to help you study and understand what Christmas is really about.
We hope by the end of this Christmas bible reading plan, you will be able to understand the true meaning of Christmas and why we celebrate the birth of Jesus Christ.