In a world plagued by uncertainty, where love often comes with conditions and expectations, it is comforting to know that God's love for us is steadfast and unconditional. Throughout the Bible, we find numerous verses that remind us of the profound affection God has for His creation.
These verses not only bring solace and reassurance but also deepen our understanding of the divine love that encompasses our lives. Join us as we explore some powerful scriptures that convey God's enduring love for each one of us.
"For God so loved the world that he gave his one and only Son, that whoever believes in him shall not perish but have eternal life."

John 3:16 (NIV)
This verse from John's gospel encapsulates the essence of God's love. He willingly sacrificed His Son, Jesus Christ, to redeem mankind from sin, demonstrating a love beyond human comprehension. Here, we witness the breadth and depth of His love, extending to every corner of the world.
"But God demonstrates his own love for us in this: While we were still sinners, Christ died for us."

Romans 5:8 (NIV)
In this verse, the apostle Paul highlights the extraordinary nature of God's love. It's a love that surpasses our unworthiness, as God chose to send Jesus to die for us even when we were still immersed in sin. It is a constant reminder that His love is not contingent upon our actions or merits but remains unconditional.
"The LORD appeared to us in the past, saying: 'I have loved you with an everlasting love; I have drawn you with unfailing kindness.'"

Jeremiah 31:3 (NIV)
In this beautiful verse from the book of Jeremiah, God affirms His everlasting love. His affection is not fickle or temporary. It is an eternal love that remains constant through the trials and tribulations of life. He amply demonstrates His unfailing kindness, continuously drawing us into His embrace, regardless of our circumstances.
"This is how God showed his love among us: He sent his one and only Son into the world that we might live through him. This is love: not that we loved God, but that he loved us and sent his Son as an atoning sacrifice for our sins."

1 John 4:9-10 (NIV)
Reflected in these verses is the profound selflessness of God's love. He took the initiative to demonstrate His affection by sending His beloved Son, not because we loved Him first, but solely because He loved us. Through this sacrifice, He offers us the opportunity to experience abundant life through Jesus Christ.
"For I am convinced that neither death nor life, neither angels nor demons, neither the present nor the future, nor any powers, neither height nor depth, nor anything else in all creation, will be able to separate us from the love of God that is in Christ Jesus our Lord."

Romans 8:38-39 (NIV)
In this powerful declaration, Paul reassures us of the unwavering nature of God's love. No matter what life throws at us, whether we face trials, doubts, or even spiritual battles, there is nothing capable of separating us from His boundless love. It is a comforting reminder that God's affection remains constant, even in the midst of life's storms.
Verses about God's love for us
Isaiah 54:10
For the mountains shall depart, And the hills be removed, but My kindness shall not depart from you, nor shall My covenant of peace be removed," Says the Lord, who has mercy on you.
Psalm 86:15
But You, O Lord, are a God full of compassion, and gracious, Long suffering and abundant in mercy and truth.
Zephaniah 3:17
The Lord your God in your midst, The Mighty One, will save; He will rejoice over you with gladness, He will quiet you with His love, He will rejoice over you with singing."
1 John 3:1
Behold what manner of love the Father has bestowed on us, that we should be called children of God! Therefore the world does not know us, because it did not know Him.
Deuteronomy 7:9
Therefore know that the Lord your God, He is God, the faithful God who keeps covenant and mercy for a thousand generations with those who love Him and keep His commandments;
Ephesians 3:17-19
That Christ may dwell in your hearts through faith; that you, being rooted and grounded in love, may be able to comprehend with all the saints what is the width and length and depth and height to know the love of Christ which passes knowledge; that you may be filled with all the fullness of God.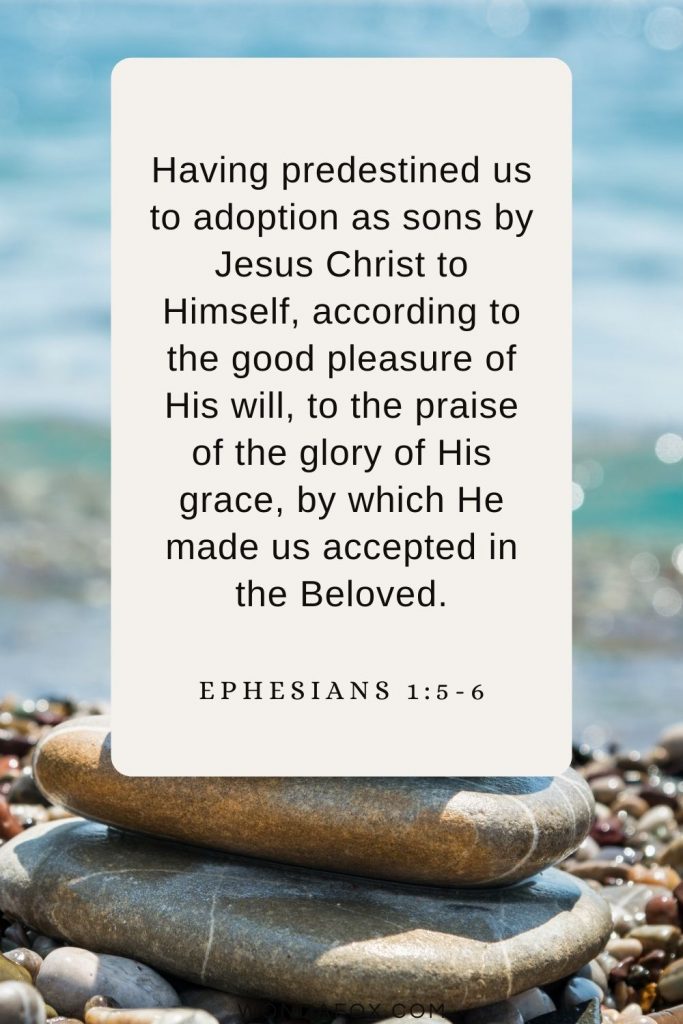 Ephesians 1:5-6
Having predestined us to adoption as sons by Jesus Christ to Himself, according to the good pleasure of His will, to the praise of the glory of His grace, by which He made us accepted in the Beloved.
1 Chronicles 16:34
Oh, give thanks to the Lord, for He is good! For His love endures forever.
Psalm 107:8-9
Oh, that men would give thanks to the Lord for His goodness, And for His wonderful works to the children of men! For He satisfies the longing soul,
And fills the hungry soul with goodness.
Romans 8:31-32
What then shall we say to these things? If God is for us, who can be against us? He who did not spare His own Son, but delivered Him up for us all, how shall He not with Him also freely give us all things?
Psalm 36:7
How precious is Your loving kindness, O God! Therefore the children of men put their trust under the shadow of Your wings.
Galatians 2:20
I have been crucified with Christ; it is no longer I who live, but Christ lives in me; and the life which I now live in the flesh I live by faith in the Son of God, who loved me and gave Himself for me.
Psalm 109:21
But You, O God the Lord, Deal with me for Your name's sake; Because Your mercy is good, deliver me.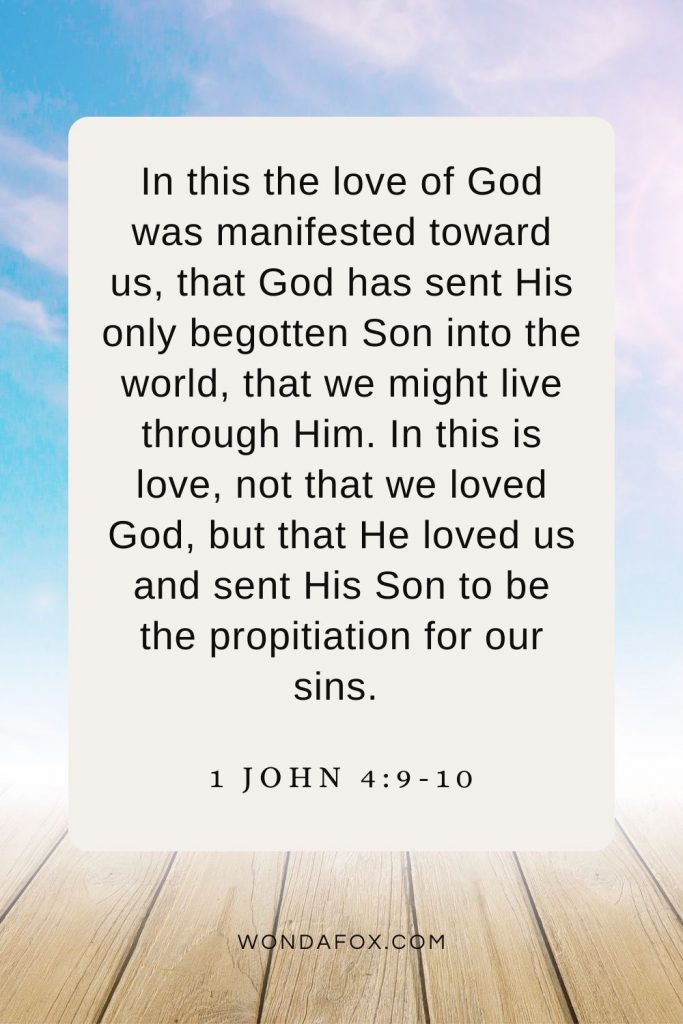 1 John 4:9-10
In this the love of God was manifested toward us, that God has sent His only begotten Son into the world, that we might live through Him. In this is love, not that we loved God, but that He loved us and sent His Son to be the propitiation for our sins.
Related Posts
Micah 7:18
Who is a God like You, Pardoning iniquity And passing over the transgression of the remnant of His heritage? He does not retain His anger forever,
Because He delights in mercy.
Related Posts
Romans 5:5
Now hope does not disappoint, because the love of God has been poured out in our hearts by the Holy Spirit who was given to us.
John 3:16
For God so loved the world that He gave His only begotten Son, that whoever believes in Him should not perish but have everlasting life.
Romans 8:38-39
For I am persuaded that neither death nor life, nor angels nor principalities nor powers, nor things present nor things to come, nor height nor depth, nor any other created thing, shall be able to separate us from the love of God which is in Christ Jesus our Lord.
John 15:9
As the Father loved Me, I also have loved you; abide in My love.
Romans 5:8
But God demonstrates His own love toward us, in that while we were still sinners, Christ died for us.
John 16:27
For the Father Himself loves you, because you have loved Me, and have believed that I came forth from God.
The Bible is replete with verses that illuminate God's love for humanity. These scriptures remind us that His love transcends human limitations and expectations.
It is a love that is selfless, unconditional, and enduring. In times of doubt or when we experience the challenges of life, meditating on these verses can provide solace and strength as we grasp the depth of His extraordinary affection for us.
May we never forget the immeasurable love God has bestowed upon us, an indomitable force that brings light and hope into our lives.
Rediscovering God's Unconditional Love: A 21-Day Bible Reading Journey
In a world where we often strive for perfection, acceptance, and love, it's easy to forget that we are already deeply loved by our Creator. God's love for us is endless, unchanging, and unconditional.
Understanding this truth and allowing it to penetrate our hearts can transform our lives in remarkable ways. Embarking on a 21-day Bible reading journey specifically focused on God's love for us can help remind us of this remarkable reality.
Let us emerge from this journey with a renewed sense of purpose, compassion, and gratitude. May the truth of God's love for us be etched on our hearts forever, empowering us to love ourselves, our neighbors, and the world as God loves us.
Remember, you are unconditionally loved by the Creator of the universe – a love that surpasses all understanding. Embrace it, cherish it, and let it shine brightly to the glory of His name.