The concept of a covenant holds great significance in religious scriptures. It represents a sacred agreement between God and His people, outlining the promises, blessings, and responsibilities each party bears. Throughout the Bible, from the Old Testament to the New Testament, we encounter powerful verses that emphasize the covenant between God and humanity.
Today, we'll explore some enlightening Bible verses that are laced with profound meaning and bring us closer to understanding this pivotal aspect of our faith.
Bible Verses About Covenant
"I establish my covenant with you: Never again will all life be destroyed by the waters of a flood; never again will there be a flood to destroy the earth."

Genesis 9:11
In this verse, after the great flood, God establishes a covenant with Noah, promising never to destroy the earth again with such devastation. This covenant symbolizes God's faithfulness and His enduring love for humanity. It serves as a reminder of God's desire to protect and bless His creation, instilling hope and reassurance in our hearts.
"Now therefore, if you will indeed obey my voice and keep my covenant, you shall be my treasured possession among all peoples."

Exodus 19:5
This verse highlights the conditional aspect of the covenant, reminding us that our obedience to God's commands solidifies our bond with Him. It portrays a reciprocal relationship; as we honor the covenant, we take our place as God's beloved and esteemed people. It encourages us to live righteously, seeking a deeper connection with God.
"I will put my law within them, and I will write it on their hearts. And I will be their God, and they shall be my people."

Jeremiah 31:33
Jeremiah's prophecy speaks of a future covenant, one which extends beyond external rituals and commands. The verse encapsulates the new covenant God would establish through Jesus Christ, writing His law within our hearts. This intimate relationship signifies a personal connection with God, where His presence becomes an integral part of our lives.
"Likewise, the cup after they had eaten, saying, 'This cup that is poured out for you is the new covenant in my blood.'"

Luke 22:20
During the Last Supper, Jesus institutes the practice of communion and affirms the establishment of a new covenant. With His sacrifice on the cross, Jesus fulfills the old covenant, making way for a new era where we are united with God through His blood. This verse beautifully showcases the redemptive power of Jesus' sacrifice, offering forgiveness and eternal life to all who believe in Him.
Inspiring Bible Verses About Covenant That Guide Our Faith
Psalm 105:8
He remembers His covenant forever,
The word which He commanded, for a thousand generations.
Jeremiah 31:31
Behold, the days are coming, says the Lord, when I will make a new covenant with the house of Israel and with the house of Judah.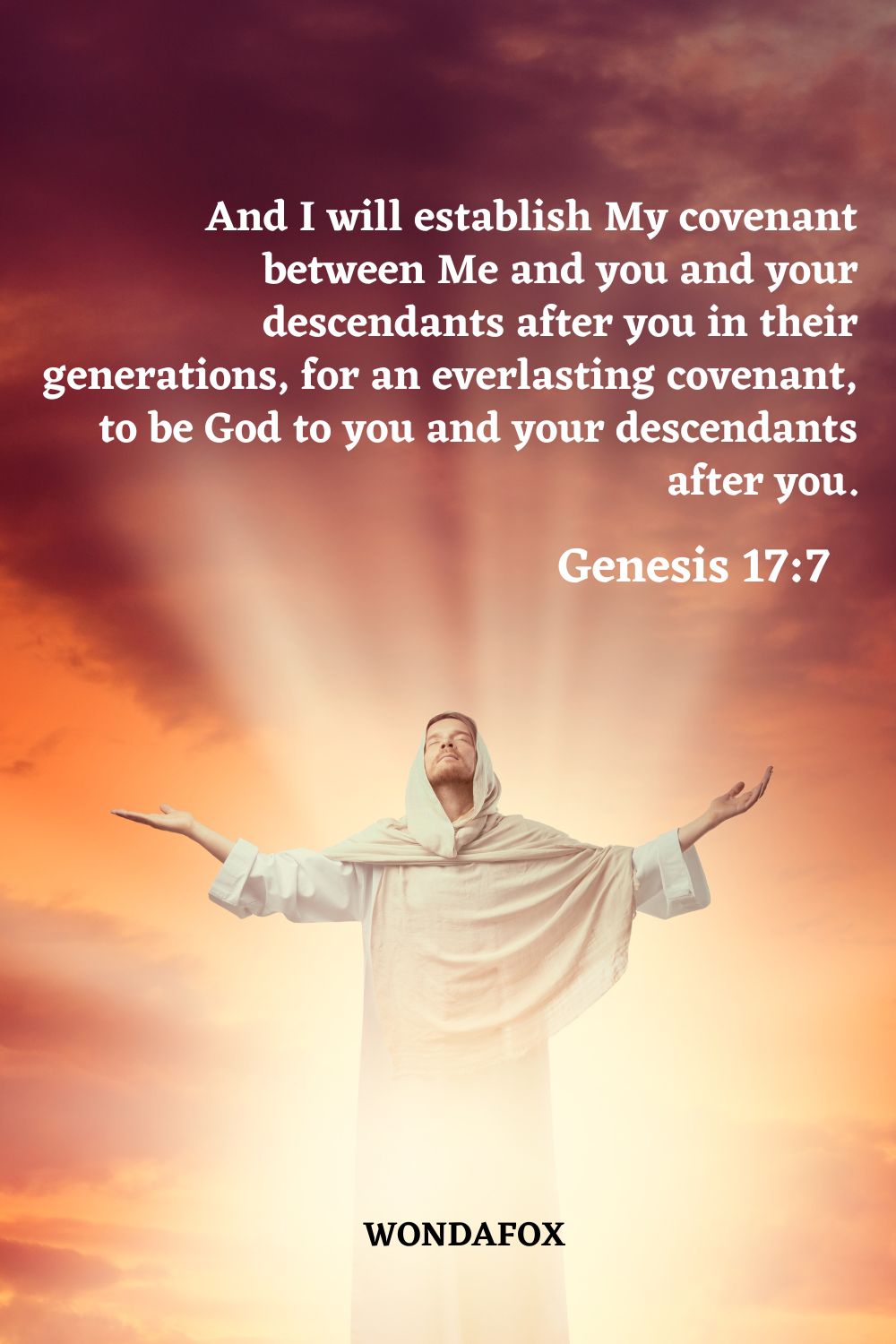 Genesis 17:7
And I will establish My covenant between Me and you and your descendants after you in their generations, for an everlasting covenant, to be God to you and your descendants after you.
Exodus 31:16
Therefore the children of Israel shall keep the Sabbath, to observe the Sabbath throughout their generations as a perpetual covenant.
Ezekiel 37:26
Moreover I will make a covenant of peace with them, and it shall be an everlasting covenant with them; I will establish them and multiply them, and I will set My sanctuary in their midst forevermore.
Psalm 89:34
My covenant I will not break,
Nor alter the word that has gone out of My lips.
Hebrews 8:7
For if that first covenant had been faultless, then no place would have been sought for a second.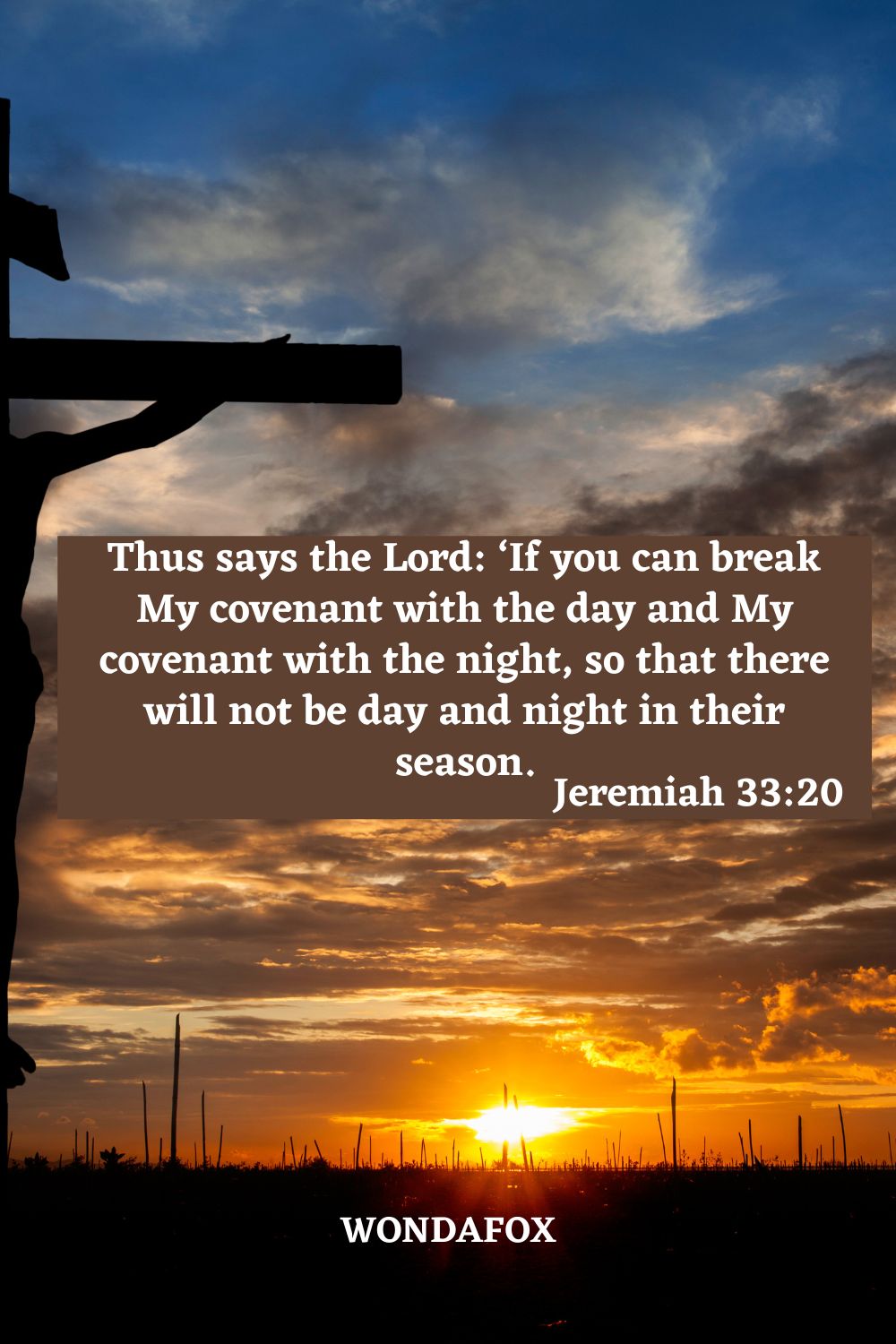 Jeremiah 33:20
Thus says the Lord: 'If you can break My covenant with the day and My covenant with the night, so that there will not be day and night in their season.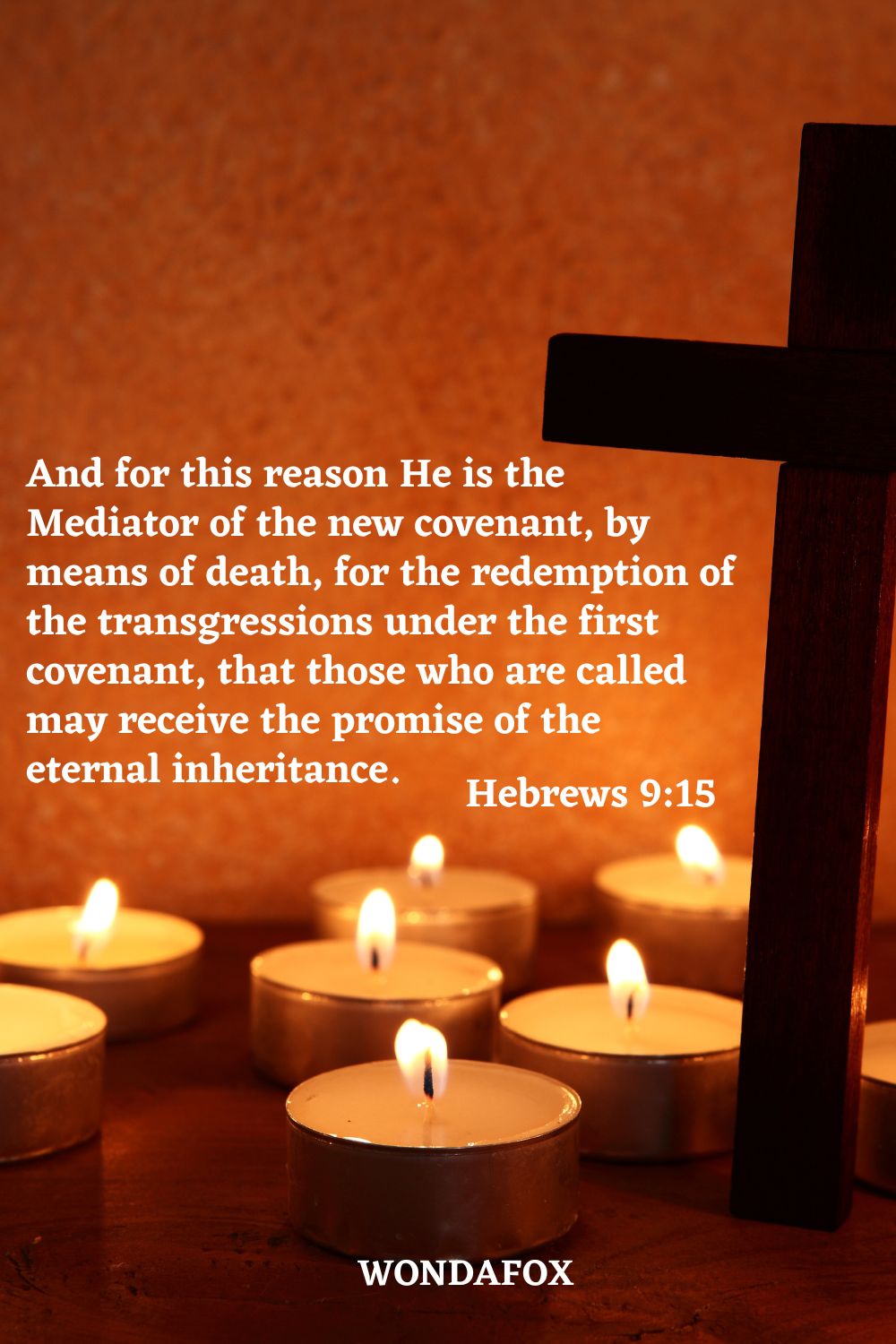 Hebrews 9:15
And for this reason He is the Mediator of the new covenant, by means of death, for the redemption of the transgressions under the first covenant, that those who are called may receive the promise of the eternal inheritance.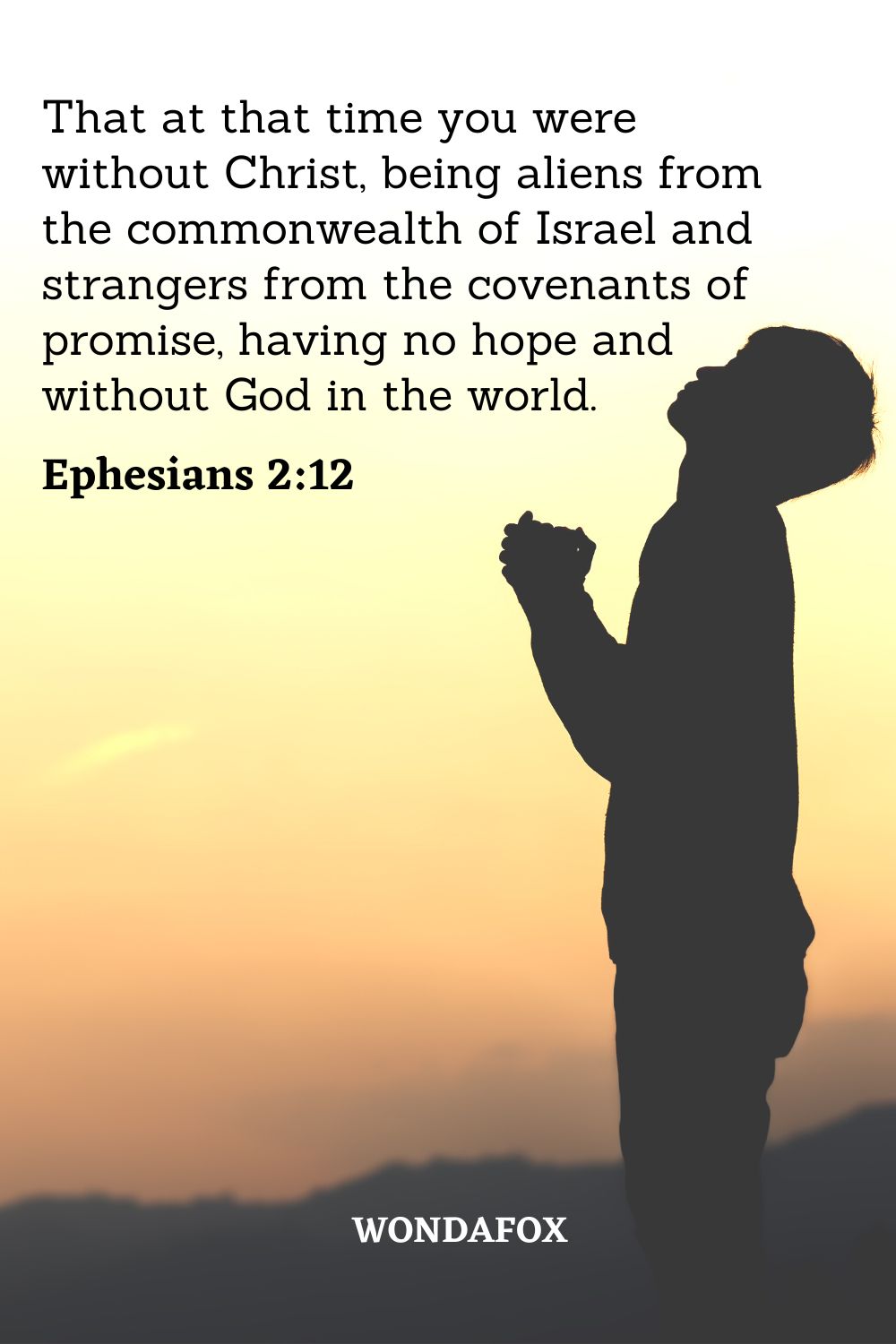 Ephesians 2:12
That at that time you were without Christ, being aliens from the commonwealth of Israel and strangers from the covenants of promise, having no hope and without God in the world.
Exodus 34:10
And He said: "Behold, I make a covenant. Before all your people I will do marvels such as have not been done in all the earth, nor in any nation; and all the people among whom you are shall see the work of the Lord. For it is an awesome thing that I will do with you.
Deuteronomy 29:9
Therefore keep the words of this covenant, and do them, that you may prosper in all that you do.
Related Posts
Genesis 31:44
Now therefore, come, let us make a covenant, you and I, and let it be a witness between you and me."
Jeremiah 33:25
"Thus says the Lord: 'If My covenant is not with day and night, and if I have not appointed the ordinances of heaven and earth.
Isaiah 59:21
"As for Me," says the Lord, "this is My covenant with them: My Spirit who is upon you, and My words which I have put in your mouth, shall not depart from your mouth, nor from the mouth of your descendants, nor from the mouth of your descendants' descendants," says the Lord, "from this time and forevermore."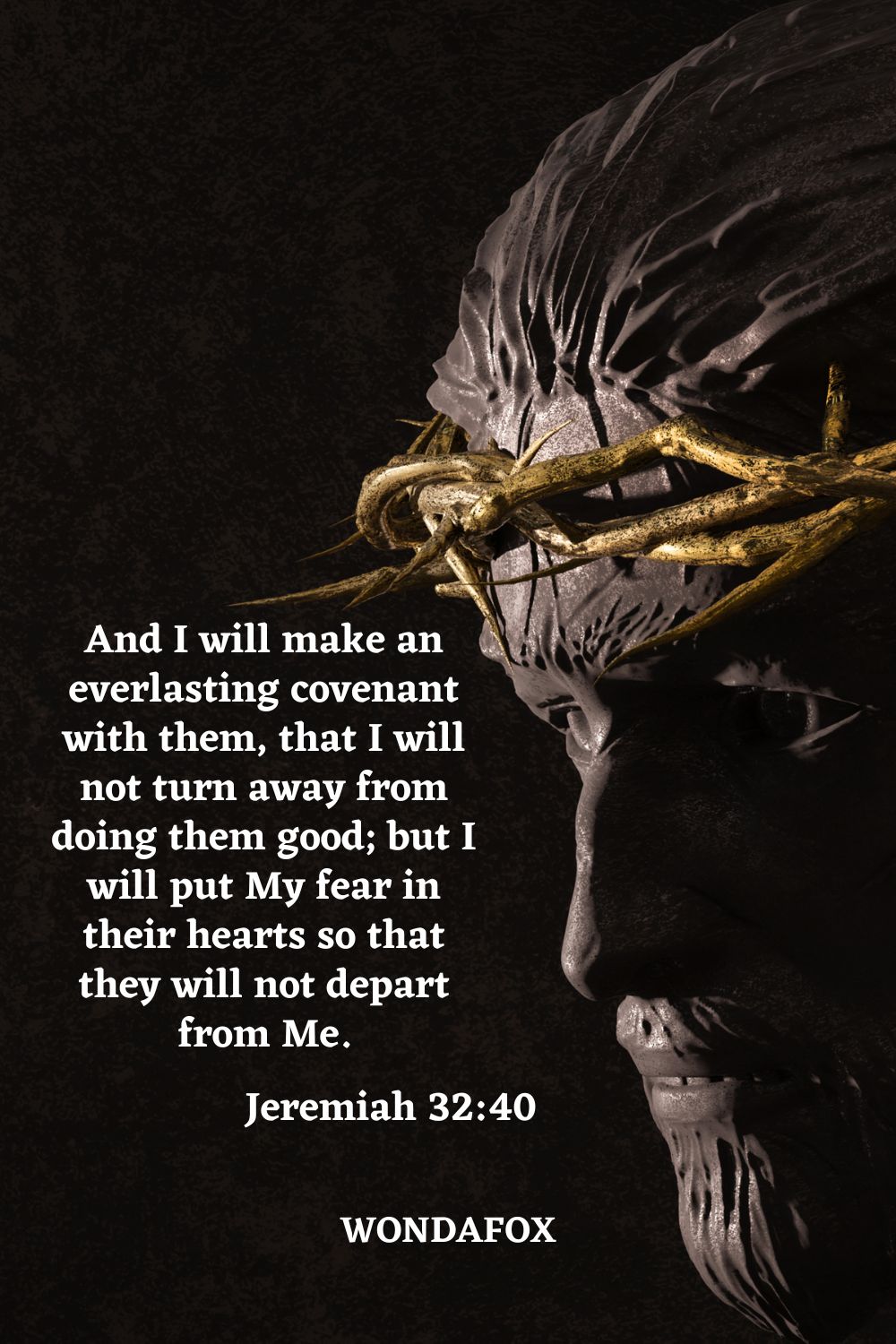 Jeremiah 32:40
And I will make an everlasting covenant with them, that I will not turn away from doing them good; but I will put My fear in their hearts so that they will not depart from Me.
Psalm 25:14
The secret of the Lord is with those who fear Him,
And He will show them His covenant.
Malachi 2:5
"My covenant was with him, one of life and peace,
And I gave them to him that he might fear Me;
So he feared Me
And was reverent before My name.
Hebrews 8:6
But now He has obtained a more excellent ministry, in as much as He is also Mediator of a better covenant, which was established on better promises.
Psalm 50:5
"Gather My saints together to Me,
Those who have made a covenant with Me by sacrifice."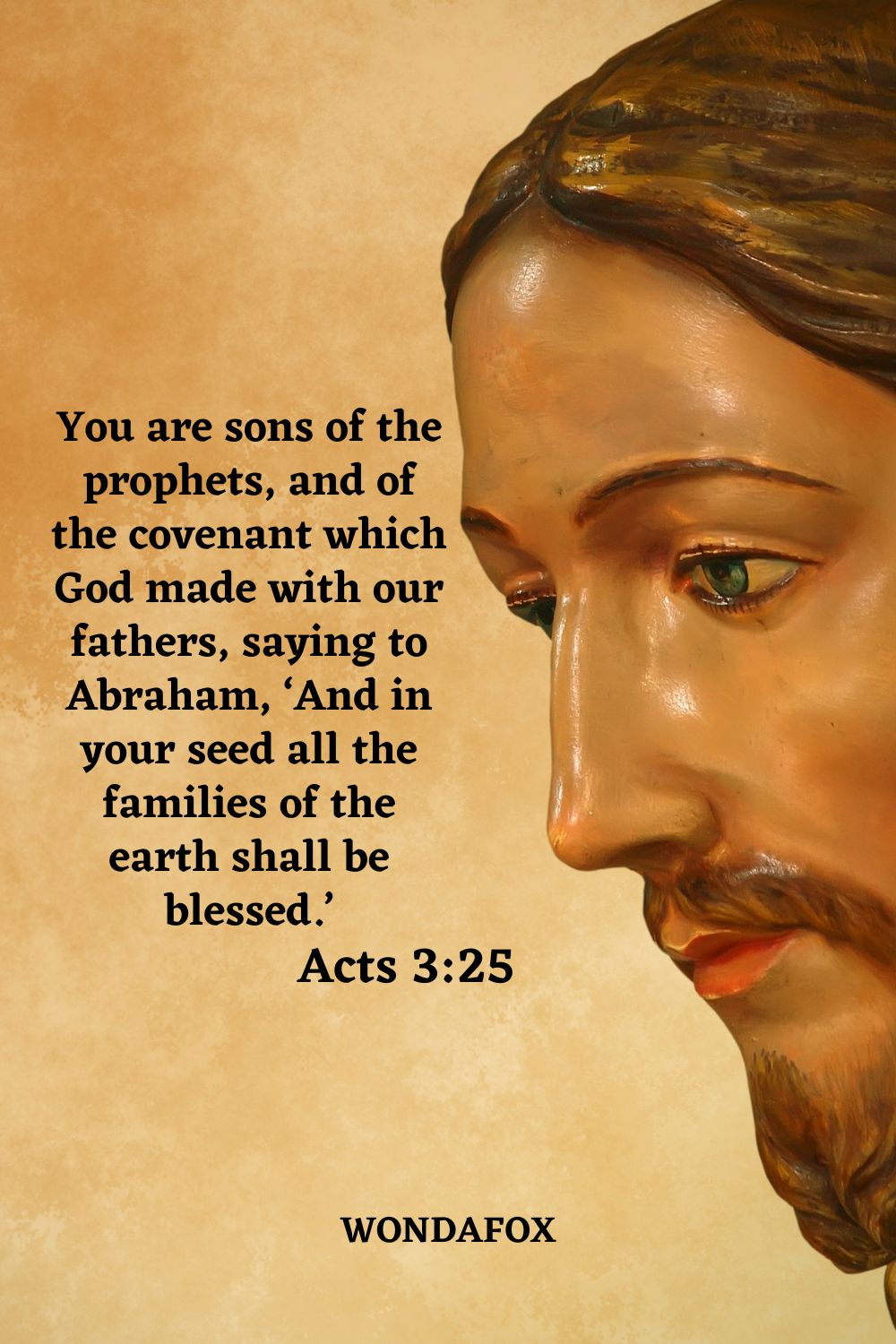 Acts 3:25
You are sons of the prophets, and of the covenant which God made with our fathers, saying to Abraham, 'And in your seed all the families of the earth shall be blessed.'
Exodus 23:32
You shall make no covenant with them, nor with their gods.
Psalm 105:9
The covenant which He made with Abraham,
And His oath to Isaac.
Hebrews 8:13
In that He says, "A new covenant," He has made the first obsolete. Now what is becoming obsolete and growing old is ready to vanish away.
Hebrews 7:22
By so much more Jesus has become a surety of a better covenant.
Exodus 24:8
And Moses took the blood, sprinkled it on the people, and said, "This is the blood of the covenant which the Lord has made with you according to all these words."
Deuteronomy 5:3
The Lord did not make this covenant with our fathers, but with us, those who are here today, all of us who are alive.
Leviticus 26:45
But for their sake I will remember the covenant of their ancestors, whom I brought out of the land of Egypt in the sight of the nations, that I might be their God:
I am the Lord.' "
Isaiah 49:8
Thus says the Lord:
"In an acceptable time I have heard You,
And in the day of salvation I have helped You;
I will preserve You and give You
As a covenant to the people,
To restore the earth,
To cause them to inherit the desolate heritages.
Mark 14:24
And He said to them, "This is My blood of the new covenant, which is shed for many.
30-day bible reading plan about covenant
The Bible is an extraordinary book that not only serves as a source of spiritual guidance but also offers great depths of wisdom and knowledge on various aspects of life.
One prominent theme that resonates throughout its pages is the concept of covenant—a solemn agreement or commitment made between God and His people. Covenants appear repeatedly, weaving a beautiful tapestry of divine promises and the unwavering faithfulness of our Creator.
Embarking on a 30-day Bible reading plan about covenant will take you on a transformative voyage through the sacred text. It will enrich your understanding of God's faithfulness, His unchanging nature, and His unwavering love for humanity.
As you explore the foundations, the Old and New Covenants, and the grand finale in Revelation, you will be inspired to live in a deeper relationship with the One who entered into covenant with you. May the truths and revelations you encounter during this journey empower you to walk faithfully in your spiritual journey and impact the world around you.