In a world that often seems devoid of hope and compassion, faith and love serve as beacons of light, offering solace, guidance, and strength. For Christians, the Bible is a timeless source of inspiration, overflowing with verses that emphasize the significance of faith and love in our lives.
In this blog post, we will explore some powerful Christian quotes about faith and love, highlighting their profound impact on our spiritual journey.
Bible quotes about faith and love
1. "And now these three remain: faith, hope, and love. But the greatest of these is love."

1 Corinthians 13:13
This iconic quote from the Apostle Paul reminds us that love encompasses all. While faith and hope are essential, love serves as the ultimate foundation upon which our relationships with others, and with God, are built.
2. "For we walk by faith, not by sight."

2 Corinthians 5:7
This verse teaches us the importance of trusting in God's plan even when circumstances may seem unclear. Faith allows us to see beyond our immediate surroundings, guiding us towards a deeper understanding of God's purpose for our lives.
3. "Do everything in love."

1 Corinthians 16:14
In this concise yet powerful bible quote, the Apostle Paul reminds us that love should permeate every aspect of our lives. Whether it be our interactions with others, daily tasks, or even our spiritual devotion, love should be the driving force behind all that we do.
4. "But I say to you, love your enemies, bless those who curse you, do good to those who hate you, and pray for those who spitefully use you and persecute you."

Matthew 5:44
These words spoken by Jesus challenge us to extend love, forgiveness, and kindness even to those who may not reciprocate it. By embracing this teaching, we can emulate Christ's unconditional love and promote healing and reconciliation.
5. "But let your trust in the Lord and your love for Him sustain you, focus your heart and make your hope in Him unwavering."

Psalm 31:24
This verse reminds us to place our trust in God, allowing our love for Him to be the anchor that holds us steady in times of uncertainty. Through unwavering hope, we can find solace and strength in His divine presence.
Christian quotes about faith
John Piper
"God is most glorified in us when we are most satisfied in Him".
Hans urs von Balthasar
"What you are is God's gift to you, what you become is your gift to God."
Amy Carmichael
"He said "Love…as I have loved you." We cannot love too much."
James Hudson Taylor
"When we work, we work. When we pray, God works."
Madeleine L'engle
"Joy is the infallible proof of the presence of God."
Elisabeth Elliot
"Faith does not eliminate questions. But faith knows where to take them."
Saint Teresa of Ávila
"For prayer is nothing else than being on terms of friendship with God."
Garth Brooks
"Some of God's greatest gifts are unanswered prayers."
C.S. Lewis
"To be a Christian means to forgive the inexcusable, because God has forgiven the inexcusable in you."
Oprah Winfrey
"What God intended for you goes far beyond anything you can imagine."
Tim Keller
"Christ literally walked in our shoes."
Saint Augustine
"Faith is to believe what you do not see; the reward of this faith is to see what you believe."
Tim Tebow
"I'm not perfect. I'm never going to be. And that's the great thing about living the Christian life and trying to live by faith, is you're trying to get better every day. You're trying to improve."
Oswald Chambers
"Faith is deliberate confidence in the character of God whose ways you may not understand at the time."
Tony Evans
"God will meet you where you are in order to take you where He wants you to go."
Isaac Bashevis Singer
"Life is God's novel. Let him write it."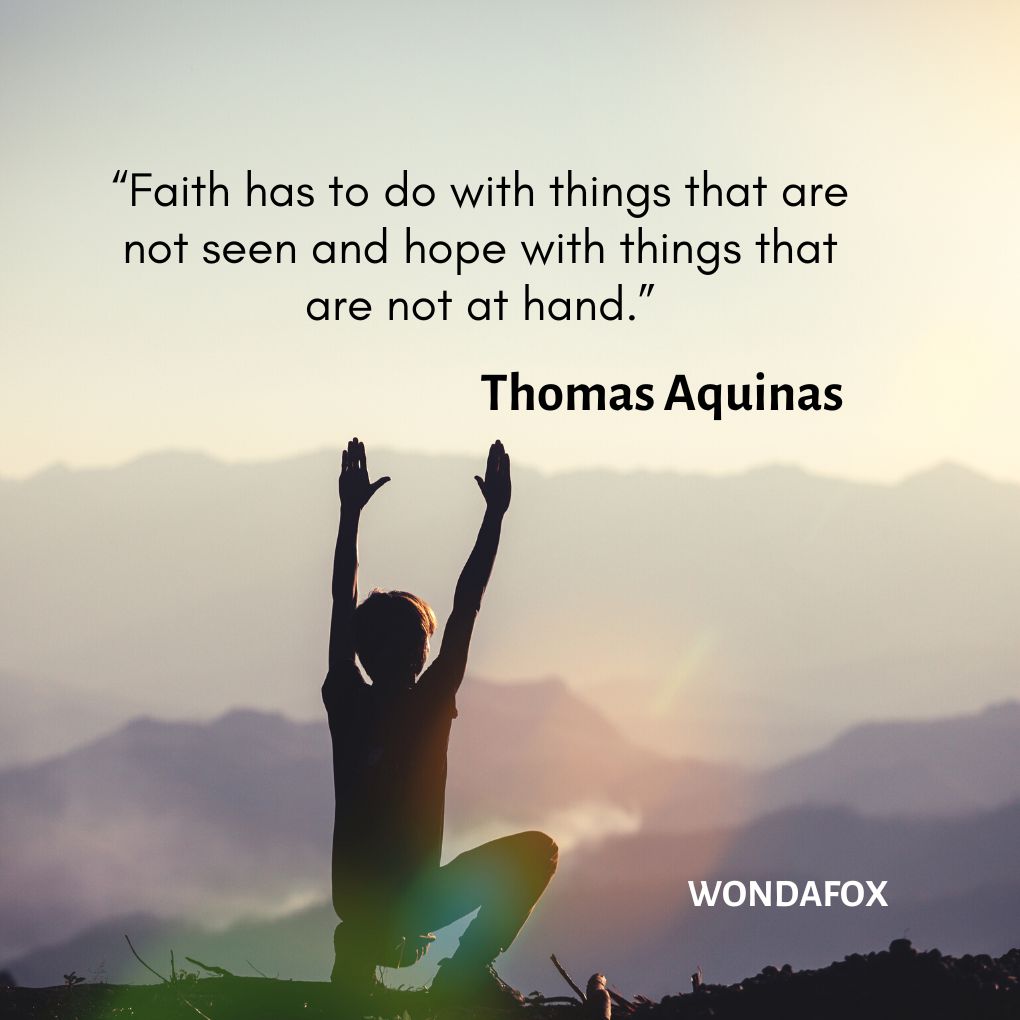 Thomas Aquinas
"Faith has to do with things that are not seen and hope with things that are not at hand."
Corrie Ten Boom
"Worry does not empty tomorrow of its sorrows; it empties today of its strength."
Patricia Amis
"If you can see it, you can achieve it. God helps those who helps themselves. Power is in the act of humility."
George MacDonald
"The principle part of faith is patience."
John Calvin
"However many blessings we expect from God, His infinite liberality will always exceed all our wishes and our thoughts."
Dean Stanley
"The true call of a Christian is not to do extraordinary things, but to do ordinary things in an extraordinary way."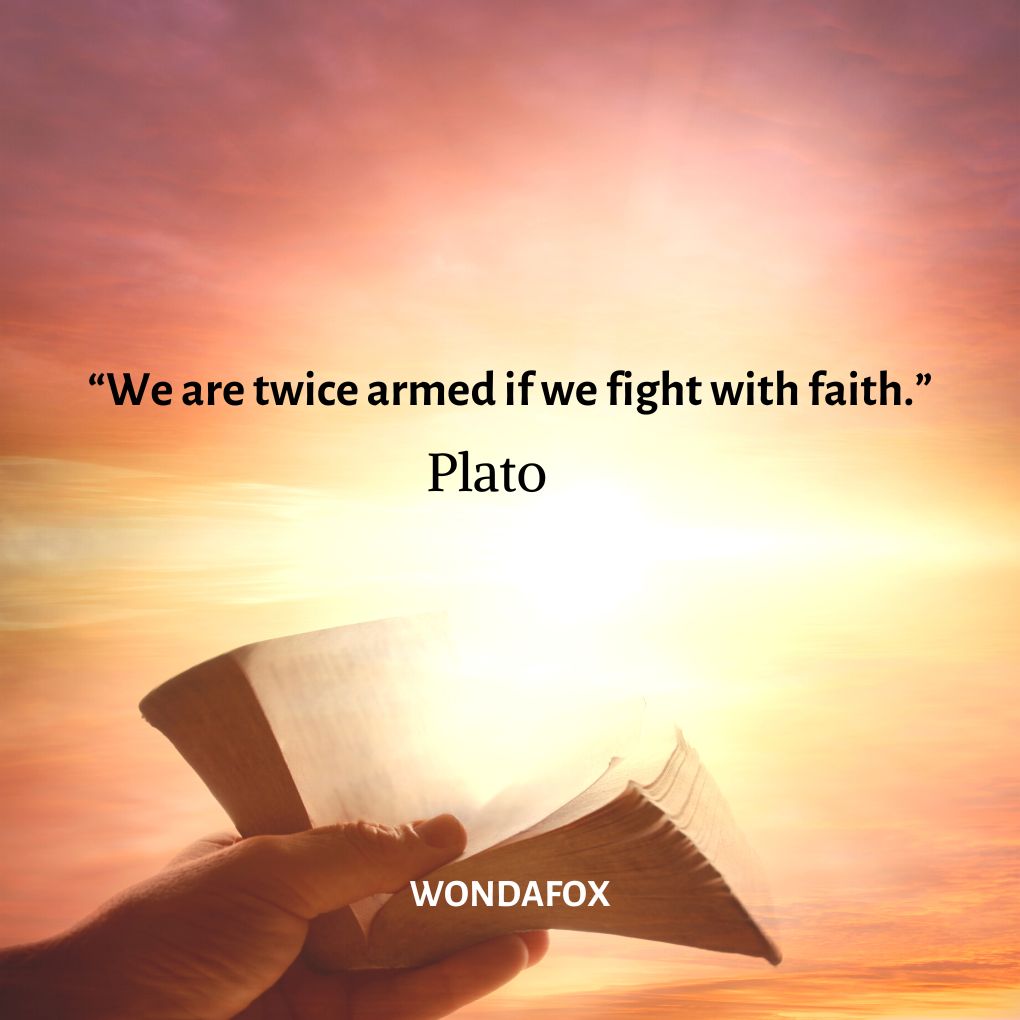 Plato
"We are twice armed if we fight with faith."
Saint Ignatius
"I wish not merely to be called Christian, but also to be Christian."
Related Posts
Christian quotes about love
Jack Hyles
I cannot love you as I love myself until I love God as I ought to love Him.
Daniel Fuller
In biblical thinking, genuine love exists only when good works are done in a context where God rather than the doer gets the credit.
Basilea Schlink
Everything God does is love — even when we do not understand Him.
Jack Hyles
Love is the doorway through which the human soul passes from selfishness to service.
Jack Hyles
Being loved is life's second greatest blessing; loving is the greatest.
Jack Hyles
Love is a gift of God.
C.S. Lewis
Do not waste time bothering whether you "love" your neighbor; act as if you did.
Rick Warren
Learning to love unselfishly is not an easy task. It runs counter to our self-centered nature.
Augustine
Since love grows within you, so beauty grows. For love is the beauty of the soul.
Dwight L. Moody
The world does not understand theology or dogma, but it understands love and sympathy.
Jack Hyles
You will never really love until you love someone who hates you.
John Wesley
Though we cannot think alike may we not love alike?
Henry Drummond
The world is not a play-ground; it is a school-room. Life is not a holiday, but an education. And the one eternal lesson for us all is how better we can love.
Fyodor Dostoevsky
To love someone means to see him as God intended him.
Henry Drummond
Where Love is, God is.
William Gurnall
The chains of love are stronger than the chains of fear.
Billy Graham
Nothing can bring a real sense of security into the home except true love.
Amy Carmichael
You can always give without loving, but you can never love without giving.
Rick Warren
For instance, God teaches us to love by putting some unlovely people around us. It takes no character to love people who are lovely and loving to you.
Dwight L. Moody
Faith makes all things possible… love makes all things easy.
Rick Warren
The best use of life is love. The best expression of love is time. The best time to love is now.
Jack Hyles
Love is the doorway through which the human soul passes from selfishness to service.
Jude
Keep yourselves in God's love as you wait for the mercy of our Lord Jesus Christ to bring you to eternal life.
Rick Warren
Learning to love unselfishly is not an easy task. It runs counter to our self-centered nature.
Dwight L. Moody
"The world does not understand theology or dogma, but it understands love and sympathy."
1 John 4:19
"We love, because He first loved us".
Christian quotes about faith and love have the power to inspire, uplift, and transform our lives. By immersing ourselves in these profound teachings, we cultivate a deeper understanding of our faith and the importance of embodying love in all our interactions. Let us strive to nurture our faith, allowing love to guide our actions and relationships, in turn, fostering a more compassionate, harmonious, and fulfilling spiritual journey.