Generosity is frequently defined as an act of selflessness. It is the ability and the willingness to give and be kind to others without looking for anything in return.
The Bible talks about giving generously and why it is essential. To help you grasp what the bible says about generous giving, below are some bible verses on generosity and giving.
Prayer to be generous
Merciful Lord, thank you for all the wonderful things you continue to do in my life. Thank you for your mercy and blessings. Help me to extend these blessings to others. Please help me to have a compassionate heart. Teach me to be a generous person, Lord, so that I can freely donate without counting the cost. Encourage me to offer cheerfully without expecting anything in return. Show me how to serve others with humility, so that I can always do your work. This I pray in Jesus' name, Amen.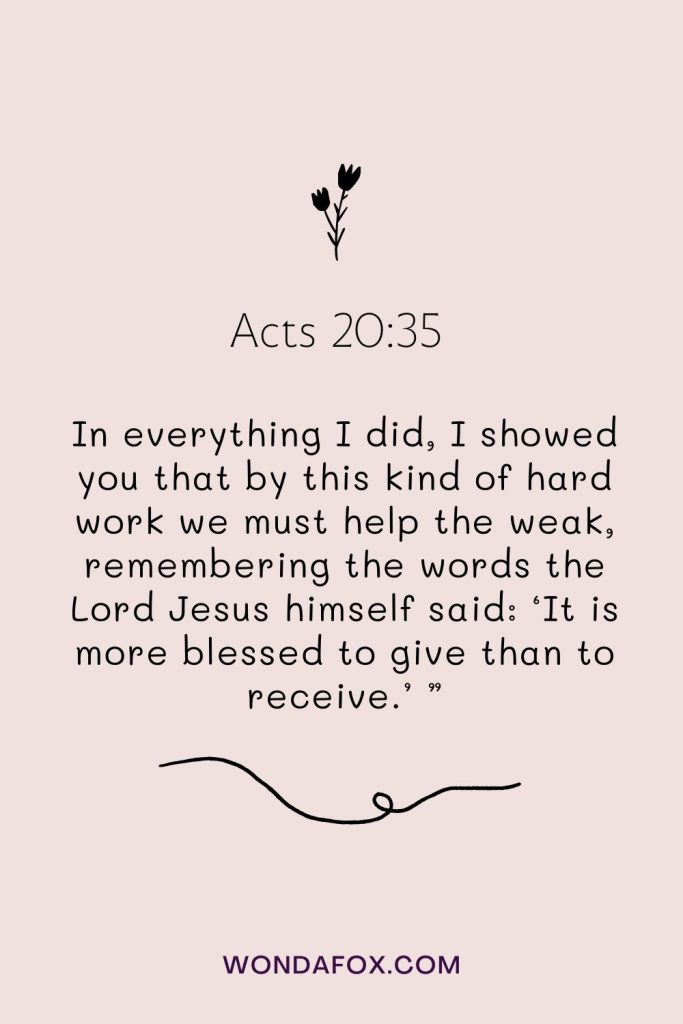 Acts 20:35
In everything I did, I showed you that by this kind of hard work we must help the weak, remembering the words the Lord Jesus himself said: 'It is more blessed to give than to receive.' "
Luke 6:38
Give, and it will be given to you. A good measure, pressed down, shaken together and running over, will be poured into your lap. For with the measure you use, it will be measured to you."
Proverbs 11:24-25
One person gives freely, yet gains even more; another withholds unduly, but comes to poverty. A generous person will prosper; whoever refreshes others will be refreshed.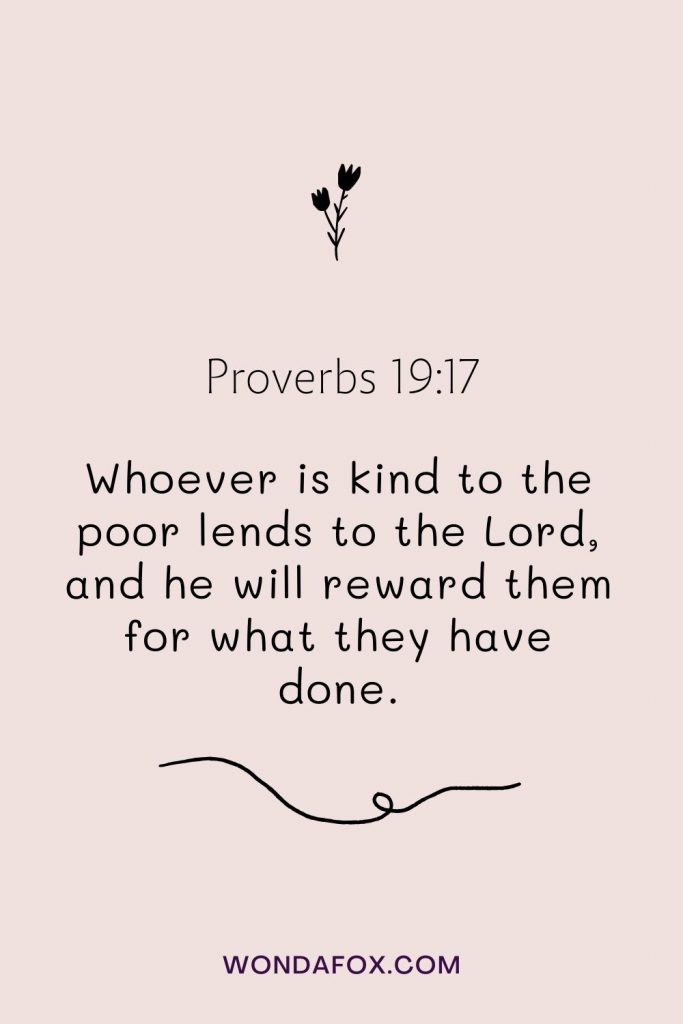 Proverbs 19:17
Whoever is kind to the poor lends to the Lord, and he will reward them for what they have done.
Matthew 6:21
For where your treasure is, there your heart will be also.
2 Corinthians 9:6
Remember this: Whoever sows sparingly will also reap sparingly, and whoever sows generously will also reap generously.
Proverbs 22:9
The generous will themselves be blessed, for they share their food with the poor.
Proverbs 21:13
Whoever shuts their ears to the cry of the poor will also cry out and not be answered.
Psalm 112:5
Good will come to those who are generous and lend freely, who conduct their affairs with justice.
Luke 12:33
Sell your possessions and give to the poor. Provide purses for yourselves that will not wear out, a treasure in heaven that will never fail, where no thief comes near and no moth destroys.
2 Corinthians 9:11
You will be enriched in every way so that you can be generous on every occasion, and through us your generosity will result in thanksgiving to God.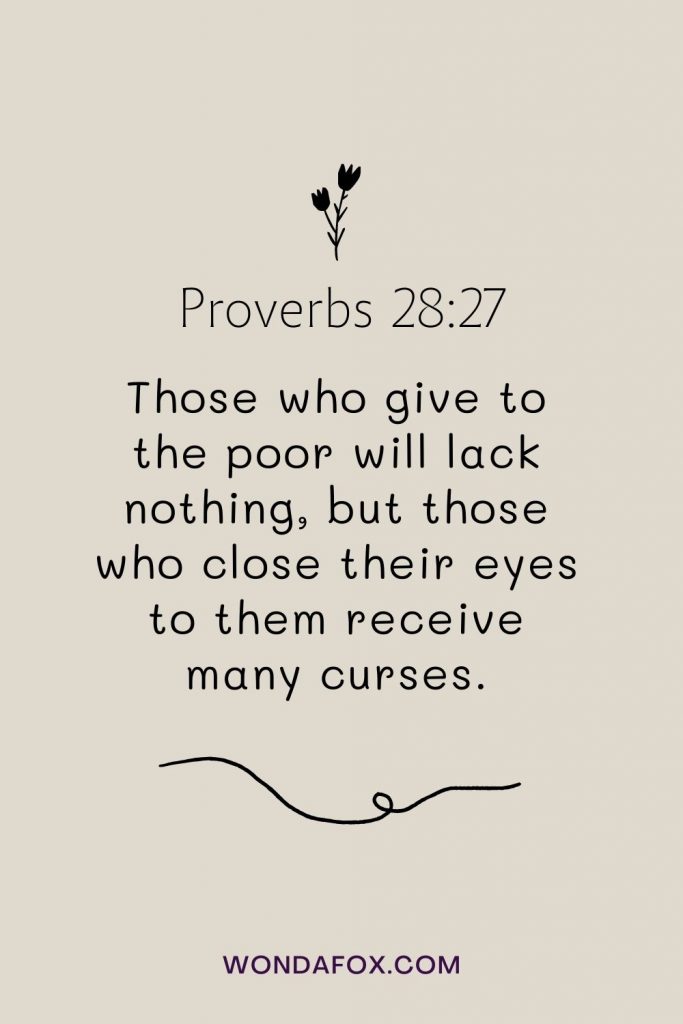 Proverbs 28:27
Those who give to the poor will lack nothing, but those who close their eyes to them receive many curses.
Deuteronomy 8:18
But remember the Lord your God, for it is he who gives you the ability to produce wealth, and so confirms his covenant, which he swore to your ancestors, as it is today.
2 Corinthians 9:10
Now he who supplies seed to the sower and bread for food will also supply and increase your store of seed and will enlarge the harvest of your righteousness.
Luke 6:30
Give to everyone who asks you, and if anyone takes what belongs to you, do not demand it back.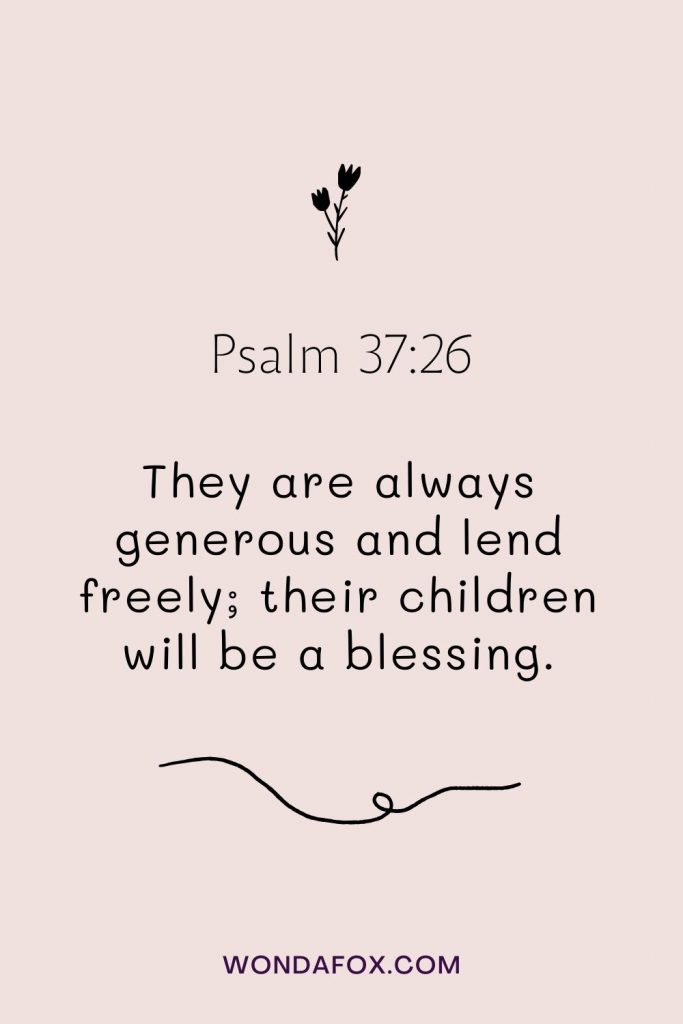 Psalm 37:26
They are always generous and lend freely; their children will be a blessing.
Matthew 6:33
But seek first his kingdom and his righteousness, and all these things will be given to you as well.
Matthew 25:21
His master replied, 'Well done, good and faithful servant! You have been faithful with a few things; I will put you in charge of many things. Come and share your master's happiness!'
Psalm 112:9
They have freely scattered their gifts to the poor, their righteousness endures forever; their horn will be lifted high in honor.
James 1:5
If any of you lacks wisdom, you should ask God, who gives generously to all without finding fault, and it will be given to you.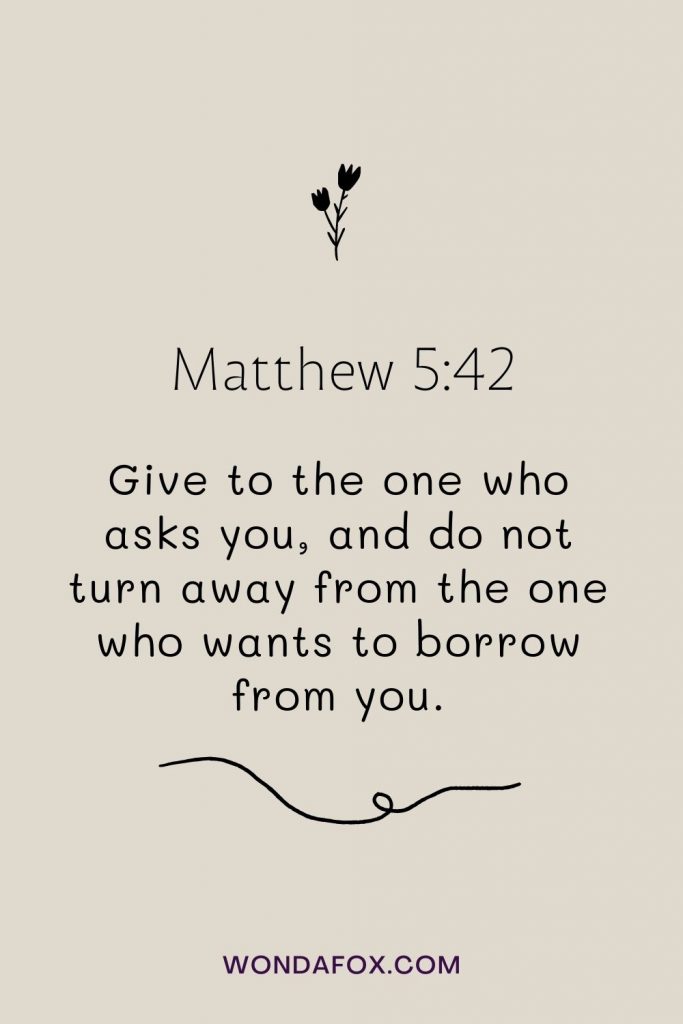 Matthew 5:42
Give to the one who asks you, and do not turn away from the one who wants to borrow from you.
21 day generosity bible reading plan
One very effective way to study and meditate on the word of God is to read it often. So below we've added a 21-day bible reading plan on generosity to help you study and understand what the bible says about being generous and giving.
We hope by the end of this bible reading plan, you will be able to understand what the bible says about generosity, and you will have the encouragement and desire to give generously to others. Here are a few questions to ask yourself after each reading;
How do you understand the scripture?
What does the scripture tell you about being generous?
How can you apply this scripture in your life?
Note: Enjoyed this content and want unlimited access to prayer books and bible study resources? Then join The Graceful Chapter Plus to gain access to more resources to help strengthen your faith and grow in intimacy with God.