Friends are like family – they're the ones who make our lives brighter, support us through thick and thin, and create memories that will last a lifetime. Whether you're celebrating a special moment with your friends or just want to show them some love on social media, a great caption can make all the difference. So, let's dive into the wonderful world of captions for friends.
Cute Captions For Friends On Instagram 
Friends are like stars – they're always coming and going, but the ones that stay burn as bright as the sun.
A good friend knows your wild stories. Your best friend was right there with you!
My bestie used to be shy and quiet…but that was before she met me!
Grateful for someone who laughs at random things with me.
Let's party 'til the sunrise again 😎 🎉
I hit the BFF jackpot! 🤑
I like me better when I'm with you.
I don't know what's tighter…our jeans or our friendship!
I've got the best partner in crime 👯‍♀️

Good Times + Crazy Friends = Best Memories
I don't know what I did to deserve a friend like you.
You're my sunshine on a cloudy day.
Friends? We're more like sisters.

Friends who slay together stay together.
The partner in all my secrets.
No friendship is an accident.
We're always stronger together.

Real queens fix each others' crowns 👑
I love wandering through life with you.
Friendship isn't a big deal…it's a million little things.
Friends are like flowers. They fill the world with beauty." – Celeste Barnard
Not sisters by blood, but sisters by heart.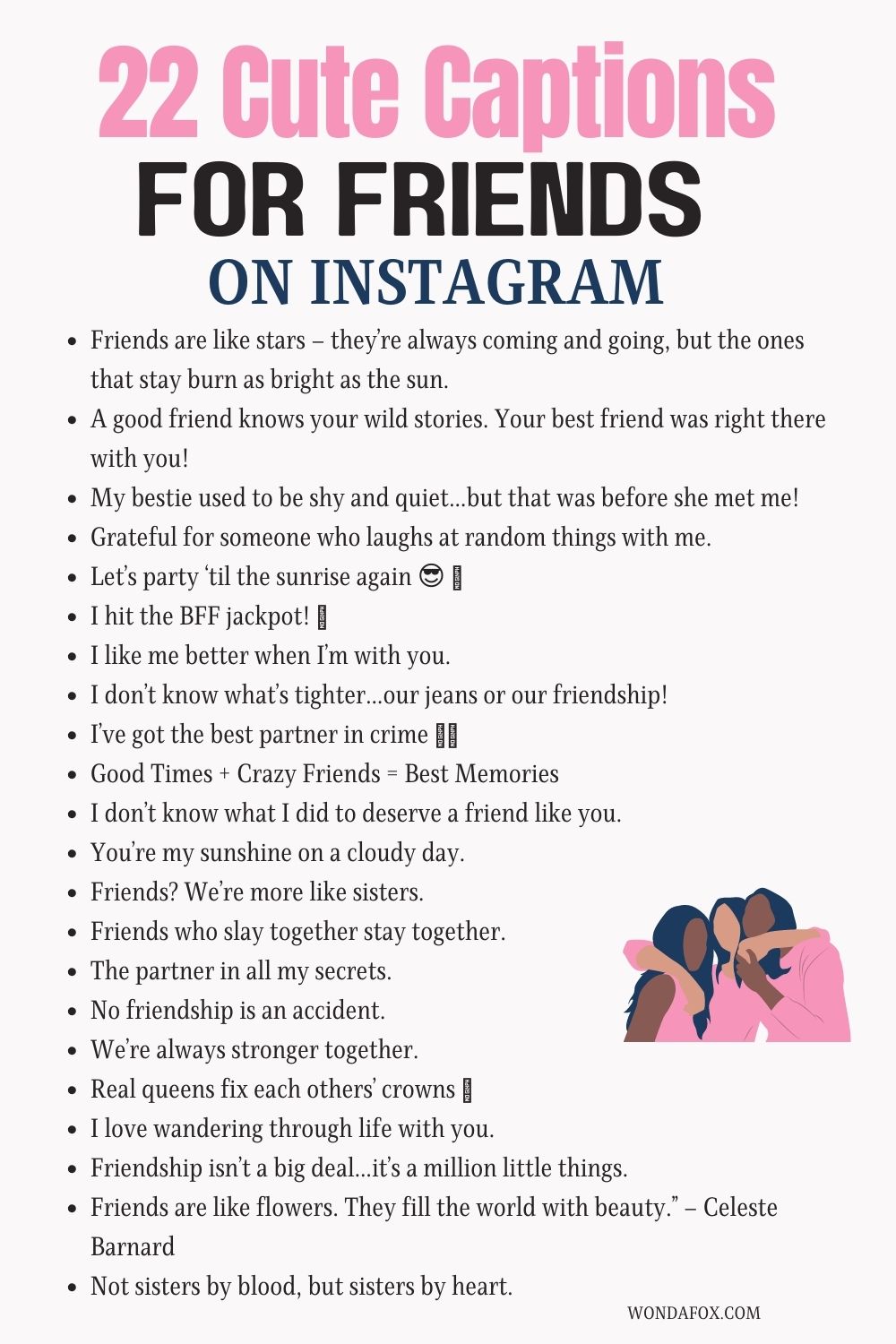 Funny Captions For Friends
Friends — people who stick to you like an octopus that just won't let go 🐙
Good friends are hard to find and harder to get rid of.
True friends always laugh at your jokes, especially the ones that aren't funny.

Our friendship was born the moment the police showed up.
Having a conversation with friends means you hope you're not overheard.
Friends buy you lunch. Best friends eat your lunch.
Friends are people who know you really well and like you anyway.
Friends give you a shoulder to cry on. Best friends pick up a shovel to hurt the person that made you cry.

You and I are more than friends. We're like a really small gang.
Only your real friends will tell you when your face is dirty.
Love is blind. Friendship tries not to notice." –Otto von Bismarck
Friends are the bacon bits in the salad bowl of life.
"There are some things you can't share without ending up liking each other, and knocking out a twelve-foot mountain troll is one of them." — Harry Potter 🧙🏻‍♂️

They say don't try this at home. So I went to my friend's house.
Friendship is like peeing your pants. Everyone can see it, but only you can feel the warm feeling inside.
We've been friends for so long, I can't remember which one is the bad influence!
Our phones fall and we panic. Our friends fall and we laugh!
A friend never defends a husband who gets his wife an electric skillet for her birthday.
My Facebook friends are like my pen collection. I have 100, but only one writes!
A true friend is the only person who never gets tired of listening to your own pointless dramas over and over again.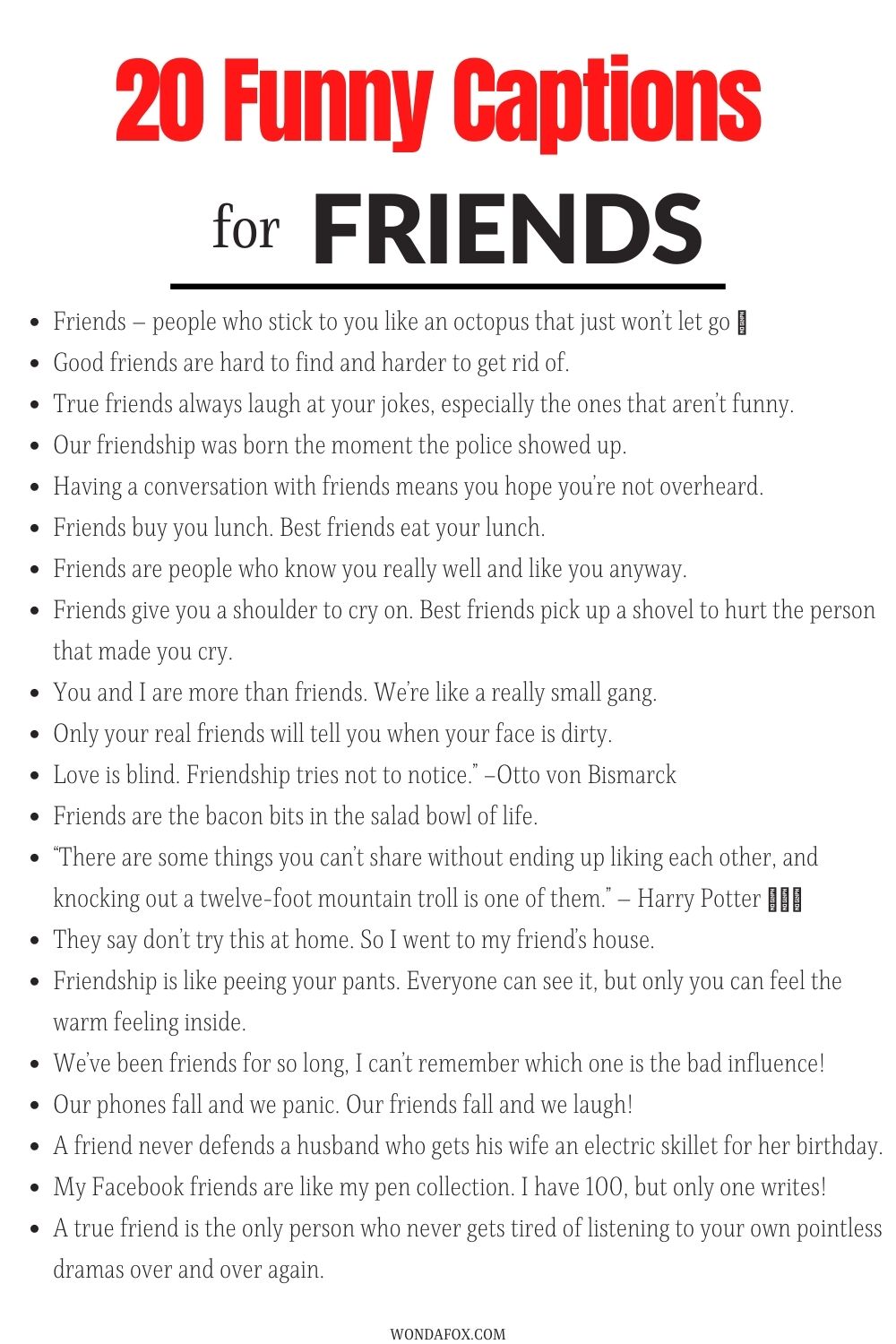 Best Captions For Friends
There is nothing better than a friend, unless it is a friend with chocolate.
"There are three faithful friends: An old wife, an old dog, and ready money." — Benjamin Franklin
"The capacity for friendship is God's way of apologizing for our families." — Jay McInerney
"Never tell your friends, 'I told you so' even when you did." — Wendy Jean Smith
Forever the PB to my J 🥪
We go together like cupcakes and frosting 🍥
A true friend never gets in your way, unless you happen to be going down.
Life without friendship is like the sky without the sun.
Friendship is being completely stupid together and not worrying about what others say!
We'll always be friends because you match my level of crazy.
I'll always pick you up if you fall…after I finish laughing at you.
When I send you my selfies, you know the friendship is real.
A good friend will bail you out of jail. A best friend is sitting there next to you saying, "wow, that was fun!"
Best friends don't care if your house is a mess. They care if you have chocolate there.
I will text you 50 times in a row and not feel bad about it. You're my friend, you literally signed up for this.
I'm your best friend and there's nothing you can do about it!
Life is too short to be serious, so if you can't laugh at yourself, call me. I'll laugh at you for you!
I'm surprised you still want to be seen in public with me.
If your friends don't make fun of you, are they really your friends?
Any day spent with you is my favorite day.
Cool Captions For Friends
I love my best friend a waffle lot.
Mint to be.
We spend a latte time together.
Nacho average best friends.
Donuts come between my friend and me.
You're owl I need 🦉
Orange you glad we're friends?
I'll never leaf you.
I've got taste in buds.
I lava you lots.
My friend is kind of a big dill.
Thanks for pudding up with me 😉
Me and my main squeeze 🍋
You're my berry favorite.
Lettuce never stops being friends.
You've got a friend in me.
I hope you'll be in my life forever.
Mermaid to be 🧜🏾‍♀️
I love our friend-chip.
You're a koala friend!
Words cannot espresso how much you mean to me ☕️
I love you berry much.
You're tea-riffic!
You guac my world!
I be-leaf in you!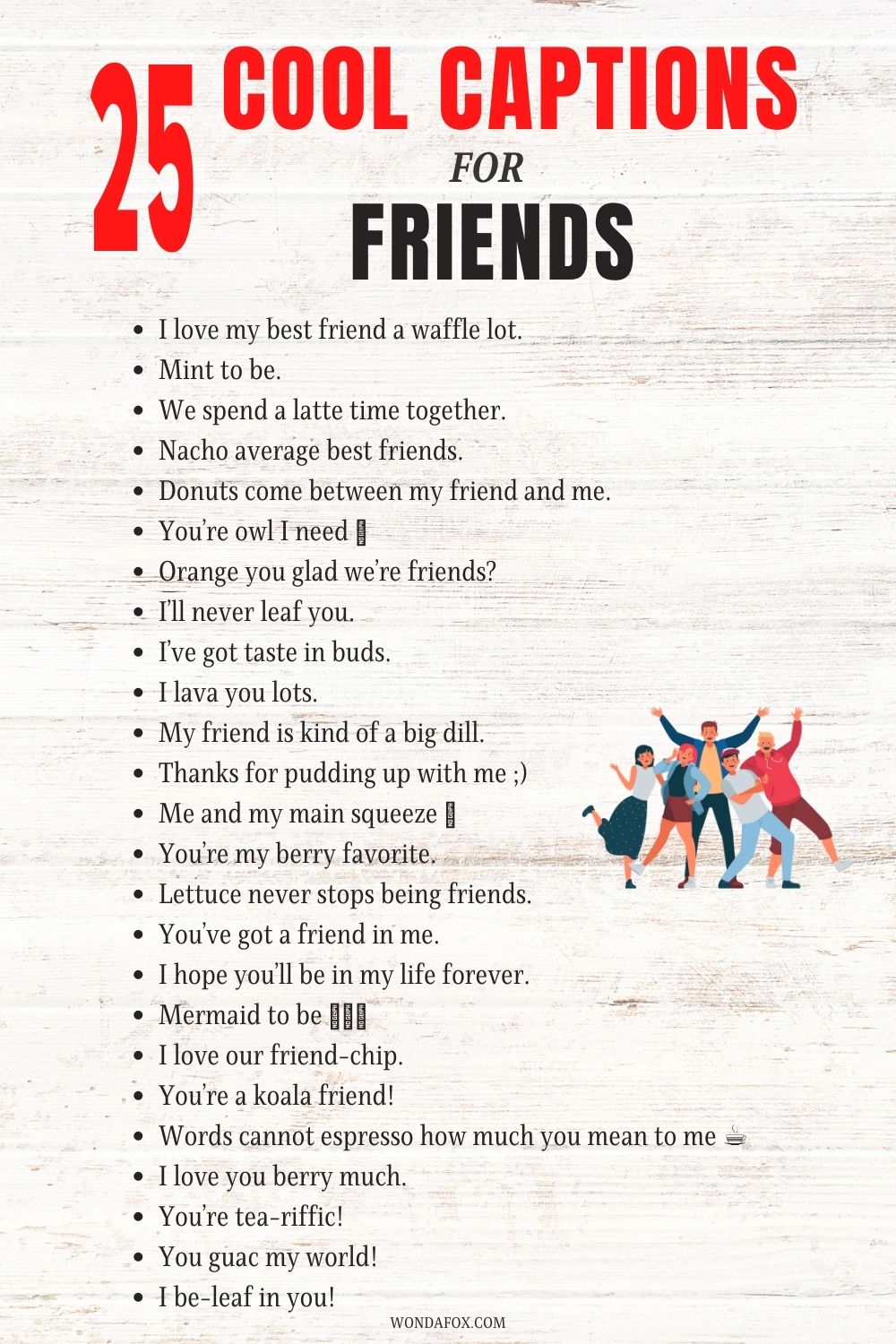 Related Posts
Birthday Captions For Friends
__ years ago, my best friend came into this world, and I couldn't be more grateful every single day!
Happy birthday, bestie! Thanks for all the laughs and memories 🎂 🎉
Happy b-day, babe! Let's party hard tonight!
ATTENTION! It's this beautiful person's birthday today, which means it's basically a national holiday! Let's celebrate!!
Happy birthday, _____! Live it up today!
Hey, birthday girl…hope you have the best day! Can't wait to celebrate with you soon!
Celebrating another trip around the sun for one of my favorite people! Happy birthday!
Happy birthday to one of the brightest lights in my life. You shine brighter than these candles, love 😉
Happy birthday to the one that's sweeter than any cake and the biggest gift in my life. So much love!
Do y'all have any idea what day it is? It's ____'s birthday, which, naturally, calls for excessive celebration:) Happy birthday!
Hey, I heard it was your birthday…That means there's only one thing to do. Party time!!!
Happy birthday to the best friend anyone could ask for. I love you to the moon and back 🌙
Happiest of birthdays to the queen herself. Honored to celebrate with you, as always 😉
Everyone drop what you're doing and wish this girl a happy birthday right now!
Happy birthday, _____! Thanks for all the laughs and memories – can't wait to make more!!
Happy birthday to my bestie! Congrats on another year of life and another year of laughter and mems…Can't wait to see what the next year has in store 😊
Happy birthday, babe! You make (age) look fabulous!
Happy birthday! Congrats on finally catching up to me;)
Happy birthday to this old lady;) So glad I'm still (age) for another (amount of time)!!
Happy birthday, _____! You don't look a day over (age)!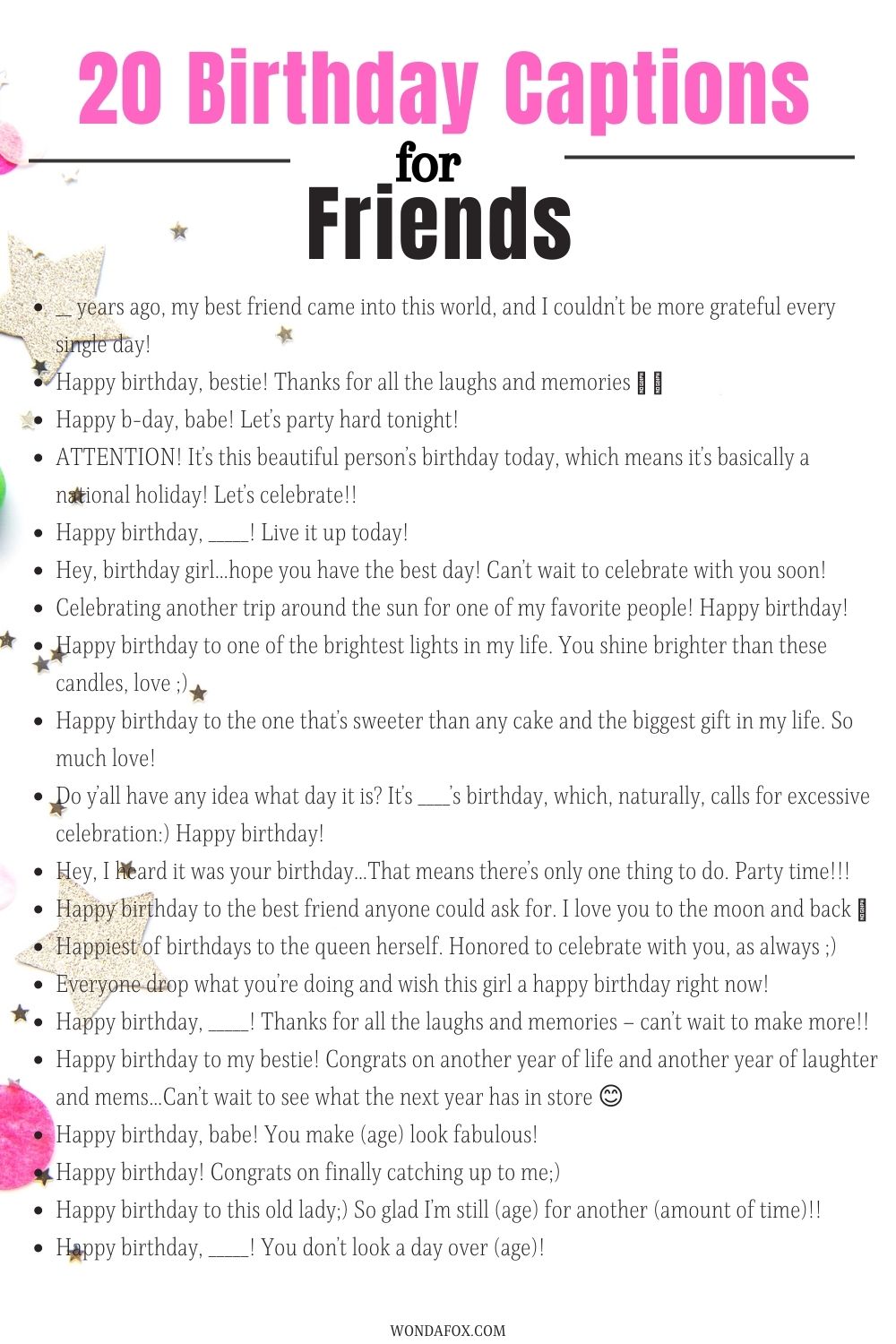 Old Friend Captions
You can't make old friends." — Ben Rector
"It is one of the blessings of old friends that you can afford to be stupid with them." — Ralph Waldo Emerson
"The best mirror is an old friend." — George Herbert
Old friends: People who have become more and more dear to us as time goes by.
Friends since (year) and still going strong!
You know your friendship is a real one when you can pick up right where you left off.
Happiness is meeting an old friend after a long time and realizing nothing has changed.
There's something about old friends that you just can't replace.
Distance has nothing on us!
Est. (year)
My number one since day one.
Life is sweeter with this one by my side.
Hold onto your best friend. You'll never find someone like that again.
Old friends are like old stories. They're always there, but you have to visit them sometimes.
Great friends just pick up where they left off.
Talking to an old friend makes you realize how much life has changed.
Finding an old friend is like finding a lost treasure.
Want to time-travel? Chat with an old friend for a while.
Reconnecting with an old friend means the last time you spoke feels like yesterday.
Making new friends doesn't mean losing old ones.
New Friend Captions
A friend is someone who walks in when others walk out.
Meet my new BFF!
We don't meet people by accident. Everyone crosses our paths for a reason.
Friendship isn't about who you've known the longest. It's about who never leaves your side 💖
"Friendship is born at that moment when one person says to another, 'What, you too? I thought I was the only one!'" — C.S. Lewis
Friendship is so weird. You just pick a human you've never met and you're like 'yep I like this one' and then you just do stuff with them." — Unknown
"The great thing about new friends is that they bring new energy to your soul." — Shanna Rodriguez
The start of a new adventure.
"New friends can often have a better time together than old friends." — F. Scott Fitzgerald
Brought together by (common interest)
This friendship is sponsored by (common interest)
We met by chance. We became friends by choice 💕
"Each new friendship can make you a new person because it opens up new doors inside you." — Kate DiCamillo
"Getting to know new people and gaining new friends is one of life's greatest pleasures." — Tony Clark
"Each friend represents a world in us, a world possibly not born until they arrive, and it is only by this meeting that a new world is born." — Anais Nin
The key to making new friends: (common interest) and (common interest)
Thanks (@ the person who introduced you) for playing friendship matchmaker!
"There's not a word yet for old friends who have just met." — Jim Henson
Some people just click!
"I've got a best new friend for the rest of my life." – Paula Meece
Remember, captions are an excellent way to express your feelings towards your friends, and each one can add a unique touch to your posts. So, whenever you share a photo or a heartfelt message, don't forget to pair it with a caption that perfectly captures the essence of your friendship. After all, friends deserve the best words!