Thanksgiving Day is a day to reflect on all the good things that happened in your life and give thanks. Whilst we celebrate Thanksgiving Day, this is something that should be practised always as practicing gratitude makes you a more positive person.
One Thanksgiving Day tradition that we all enjoy is gathering with friends and family to wine and dine together. This means taking photos together for fun memories, not just photos of our loved ones but photos of the meals we enjoy too.
And when you have all these photos on your phone, you are going to want to share them on the gram, so below are some thanksgiving captions for Instagram you can use with your photos.
Thanksgiving captions for instagram
I'm ready to give and to receive."
Let's give 'em pumpkin to talk about
Family is where happiness begins and love never ends."
Gourd times
Blessed to have all this food."
Hey there, cutie pie
Food always tastes better when you eat it with family."
Eat, drink, and cranberry
Touchdowns, tailgates, and turkey

Feeling thankful."
Choose to be grateful, no matter what."
Keep your eyes on the pies
Giving thanks is as easy as pumpkin pie."

Family, turkey, and football — oh my!
Here's to full plates and fuller hearts."
And they lived apple-y ever after
Grateful for everything."

You'll always be my gravy
Today is all about positive vibes."
"#blessed"
Let the gourd times roll
Happy Thanksgiving from our family to yours!"
Fifty shades of gravy
Spice, spice, baby
Happiness is homemade."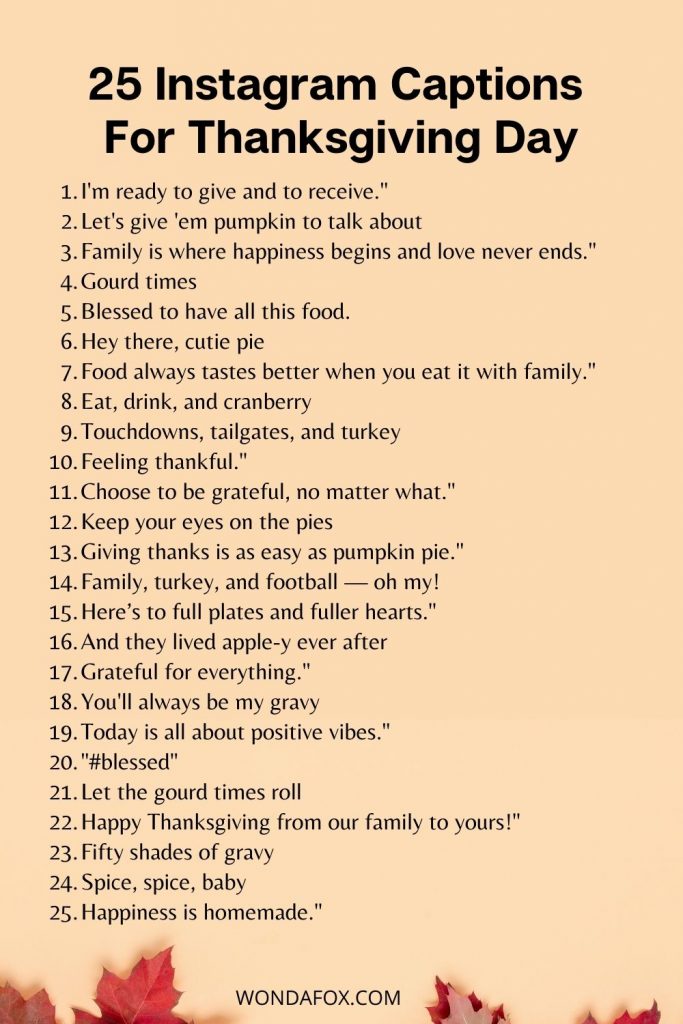 Love at first bite
Gratitude is the best attitude."
In everything, give thanks
Give thanks—today, and every day."
Give thanks and pass the mashed potatoes
My heart is as full as my plate."
Zero plucks given
Life is better when you're thankful."
Give thanks for a little and you will get a lot
Gratitude turns what we have enough."
Can't nobody tell me stuffin'
Thanksgiving is a joyous invitation to shower the world with love and gratitude."
Eat hard, nap harder
We may not have it all together, but together, we have it all."
Thanksgiving is the best — no ifs, and, or butter about it
Bake the world a better place
We are happy. We are thankful. We are family."
Turkey and wine and I'm feeling fine
Thanksgiving: A time to count blessings, not carbs
Food tastes better when you eat it with family."
Feast mode
Together is a wonderful place to be."
I can and I will go back for seconds
A grateful heart is a magnet for miracles."
Fitness? More like fitness whole turkey in my mouth