One of the most significant rooms in the house is the bedroom. It's where you go to unwind and rest after a long day. So, when it comes to designing it, you'll want to be sure to create a relaxing and inviting environment.
You must choose a pleasant color for the bedroom, whether you paint it or use wallpaper. You must choose a color that isn't overly bright or loud. This is because you sleep in your bedroom, and bright colors aren't conducive to falling asleep quickly.
You can choose the color black for your bedroom. Although most people think black makes the room smaller and so opt for lighter colors, black can be a really good choice for your bedroom. It is quite relaxing and it gives a cozy and romantic feel to the bedroom.
Tips for designing a black bedroom
If you decide to go for a black bedroom, here are some guidelines that will help you achieve a comfy and cozy black bedroom.
Choose the right lighting
The way you light your bedroom has an impact on how well you sleep. The color of your bedroom, as well as the lighting, have a significant impact on the ambiance in your room. As a result, you must select the appropriate ambient lighting for your bedroom. You can have both a bright and dim light. You might also use a dimly lit bedside lamp.
Accents
You also have to consider the accents you want to use for your bedroom. For a black bedroom, you can consider accent colors like gold, silver, grey, or gold. These colors will add a bright pop to the room.
The curtains or window cover
If you are going for black curtains, then you should open the curtains to let in light and fresh air, during the day. This is because, the black can draw in heat and make the room hotter, especially in the summer. For the colder season's the black curtains can help keep your room warm.
If you open your curtains during the day, remember to close them at night to have a better night's sleep. This is because it is often difficult to fall asleep when light rays from outside lights, such as porch lights and street lights, reach the bedroom.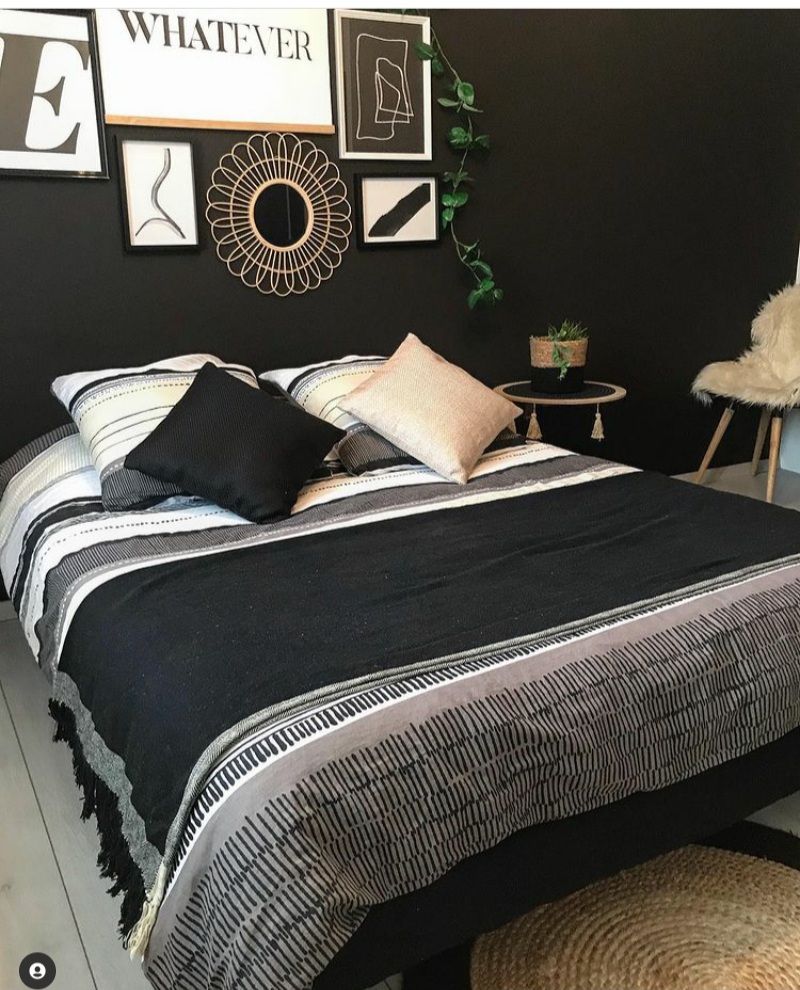 Make the bed a focal point
Every item of bedroom furniture must be placed in the proper location. Make the bed the focal point of the room. This can be accomplished by using a headboard or a different pattern on the wall behind the bed. A new paint color, wallpaper, a photo, or a painting can all be all ways to make your bed a focal point. There are numerous methods to make the bed the focal point of the room.
Declutter the room
You want to make your bedroom a soothing environment. And you won't be able to do it if the place is cluttered. As a result, you don't need a lot of stuff in your bedroom. Depending on the size of your bedroom, just the essentials. This will improve airflow while also making the space more comfortable and soothing.
Designing a black bedroom doesn't have to be a difficult task. If you implement these tips, you will have an amazing bedroom when you are done.