At times people like to spend more time at their outdoor, especially when summer is in full swing. Imagine having a bar outside, in your backyard, where you can spend time with friends and family to have a good time. Sounds fantastic right? If so, why don't you start an outdoor bar?
Yes, it's great to have a home bar in the house but adding an outdoor bar to your backyard provides functionality while also serving as a location for leisure and entertainment. So, if you want to set up an outdoor bar in your backyard, here are some pointers to consider.
6 tips for designing an outdoor bar
Plan for the sun
You must determine where the sun shines, that is, where the cast's shade appears when the sun is really bright. Knowing how the sun shines on your yard and designing around it will help you make the most of the space. How are you going to arrange the items?
If you have a very gleaming backyard, you will understand how to make the most of the elements of shade like a backyard canopy.
Consider the view
You must consider the view when designing an outdoor design bar. If you have a nice view, you should probably arrange your seats so that you can take in the sights while relaxing in your comfortable chair.
You can also construct a focal point for your outside space and arrange your layouts around it if you don't have something interesting to look at. A flower garden, for example, could serve as a focal point.
Furniture
Patio furniture is another method to give your outdoor bar a unique style. Is the greatest furniture to use while designing an outdoor space. You must create a very wonderful area for comfort and relaxation when designing outside space.
Outdoor furniture, whether store-bought or custom-built, is often comprised of materials designed to withstand harsh weather conditions. So your patio furniture will be very fine whether rain or shine.
Lighting and sound
You'll need sufficient lighting to guarantee that your parties run smoothly at night. Low-voltage lighting is an excellent choice for outdoor areas. As a result, you'll just need to invest in low-voltage lighting for the bar and seating areas. It is very simple to set up.
It can also be used to illuminate the road leading to the bar or to create a soothing environment around a table and chairs. To make the space appealing as well as innovative. It also lasts longer than other traditional lighting solutions because of the low voltage lights. So, while creating an outdoor bar, I will advise you to use low-voltage lights.
Plant flowers and greenery
To design your outdoor bar in a stylish and unique way. You must surround yourself with flowers and greenery. It brightens and beautifies your outdoor environment. Plant your flowers around the perimeter of the space in a variety of flower pots.
Choose flowers in a variety of colors, but make sure the green ones are plenty. And you should be aware that flowers require water, sunlight, and sand to thrive in your outdoor space, and that this will vary depending on the size of the flowers you plant.
Accessorize your outdoor living space
In order to make your outdoor bar more attractive, you should use a variety of accessories when creating it. Adding heat and light sources is a major factor. By including these, you will be able to visit the outside space at night. Adding works of art depicting a variety of animals can also bring value and creativity to your outdoor environment.
More outdoor bar design ideas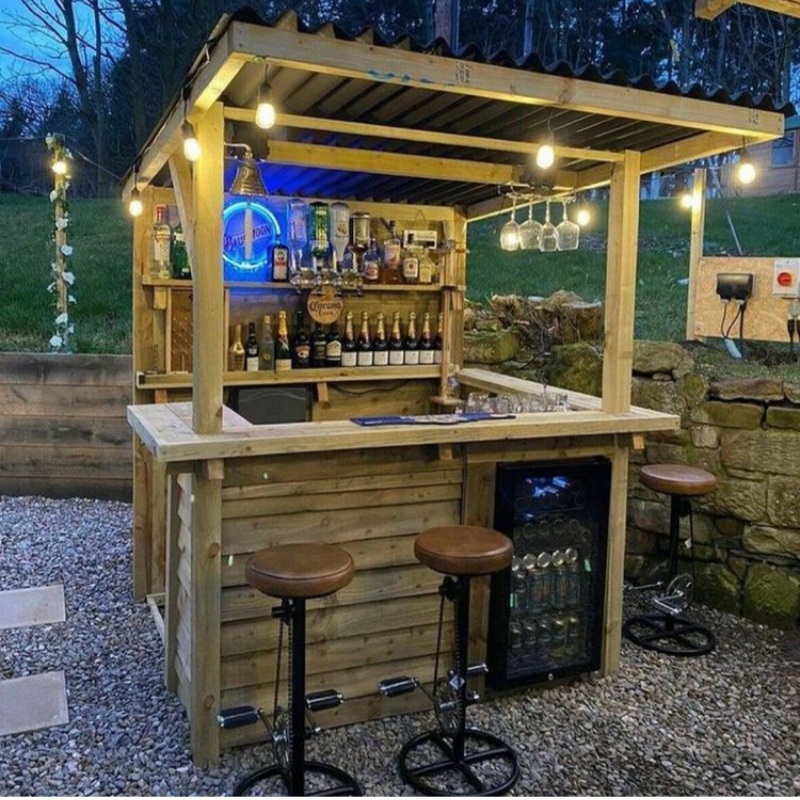 We may earn a commission if you purchase items through our links but this is at no extra cost to you.