We can all agree that nothing happens according to plan in life. It doesn't mean you didn't give it your all. It doesn't mean you're a bad person; it just shows that things don't always work out. At some point, everyone is bound to trip and fall. It can happen to anyone.
Do you see that mentor you admire? Yes, it occurred to him. You see all these successful people who inspire you, don't you? They all stumbled at one point or another. But do you know why they've become so successful?
It's because tripping and falling weren't enough to stop them. They didn't give up when things didn't go as planned. Instead, they got back up and pushed forward till they reached their destination.
But one thing I'd want to emphasize is that whether things work out or not is entirely up to you. Giving up and wallowing in self-pity will not change anything; you will remain on the ground where you landed. However, if you get back up and keep pushing forward, the outcome will transform.
If you're at a stage in your life where you feel like life is knocking you around left and right, then this is the time you need faith and resilience.
Everybody goes through some sort of hardship in life, but the ability to get up on your feet and begin again, which is called resilience, is what makes the difference between a successful person and a failure.
So this is the time to pray to God, for strength, faith, courage, perseverance, and resilience. So pray, and when you think you've prayed enough, get up and pray some more.
There's a reason Jesus Christ told us to pray all the time. When you're down, prayer brings you comfort, strength, encouragement, and hope. Hope, in turn, offers you resilience, or the ability to bounce back after a setback.
Everyone falls; what matters is the ability to get back up. Many people have experienced rock bottom in their lives. Some people were able to recover, while others were unable to. So, pray to God for the strength and perseverance to get back up and keep moving forward.
So below are some prayers for resilience to help you get back on your feet when life throws you a curveball. May the Lord be your strength through these trying times.
The bible teaches that even if the righteous fall, they will rise again ( Proverbs 24:16 ). So, when life throws you a curveball, don't lose hope. Just keep your confidence in God, and he will lift you up in his time.
Prayers for resilience
Prayer for faith and resilience
Merciful Lord, I'm weary, so I've come to you now to ask for your help. I've been knocked down before, and this time it feels like I won't be able to get back up. So, Father, I'm in great need of your help. When I'm weak and tired, please be my strength. Please remind me, Father, that I am more than a conqueror when I feel defeated.
Fill me with your presence and assist me in getting back on my feet. Restore my faith in you and assist me in trusting your process. Please help me get out of this dark hole I've slipped into. Lord, take my hand in yours and assist me in starting over. Thank you for always being by my side. I pray in Jesus' name. Amen
Prayer for rest
Lord of mercy, I come before your throne to lay my burdens at your feet. Things appear to be worse for me by the day, and there is nothing I can do about them. So I come to you in prayer, begging you to take care of all my troubles. Please come in and take charge of my life and give me some rest.
I'm struggling, Lord, and it seems like everything is against me right now. But I also believe you are the All-Powerful God, and there is nothing you cannot do. So I'm confident that no matter what life throws at me, you'll be able to help me. Please grant me perseverance as I wait on you for my restoration. Thank you for the grace and glory you have shown in my life. Amen
Prayer for strength and resilience
Heavenly Father, thank you for your protection and guidance. Thank you for sticking by my side through all of my life's ups and downs. Because you are at my side, I know and believe that no matter what life throws at me, I will always come out on top. Father, things are going wrong in my life again, and I'm starting to feel gloomy. But, because I have you, I know I don't have to be concerned or worried. Instead, I come before you in prayer, to pray for resilience.
Please revive my spirit and refresh my soul. Please give me wisdom and direct my steps as I try to climb back up. Calm my heart and instill strength and hope in me. Thank you for always being there for me. Thank you for replenishing my strength. Thank you for causing me to fly to new heights. Thank you for assisting me in regaining my footing. Amen
Related Posts
Prayer to persevere
Dear God, things haven't been easy recently, and I'm afraid I've reached rock bottom. Nothing I try appears to be working, and everything is coming apart. I'm feeling defeated and want to give up. I stand before you in prayer, pleading with you to please come to my help.
I'm exhausted, so please help me, Lord. I'm drowning, so please save me. I don't think I'll be able to do it any longer. Please be my pillar of strength and assist me in regaining my footing. Please grant me the strength to persevere. In Jesus' name, strengthen my faith in you and assist me in persevering. Amen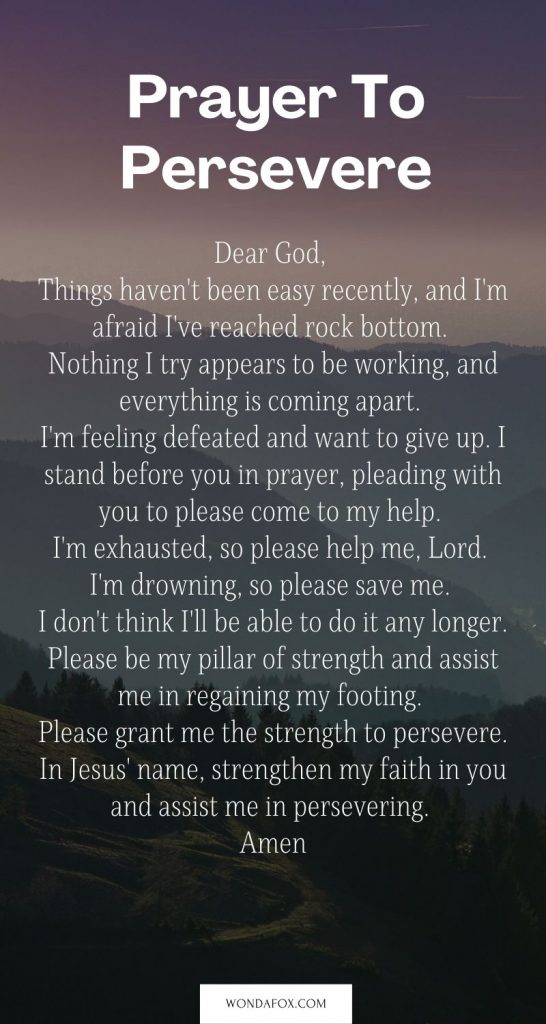 Resilience prayer for victory
Almighty Father, I've come to you today to pray about everything going on in my life. Things just seem to be going downhill for me, no matter how hard I try. So, I've come to you in prayer. In Jesus' name, I receive divine restoration power. I proclaim that no weapon attempting to take my life will be successful. I pray against any wicked arrows that are aimed at me.
Whatever malicious arrows are aimed at my destiny be deflected by the blood of Jesus. May the Holy Spirit consume any wicked power that is acting against my life. I decree and declare that I will rise by the power of the blood. In Jesus' name, I declare victory over my life and everything I do. Amen