When it comes to children, what they grow up to be and how they act are influenced by the lessons they are taught from an early age. That is why it is critical to raise your child in the proper way so that when they get older, they will continue to do what is right since it becomes a habit, a part of them.
The Bible is one of the most important things to teach a child at an early age. This gives kids a good start in life and shows them that someone is always watching out for them.
This can be accomplished through family devotion. Practicing devotion with your family, whether daily or weekly, will help draw you all close to God.
Kids grow up watching their parents and their parents' lives and actions always have an impact on their own lives and their actions. So you always have to ensure that you are teaching your child the right thing.
Another crucial skill to instill in your child is the ability to pray. This can be accomplished by teaching children three basic prayers: a morning prayer, a night prayer, and a mealtime prayer.
These prayers are very important prayers for your child to pray every day. And remember that prayerful children, grow up to become prayerful adults.
Teaching your children to pray is a very important thing in raising godly children. So here are some short morning prayers you can teach your kids.
Short morning prayers for kids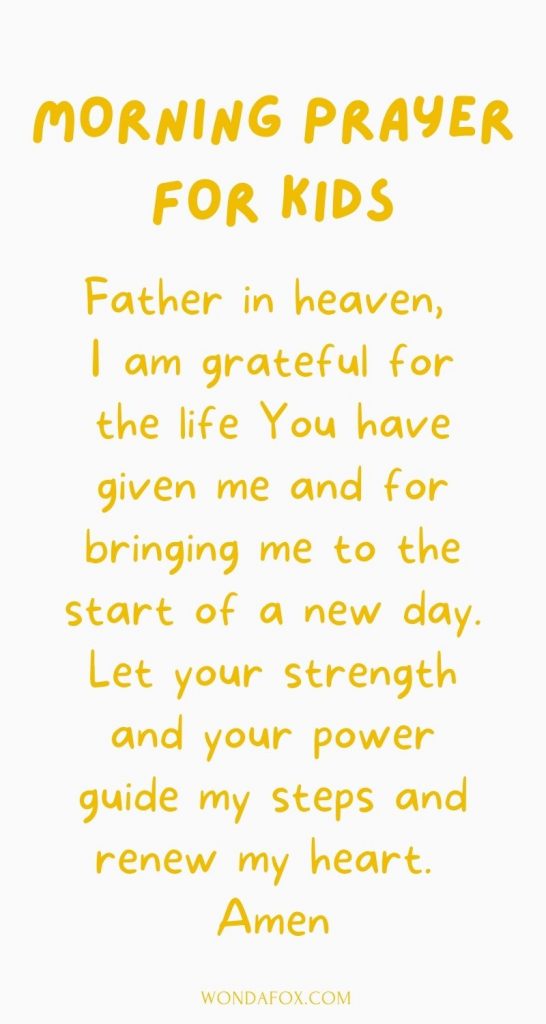 Father in heaven, I am grateful for the life You have given me and for bringing me to the start of a new day. Let your strength and your power guide my steps and renew my heart. Amen
Father Almighty, thank you for this wonderful day. Throughout the day, grant me Your protection, peace, and grace, in the mighty name of Jesus. Amen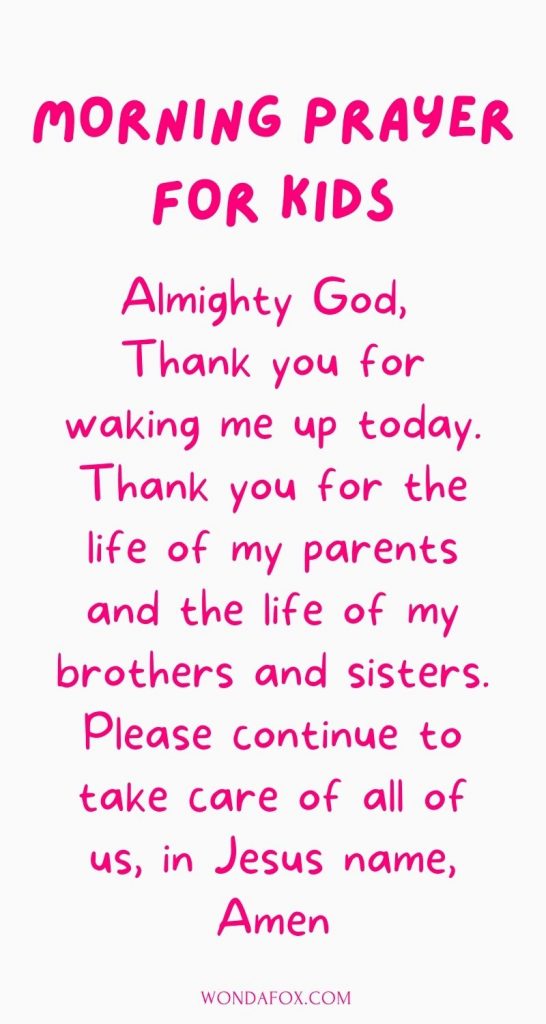 Almighty God, thank you for waking me up today. Thank you for the life of my parents and the life of my brothers and sisters. Please continue to take care of all of us, in Jesus name, Amen
Dear God, thank you for allowing me to see this morning. Thank you for all of your help and guidance. In Jesus' name, please continue to bless and protect me. Amen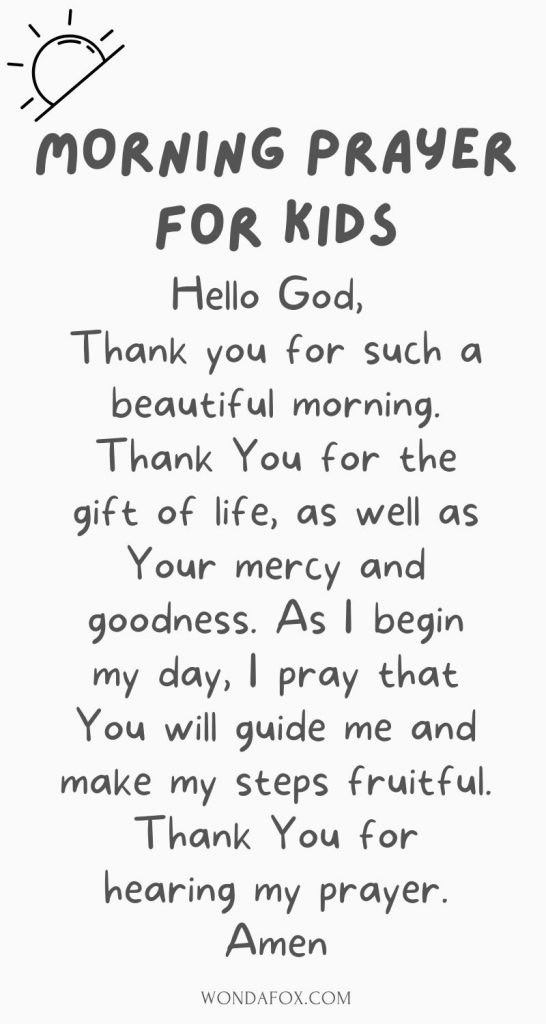 Hello God, thank you for such a beautiful morning. Thank You for the gift of life, as well as Your mercy and goodness. As I begin my day, I pray that You will guide me and make my steps fruitful. Thank You for hearing my prayer. Amen
Related Posts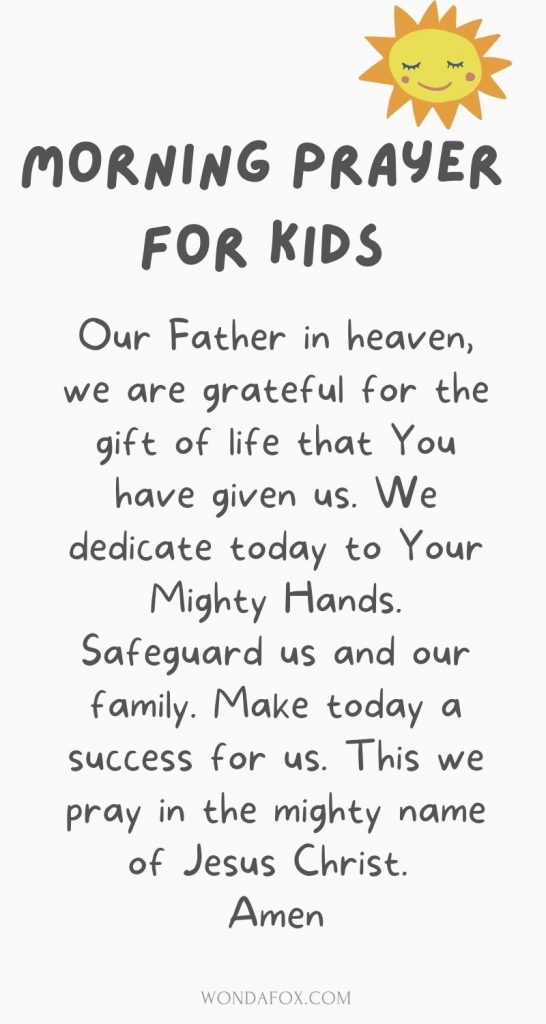 Our Father in heaven, we are grateful for the gift of life that You have given us. We dedicate today to Your Mighty Hands. Safeguard us and our family. Make today a success for us. This we pray in the mighty name of Jesus Christ. Amen
Heavenly Father, thank You for giving me life and for providing me with a family. As we begin the day, order my steps and direct my every path and decision. I pray in Jesus' name, Amen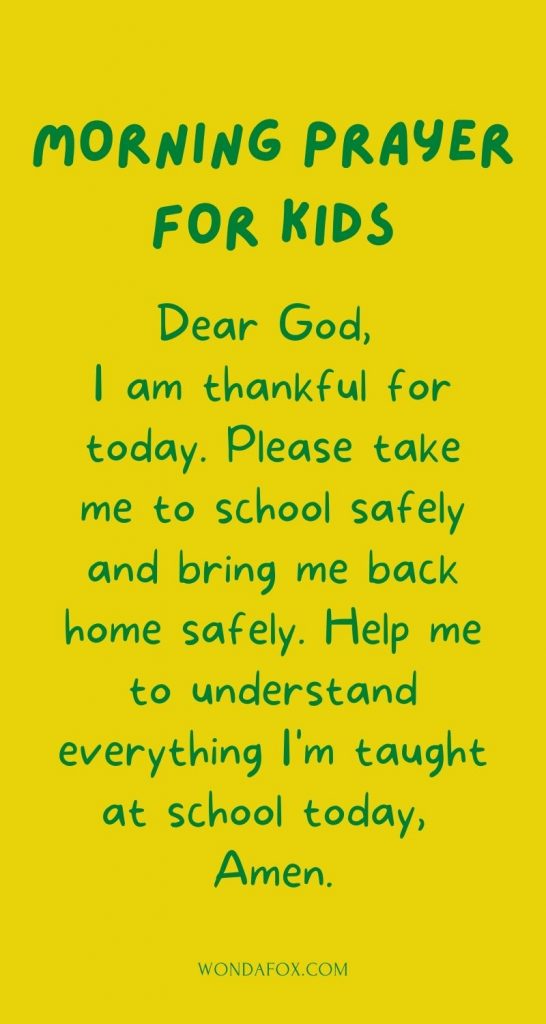 Dear God, I am thankful for today. Please take me to school safely and bring me back home safely. Help me to understand everything I'm taught at school today, Amen.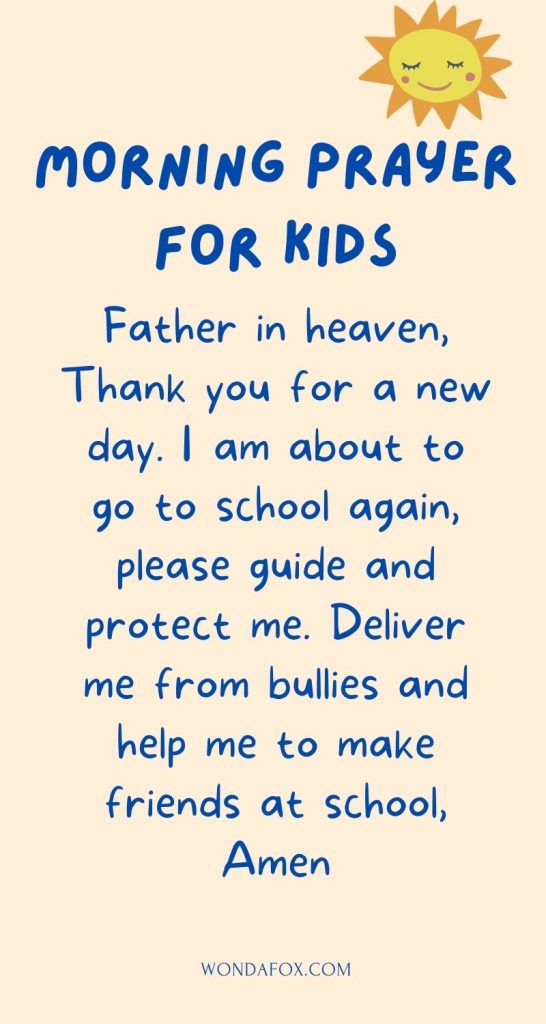 Father in heaven, thank you for a new day. I am about to go to school again, please guide and protect me. Deliver me from bullies and help me to make friends at school, Amen
Heavenly Father, I thank you for today. Thank you for forgiving me my sins. Help me to always do what is right. Help me to be nice to others and be a good kid. Amen
Importance of prayers for kids
To get them off to a good start
What a child does from an early age becomes ingrained in them. Most Christian adults don't pray very often because they take too long to begin. When you make prayer a daily habit, it becomes habitual to you, and you find yourself practicing it on a regular basis. As a result, encouraging a kid to say a morning prayer every day will help them develop the practice of praying as an adult.
Encourages children to express thanks
Children are encouraged to cultivate thankfulness by saying a word of prayer every day. Gratitude is one of the most important lessons you can teach your children. Practicing thankfulness allows them to think about all of the excellent things in their lives for which they should be grateful. This will make people happier, more optimistic, and possibly even healthier.
To enhance their faith
Prayer is a method to interact with God and connect with Him on a daily basis. If your child does this, it will help them strengthen their confidence in God and trust in Him.
It aids with stress reduction
Adults are not the only ones who face stress. Children also get stressed. Your children are going to become overwhelmed at some point due to school, homework, studies, and household responsibilities. However, praying gives children a sense of tranquility that relieves tension and makes them feel better.
Encourages compassion and forgiveness
Children who pray often have a greater sense of sympathy for others and are more willing to forgive others when they insult them. When you pray, you're asking God for something specific. Whether it's to express gratitude, ask forgiveness, or seek guidance and protection.
When you begin to pray, you let go of any grudge or anger that may be holding you back, so that you can be confident that your prayers will be heard. So prayerful children learn to forgive easily and let go of their anger and grudges. This enables them to treat others with kindness and compassion.