At some point in our lives, we all get sick or encounter difficulties. And when this happens, all we want is to be healed. We simply want to regain our strength.
While we do seek healing from doctors and treatments, God is the ultimate healer. That is why your doctor may tell you that it will require a miracle, that you must have faith, or that you must hope for divine intervention.
Saying a healing prayer will not magically fix your problems; you must still take your medicines and follow your doctor's instructions. But praying brings you solace gives you the courage and determination to keep fighting and gives you hope, which is something we all need.
So, if you are suffering from any condition or ailment, pray to the Lord. If it's a friend, a close relative, a coworker, or a client, you can say a prayer to God on their behalf. God hears your prayers, and if you ask, he will provide you with strength and comfort.
So, if you're unwell, turn to God for help. Pray to God if you are fatigued. If you're worried, pray to God. If you're hurting, pray to God. He will heal your wound and restore your health. (Jeremiah 30:17)
We've put together these prayers for health and healing that you can pray for yourself, your family, or a friend.
20 prayers for health and healing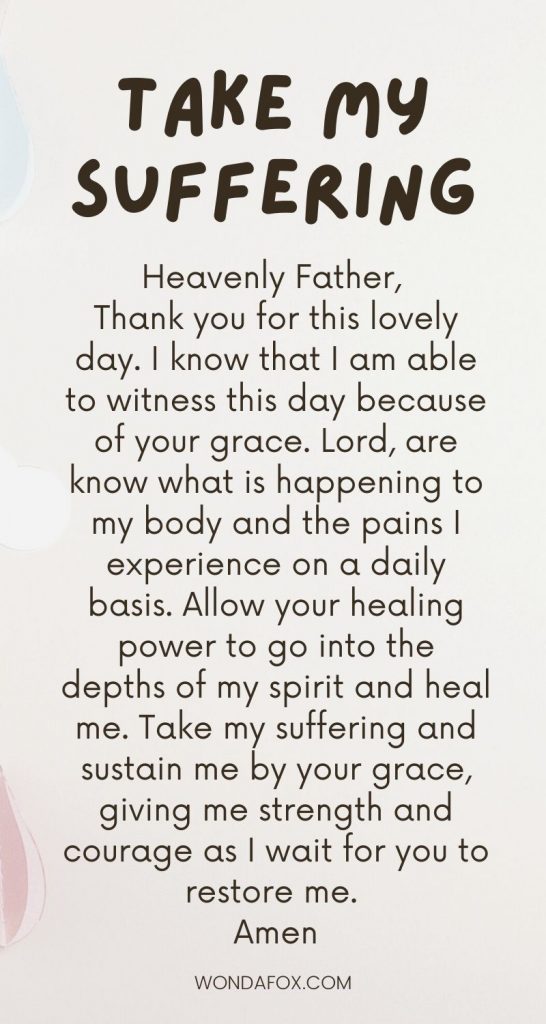 Take my suffering
Heavenly Father, thank you for this lovely day. I know that I am able to witness this day because of your grace. Lord, are know what is happening to my body and the pains I experience on a daily basis. Allow your healing power to go into the depths of my spirit and heal me. Take my suffering and sustain me by your grace, giving me strength and courage as I wait for you to restore me. Amen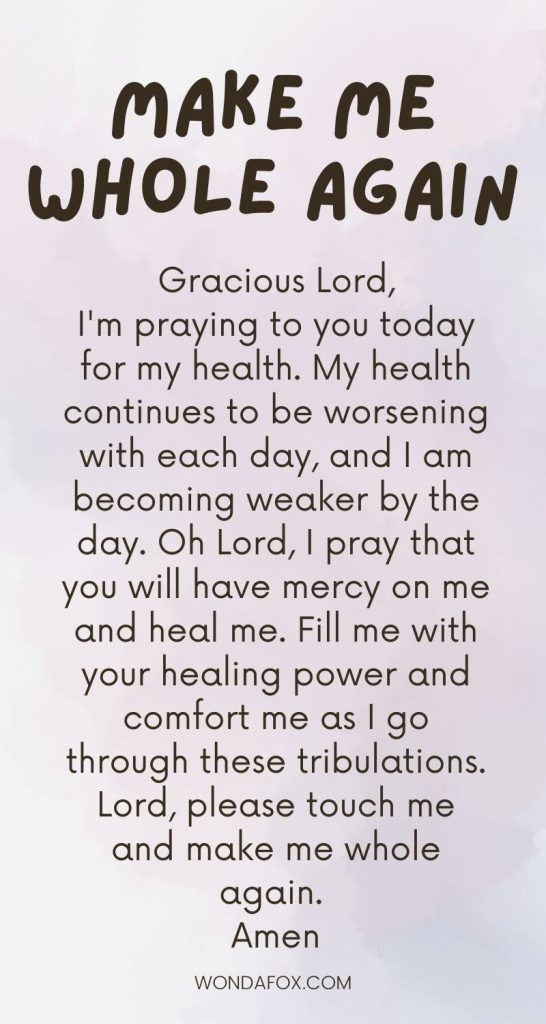 Make me whole again
Gracious Lord, I'm praying to you today for my health. My health continues to be worsening with each day, and I am becoming weaker by the day. Oh Lord, I pray that you will have mercy on me and heal me. Fill me with your healing power and comfort me as I go through these tribulations. Lord, please touch me and make me whole again. Amen
Prayer for faith and trust during illness
Dear God, I come before you today to give you my all. I pray for your mercy and healing to be bestowed upon me. I'm sorry for all the times I doubted you and wanted to give up. Please restore my faith in you and remind me of your never-ending love. Help me to trust in your divine providence, so that you can restore my health according to your will in your own time. Amen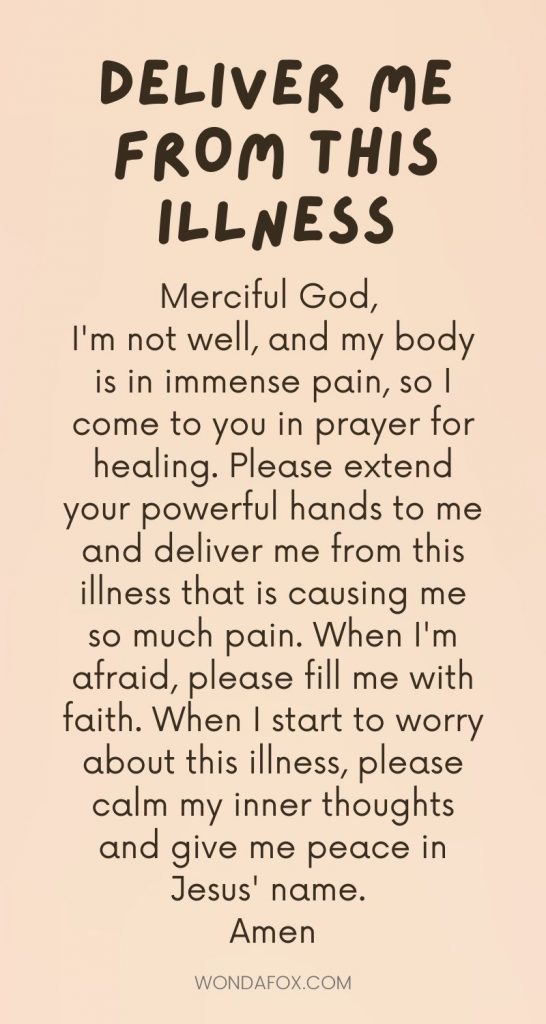 Deliver me from this illness
Merciful God, I'm not well, and my body is in immense pain, so I come to you in prayer for healing. Please extend your powerful hands to me and deliver me from this illness that is causing me so much pain. When I'm afraid, please fill me with faith. When I start to worry about this illness, please calm my inner thoughts and give me peace in Jesus' name. Amen
Prayer for the ill and needy
Merciful Lord, I'm praying for the ill and needy today. Please, visit them with your divine healing and peace. You bore our sins on the cross, and your word says we are healed by your stripes.
So, Father, I stand by your words and pray for the sick to be healed. It is your will that we have good health, so please free them from their infirmities so that their minds and bodies can work as you intended. Please have mercy on them and console them in their distress. Help them by guiding them and delivering them from evil. Allow them to open their hearts to you and believe in your ability to heal and strengthen them. Amen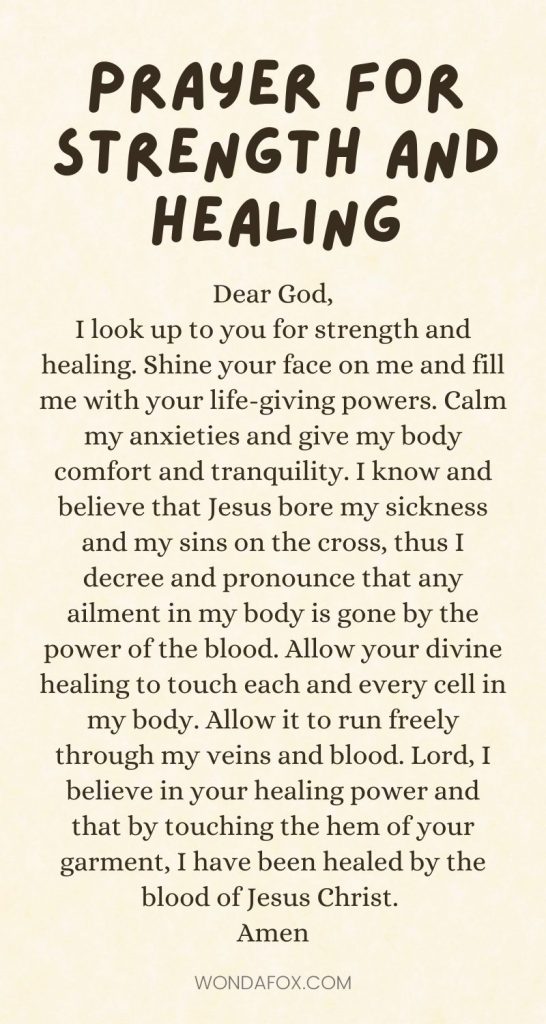 Prayer for strength and healing
Dear God, I look up to you for strength and healing. Shine your face on me and fill me with your life-giving powers. Calm my anxieties and give my body comfort and tranquility. I know and believe that Jesus bore my sickness and my sins on the cross, thus I decree and pronounce that any ailment in my body is gone by the power of the blood.
Allow your divine healing to touch each and every cell in my body. Allow it to run freely through my veins and blood. Lord, I believe in your healing power and that by touching the hem of your garment, I have been healed by the blood of Jesus Christ. Amen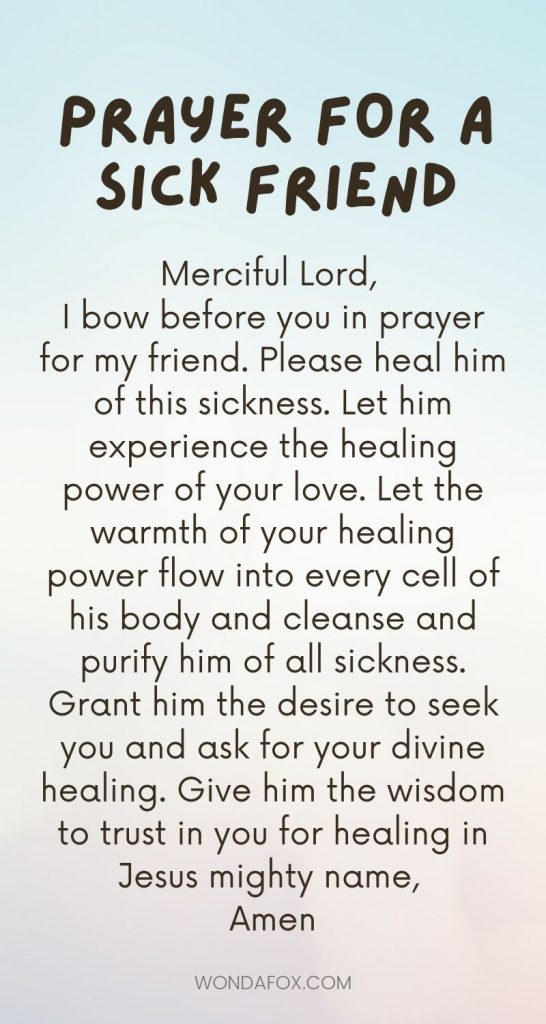 Prayer for a sick friend
Merciful Lord, I bow before you in prayer for my friend. Please heal him of this sickness. Let him experience the healing power of your love. Let the warmth of your healing power flow into every cell of his body and cleanse and purify him of all sickness. Grant him the desire to seek you and ask for your divine healing. Give him the wisdom to trust in you for healing in Jesus mighty name, Amen
Prayer for a broken heart
Dear God, I come to you today with a broken heart. Thank you for being a comforter to the heartbroken. Please help me to heal my wounded heart and find peace. My spirit is broken and I'm crushed. My heart aches, and I feel like I'll never be able to do this again. Please take me into your loving arms and drown me in your affection. Please help me to let go of this suffering and find peace in Jesus' name, Amen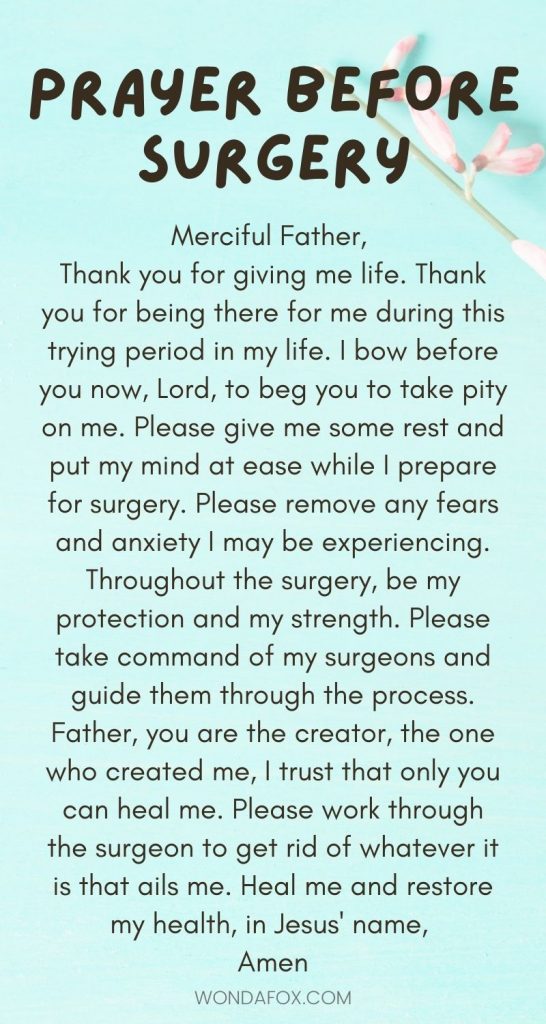 Prayer before surgery
Merciful Father,
Thank you for giving me life. Thank you for being there for me during this trying period in my life. I bow before you now, Lord, to beg you to take pity on me. Please give me some rest and put my mind at ease while I prepare for surgery. Please remove any fears and anxiety I may be experiencing. Throughout the surgery, be my protection and my strength.
Please take command of my surgeons and guide them through the process. Father, you are the creator, the one who created me, I trust that only you can heal me. Please work through the surgeon to get rid of whatever it is that ails me. Heal me and restore my health, in Jesus' name, Amen
Prayer for personal healing
Dear God, it is my desire to surrender to you everything that I am and everything that I hope to become. Father, I feel there is something wrong with me, but I'm not sure what it is, and I believe you, Lord, know what it is, so I come before your mighty throne to surrender to you.
I hope that you heal whatever is in need of healing in me. Please forgive my sins and purify my heart. I give to you my thoughts, soul, body, and heart, please heal me by laying your loving hands on me. Grant me the strength and wisdom to understand and accept your ways. Amen
Related Posts
Prayer to heal the broken
Father, today I come to you in prayer for my best friend. She's been through so much in these past weeks, and there's nothing I can do to help her. She's devastated and helpless, and all she can do is cry.
So I ask you, Lord, to do for her what I am unable to do. Bring her near to you and provide her comfort. Fill her with peace and let her know how much you care about her. Comfort her and be there for her during her healing and recuperation. Sustain her with your grace, in Jesus' name. Amen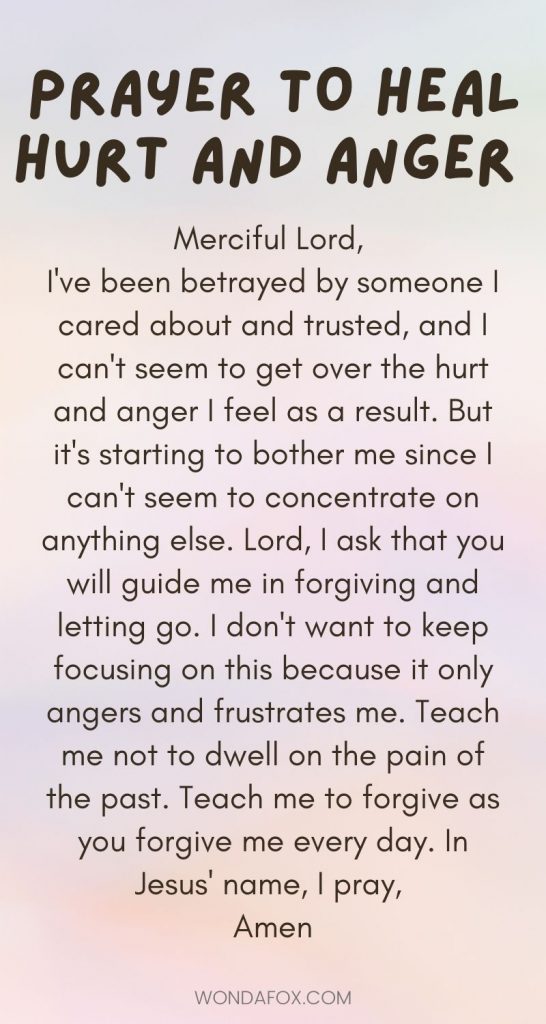 Prayer to heal hurt and anger
Merciful Lord, I've been betrayed by someone I cared about and trusted, and I can't seem to get over the hurt and anger I feel as a result. But it's starting to bother me since I can't seem to concentrate on anything else.
Lord, I ask that you will guide me in forgiving and letting go. I don't want to keep focusing on this because it only angers and frustrates me. Teach me not to dwell on the pain of the past. Teach me to forgive as you forgive me every day. In Jesus' name, I pray, Amen
Prayer for when you are depressed
Gracious Lord, lately, everything around me seems to be falling apart and I don't know what to do. It's like I'm drowning and I can't scream for help because I don't want to let the water in. So I feel helpless, hopeless, and terrified. Sometimes, it's like I can't go any further, and other times I feel like I don't want to keep going.
Sometimes I'm just numb, and other times I'm so unhappy inside that my soul cries. So, I've come to you, Lord, save me, for I am drowning. Help me get out of this slump. Fill up my heart with joy. God, please shine your light on me. Give me courage, give me strength, give me hope, give me joy, give me peace, give me confidence. Help me to feel your love and presence in my life, in Jesus' name, Amen
Prayer for renewal
 Father Lord, I come to you today, to humbly pray that you renew me with your love. I know there's nothing you can't do and that's why I believe you can breathe new life into me. Please lay your healing hands on me and renew me with your love and strength.
Please, Father, renew my mind, body, and soul. Fill me with your strength when I'm tired. Remind me of your presence when I feel overwhelmed. Guard my heart and my mind, so I don't fall into temptation. Bring me closer to you and transform me with your Holy Spirit. Thank you for your unending grace that has sustained me. Amen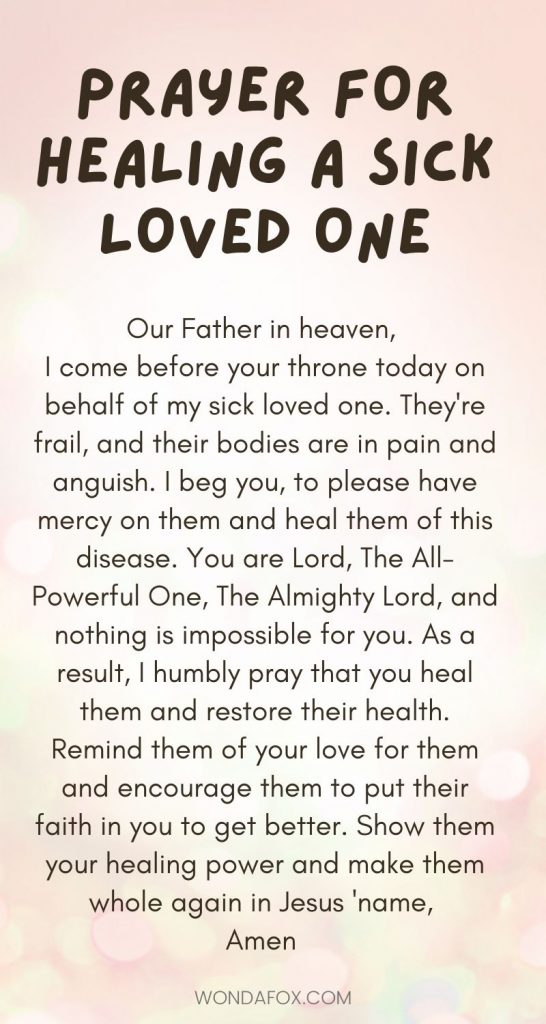 Prayer for healing a sick loved one
Our Father in heaven, I come before your throne today on behalf of my sick loved one. They're frail, and their bodies are in pain and anguish. I beg you, to please have mercy on them and heal them of this disease.
You are Lord, The All-Powerful One, The Almighty Lord, and nothing is impossible for you. As a result, I humbly pray that you heal them and restore their health. Remind them of your love for them and encourage them to put their faith in you to get better. Show them your healing power and make them whole again in Jesus 'name, Amen
Prayer for self care
Dear God, thank you for looking after me even when I don't remember to pray. Please forgive me for allowing my busy schedule to get the better of me, and for scarcely pausing to say a prayer or even rest. Please forgive me for attempting to do everything on my own rather than relying on you for strength and direction.
I'm tired, Lord, and I've come to you for rest. Please give me rest and help me to be kind to myself. Teach me to be more patient and to lay my burdens on you. Help me to relax and concentrate on your word, because it is nourishment for my soul. Allow it to fill me up and revitalize my spirit. Thank you for your kindness and love in my life. Amen
Prayer for mental health
Father in heaven, I come before your throne to seek healing for my mental health. Please forgive me for allowing disappointments and frustrations to affect me.
Please remind me that your intentions for me are better than what I believe I desire when things don't go my way. Teach me not to be affected by the pressures of the world. Help me in meditating and concentrating on you. When I begin to feel worthless and inadequate please remind me of everything I am and have because of you. Calm my thoughts and assist me in achieving tranquility. Amen
Prayer to heal past hurts
Merciful Lord, I come to you today with a sorrowful heart. I've been through a lot of hurt and pain in the past. These memories keep resurfacing and haunting me. They terrify me and cause me to be fearful of the future.
I hand over my entire heart to you, God. Please pour your love into my heart. Help me to let go of all these sad memories and hurts from the past. I pray that you cleanse me of my sins and sufferings. Please shine your light down into the depths of my soul. Uncover all of my deep-seated wounds and repair my innermost being. Through Jesus Christ, my personal Savior and Lord, thank you, God, for your faithfulness and love. Amen
Prayer for divine restoration
Dear God, I am grateful for this day. Thank you for allowing me and my family to see this day. Lord, I acknowledge that I am a sinner who has sinned against you. Please forgive me and have mercy on me. Please forgive my sins and restore me to the joy of your salvation, as you are a merciful God. Empower and transform me with your loving spirit. You are my refuge and my hope, Lord. Give me courage, heal me, and re-energize me in Jesus' name, Amen
Thanksgiving prayer after recovery
Dear God, I thank you for my life today. I give thanks to you no matter what I go through. You are the only one who knows what is best for me. I was able to get through this difficulty because of your strength. You've given me new reasons to believe in you. Thank you for rescuing me. Thank you for the wonderful health that you have bestowed upon me. Thank you for saving me from my predicament. Allow my life to be a consistent witness to your grace. My Lord, I live for you. Thank you for being my guiding light, in Jesus' name, Amen