Wisdom is a very important thing in life. We need wisdom to survive. Wisdom helps us gain insight and understanding. One thing I've noticed about the bible is that it covers everything in the world.
Whatever knowledge you need to live and survive in this world is in the bible and the bible also goes on to say that if we lack wisdom, we should ask God and he will give us.
This shows that when you lean on God, you will have the wisdom and knowledge you need to survive. See below for more wisdom bible verses.
Prayer for wisdom
Almighty Lord, I come to you today in complete submission. I give to you both my heart and my mind. Assist me in relying solely on you in whatever I do. Take charge of my life and direct my thoughts and behaviors. Please assist me in understanding your words and focusing my heart and mind on you. Lord, walk with me and direct my steps. Give me wisdom, strength, and guidance in whatever I do. Lead me through life's obstacles and towards the life you have prepared for me. Let your will be done in my life at all times, in Jesus' name, Amen.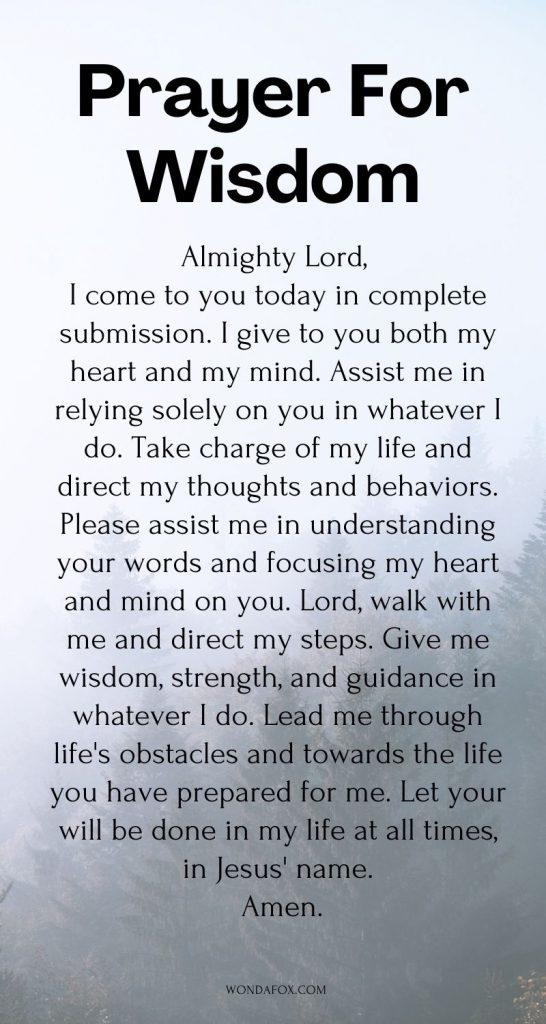 Wisdom bible verses
Proverbs 2:6
For the Lord gives wisdom; From His mouth come knowledge and understanding.
Ephesians 5:15-16
See then that you walk circumspectly, not as fools but as wise, redeeming the time, because the days are evil.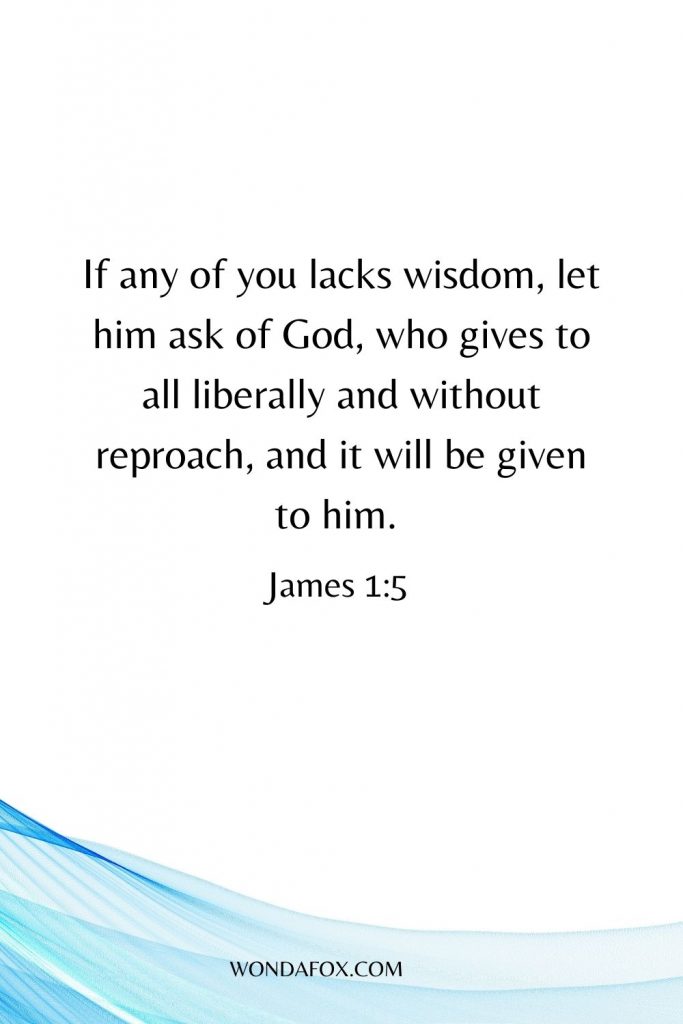 James 1:5
If any of you lacks wisdom, let him ask of God, who gives to all liberally and without reproach, and it will be given to him.
James 3:17
But the wisdom that is from above is first pure, then peaceable, gentle, willing to yield, full of mercy and good fruits, without partiality and without hypocrisy.
Proverbs 16:16
How much better to get wisdom than gold! And to get understanding is to be chosen rather than silver.
Ecclesiastes 7:10
Do not say, Why were the former days better than these? For you do not inquire wisely concerning this.
Colossians 4:5-6
Walk in wisdom toward those who are outside, redeeming the time. Let your speech always be with grace, seasoned with salt, that you may know how you ought to answer each one.
Proverbs 13:10
By pride comes nothing but strife, but with the well-advised is wisdom.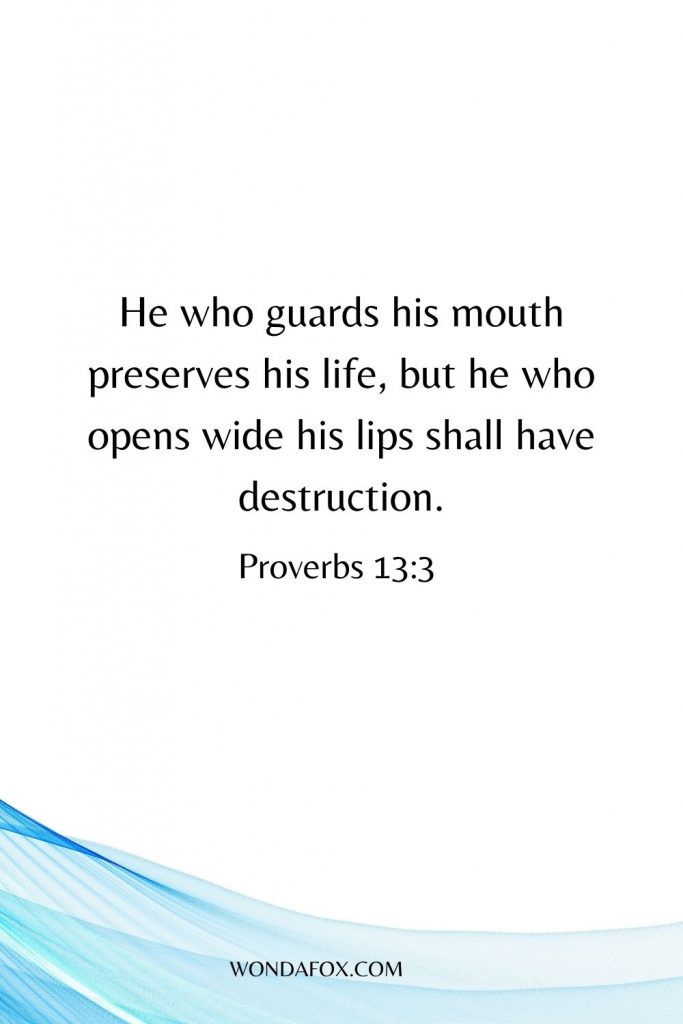 Proverbs 13:3
He who guards his mouth preserves his life, but he who opens wide his lips shall have destruction.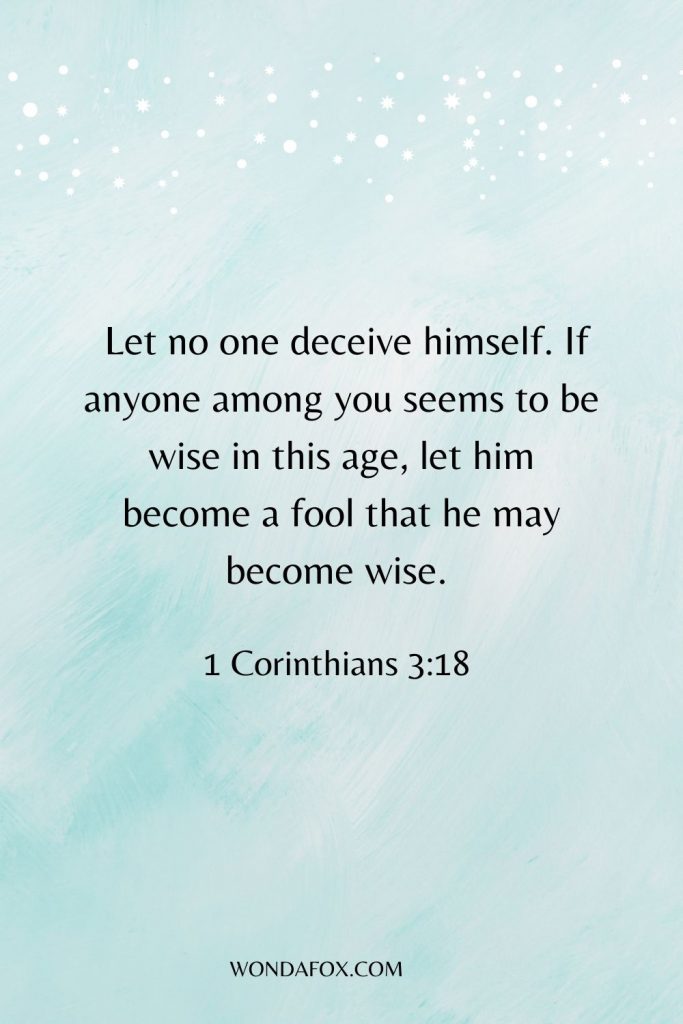 1 Corinthians 3:18
Let no one deceive himself. If anyone among you seems to be wise in this age, let him become a fool that he may become wise.
James 3:13
Who is wise and understanding among you? Let him show by good conduct that his works are done in the meekness of wisdom.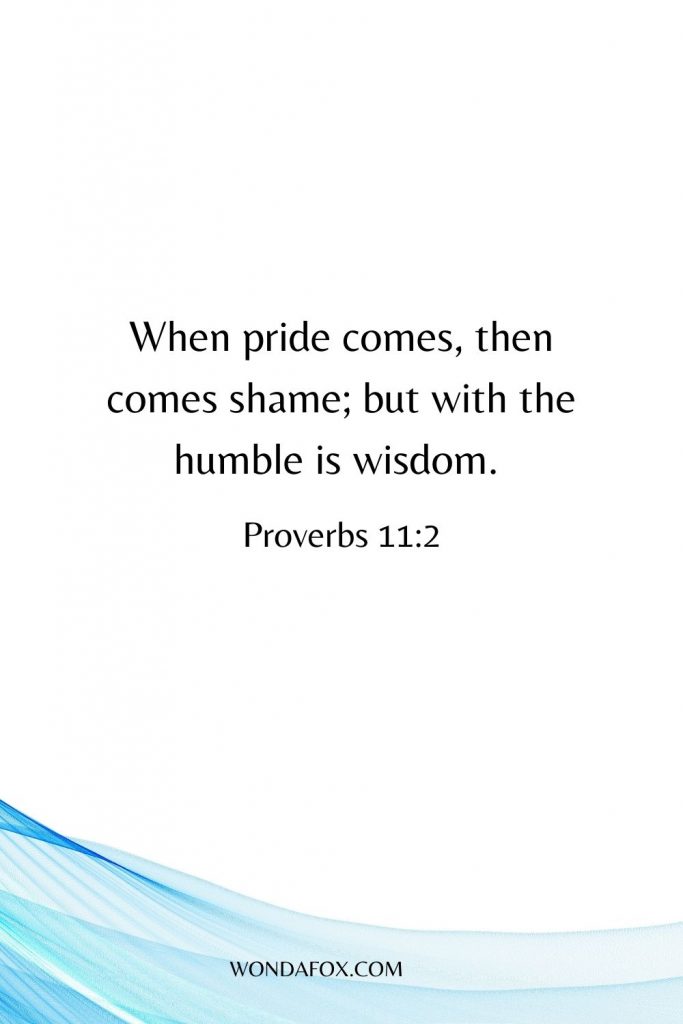 Proverbs 11:2
When pride comes, then comes shame; but with the humble is wisdom.
Psalm 90:12
So teach us to number our days, that we may gain a heart of wisdom.
Proverbs 15:33
The fear of the Lord is the instruction of wisdom, and before honor is humility.
Proverbs 10:8
The wise in heart will receive commands, but a prating fool will fall.
Proverbs 17:28
Even a fool is counted wise when he holds his peace; when he shuts his lips, he is considered perceptive.
Colossians 2:3
In whom are hidden all the treasures of wisdom and knowledge.
Job 12:13
With Him are wisdom and strength, He has counsel and understanding.
Psalm 107:43
Whoever is wise will observe these things, And they will understand the loving kindness of the Lord.
Psalm 37:30
The mouth of the righteous speaks wisdom, and his tongue talks of justice.
Proverbs 1:7
The fear of the Lord is the beginning of knowledge, but fools despise wisdom and instruction.
21-day wisdom bible reading plan
One very effective way to study and meditate on the word of God is to read it often. So below we've added a 21-day bible reading plan on wisdom to help you study and understand what the bible says about wisdom.
We hope by the end of this bible reading plan, you will be able to understand what the bible says about wisdom, the importance of wisdom, and how you can gain more wisdom. Here are a few questions to ask yourself after each reading;
How do you understand the scripture?
What does the scripture tell you about wisdom?
How can you apply this scripture in your life?