Nothing compares to the delight and contentment you feel when you return home to a faithful companion. According to several studies, the relationship between animals and humans is highly unique and has good health implications.
Do you know that having a pet can help reduce stress, enhance your heart health, and maintain emotional balance?
However, for certain people, animals provide more than just entertainment; they can also provide ongoing emotional support, also known as an Emotional Support Animal (ESA). Let us try to comprehend it more thoroughly.
What is ESA?
The term Emotional Support Animal is instead a new one in society and is garnering a lot of popularity and courteous attention. But what exactly is ESA? Animals that provide emotional relief and support to their owners are known as emotional support animals.
They assist people in coping with mental illnesses and significant life events. ESAs are distinct from service animals because they offer emotional support to their owners. You must obtain an ESA evaluation letter to own a legally recognized ESA.
What is the ESA letter?
The first step in obtaining an ESA letter is to obtain an ESA evaluation letter, which will assist your pet in being officially recognized as ESA by a licensed healthcare practitioner, such as a therapist or doctor, who is currently treating your mental condition.
You will receive an ESA letter following the evaluation, which will ensure that you are not separated from your pet when you need it. It's a type of legal document stating that the animal is beneficial to your mental health and is a crucial part of your treatment.
Eligibility criteria to get an ESA letter
You must have a mental and emotional handicap to be eligible for an ESA letter, and you must explain how vital the pet is to you in curing any mental disorders. Anxiety, stress, depression, phobias, post-traumatic disorder, and personality disorders are examples of ailments.
Of course, there are many additional mental health and emotional diseases which may require ESA too. A licensed therapist must certify that you have a qualifying mental health condition and that having an animal friend helps decrease and ease your symptoms, making your life more manageable.
Emotional support can be when you're out in public; it reduces stress levels. If you have panic attacks, it will help you relax. It assists you in dealing with social settings.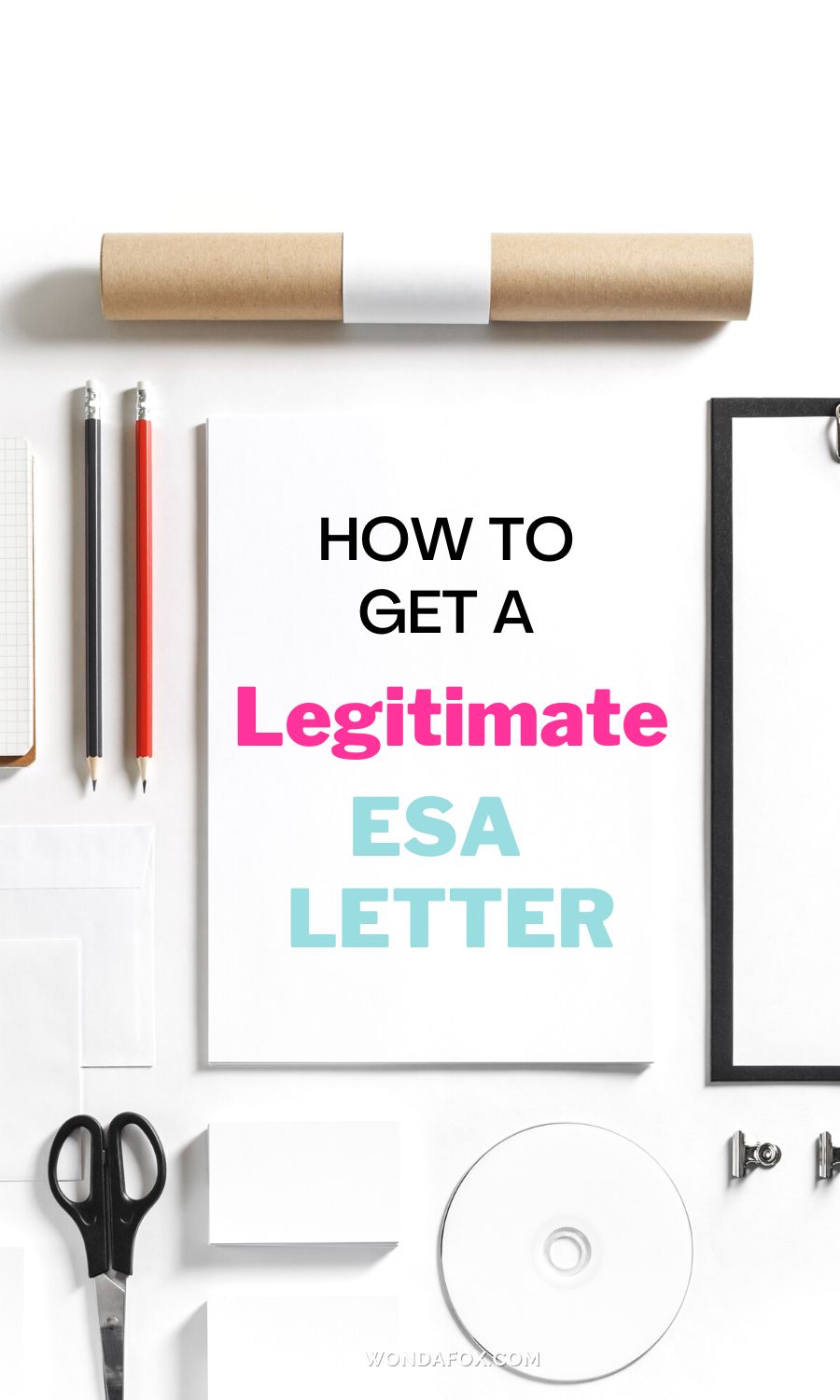 How to get a legitimate ESA letter
Many scammers tend to give legitimate ESA letters but usually turn out to be fake. So, there are some points that you should keep in mind while applying for an ESA letter.
The therapist must have a Mental Health Professional License number
The therapist from which you get an emotional support animal letter must have a license number. At the same time, they certify you to travel and live with the animal. To check whether the health professional has a license number, one can go on the internet and check it from state portals, or you can also check on the ESA letter if the license number is valid.
ESA letter must have required information which is demanded by different Housing Act
If you wish to live with your emotional support animal, the health professional's letter must include a valid recommendation for lodging and the grounds for it. It should have adhered to the relevant housing legislation in the country. The wording of the letter should be clear and readable.
ESA letter must have contact information
There should be full disclosure of contact information by a health professional or therapist in the letter. This is critical since landlords frequently want to ensure that you have a valid ESA letter and will contact the provider directly to confirm that you are eligible to keep your ESA.
ESA letter must be on official letterhead
The ESA letter must come from a licensed mental health professional (LMHP) and include the LMHP's official letterhead for your pet to be deemed a real emotional support animal. Consider the letterhead a licensed mental health professional's logo (i.e., their business stamp).
Benefits of ESA letter
Access to be with the pet in public place
You can take your pet to several public venues where you go if you have a valid ESA letter. Some public locations may even be sympathetic to the situation and accommodate the pet. You can ask the restaurant owner or the manager of any public location whether you can bring your pet with you, and always remember to bring your emotional support animal letter to prove your circumstance.
It will help you lower expensive house fee
Even if your landlord asks you to pay a fee to live with your pet in a housing unit or apartment complex, you shouldn't have to if you show your landlord your ESA letter. The landlord does not want you to go without the help you need because of unnecessary expenses. You may be able to dodge them with an emotional support animal letter and maintain your ESA in your residence.
You can stay at Airbnb
Airbnb is recognized for its pet-friendly regulations, which allow you to bring your pet along for the duration of your stay. Even if they have a non-pet policy, you can bring your emotional support animal. All you have to do is display your ESA paperwork to confirm the reason for bringing the animal. You can also speak with the owner before your stay, giving the host time to create livable circumstances.
You can fly with your Emotional Support Animal
Suppose you wish to take your dog to new places and travel with him. Many people think it's a dream, but it's relatively normal now. Before taking your animal with you, you must first show your ESA to officials, who may make cabins and other arrangements to allow your dog to travel with you.
Conclusion
Emotional Support Animals may make a massive difference in the lives of people with emotional problems. Their unconditional affection and companionship can be pretty beneficial in assisting you with emotional or psychological issues, including sadness, anxiety, panic attacks, or flashbacks, and knowing that you'll never have to choose between your furry friend's companionship and the convenience of flying or renting a place to stay can lift a massive burden from your shoulders.